Optimising the primary process
Information sharing is of vital importance within every organisation. Information systems are often even part of the primary process. A few examples of this are time table information systems at schools and planning systems at production facilities. It is for these applications in particular, where the right information needs to arrive at the right time to the right people in order to progress a primary process, that digital signage with BIS ID offers a solution. There are too many applications to list here. Something for your organisation too!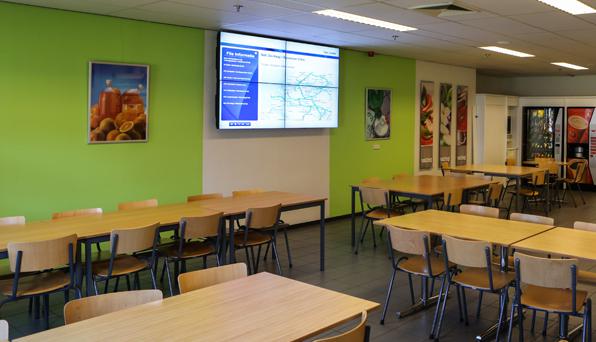 The right digital signage application in every market
BIS|Econocom has experience in implementing advanced Digital Signage solutions in virtually every sector which meet the most modern requirements in terms of quality, versatility and user-friendliness. These range from government to banking and from healthcare to conference centres. A solution that is tailor made for your market allows you to always get the best performance from your digital signage solution.
Corporates & Institutes: presence/absence, welcoming & corporate info
Education: Time table information, general information & room planning
Government: counter changes, municipal news and legislation changes
Health Care: waiting times, treatment methods, visitor information & making waiting easier
Defence: disasters & strategic information
Hospitality; welcoming, signposting & room planning
Transport: route maps, plans, changes & traffic information
Retail: In-store communication, branding & special offers
Industrial: production figures, planning and safety regulations
In short: With BIS ID, BIS|Econocom offers a digital signage solution with numerous possibilities for just as many different sectors and organisations. You can read more about this on our target market pages. In order to ensure that you achieve the right solution that surpasses your expectations, BIS|Econocom has developed various ready-made solutions which offer you the ideal solution in no time at all. All you have to do is make a choice! Would you like more information? Are you looking for ideas? Visit reference descriptions.
Back to BIS|Econocom Digital Signage.
More about Narrowcasting Applications