Stunning communication in large spaces and public indoor locations
By using our LED walls in large public areas, such as shopping centres, libraries, cinemas and museums, you can communicate stunningly with your target groups. Communication through LED walls offers plenty of benefits, such as an extraordinary reach and the high attention value. It is also possible to display both still and moving images.
LED Walls equipped with many extras
It is possible to equip LED walls with loudspeakers. There is also a possibility to equip LED walls with motion sensors, so that they can "come to life" when someone is nearby.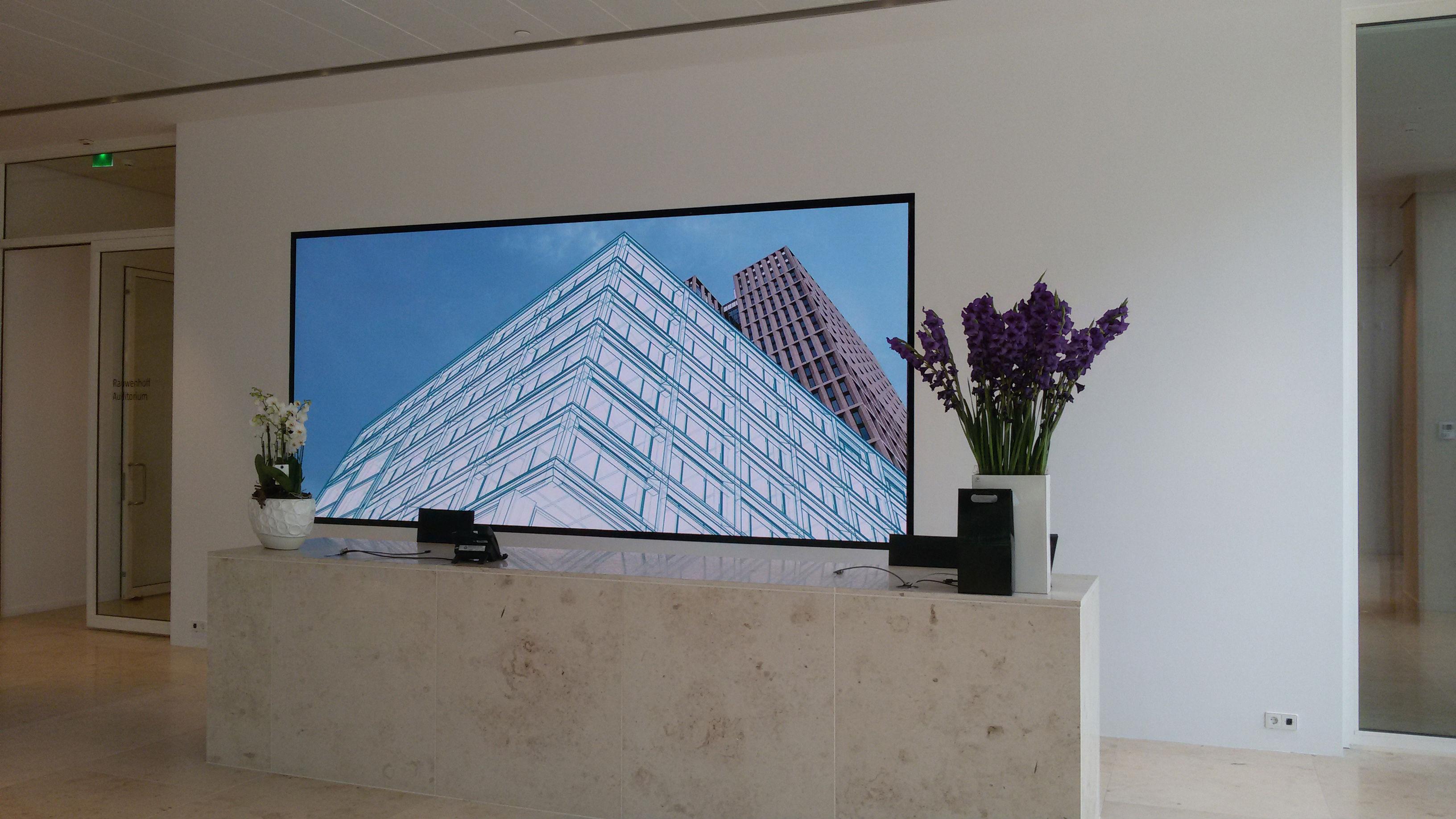 Benefits of LED walls with BIS|Econocom
Large viewing angle and high light output thanks to SMD
Optimal readability thanks to automatic dimming of the LEDs
Your message can be adjusted quickly, always up to date
No high replacements and printing costs
Lots of detail at low pixel pitch
Good colour authenticity and long-term durability
Complete package of services for carefree and untroubled use
Flexible financing options (e.g. co-financing, lease etc.)
LED wall in your boardroom, auditorium or boardroom
Large spaces such as boardrooms, auditoriums, lecture theatres and large boardrooms often have to deal with a lot of light and a large audience that needs to be able to see the video screen. In such cases, a LED wall offers a solution. These LED screens are easy to set up in large formats and have excellent readability. LED screens can also be installed in special shapes, curved-shaped, for example, if the space demands it. You can read more about this under Creative LED.
Suitable for many types of content
Your indoor narrowcasting campaign may contain a lot of information. For example, you can communicate professional presentations, images & videos, advertisements, etc. By creating a flashy mix of images and text, your content attracts a lot of attention. This way you convey your message to the right audience at the right time and in the right place. You can read more on our special Narrowcasting content page d let BIS|Econocom visualise your content in an attractive way.
More information on Indoor LED?
Would you like to get more information about different options and benefits with LED walls and LED displays? Our consultants are also happy to help you, without obligation. Please call +31(0)180 - 486 777 or contact us through the different options on the right.