Floor, wall & ceiling furnishing
The required lay-out, the decoration used, the furniture chosen and the integrated lighting largely determine the character of a room. However, that is not all. The floor, walls and ceiling contribute to the character and atmosphere. That is why we offer our clients an enormous range of floor coverings (carpet, linoleum, flexible vinyl, cork, laminate, parquet, etc.), wall coverings (such as stucco work, good quality plasters, painting techniques, spray and brush techniques, or numerous wallpapers) and ceiling systems (floating, lowered, pre-stressed ceilings, laminated ceilings, plaster ceilings, etc.).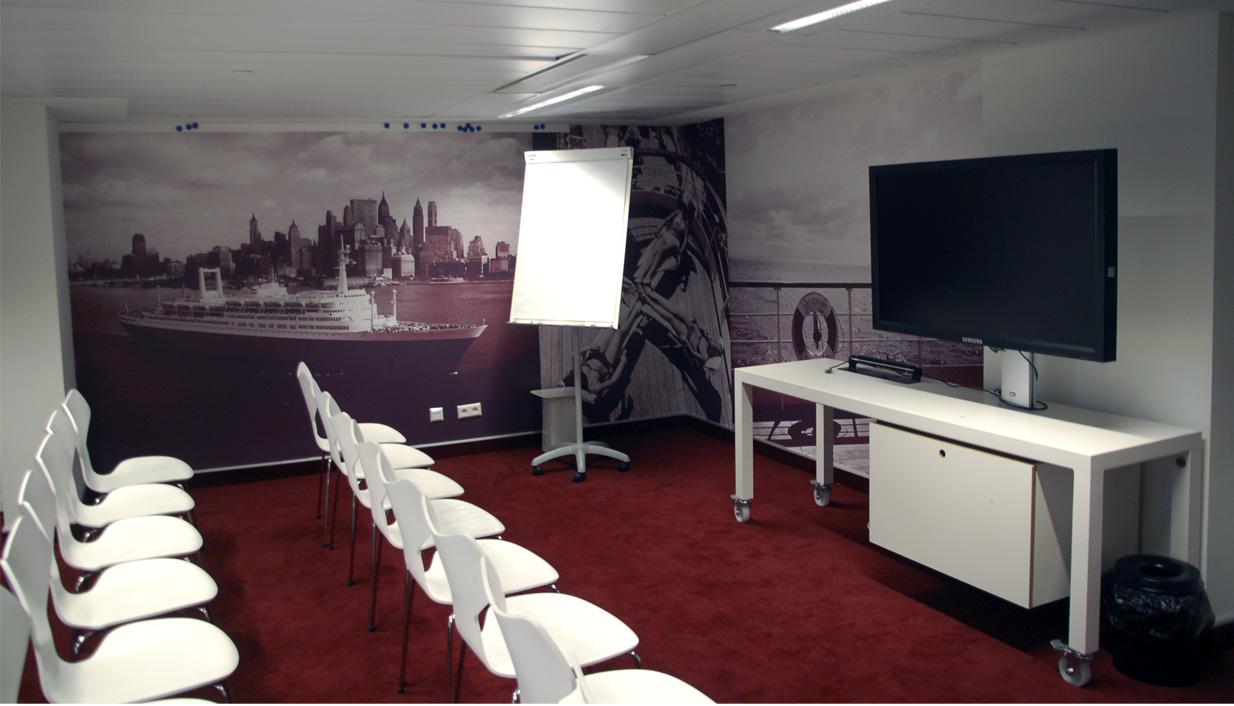 Inspiring wall decoration for inspiring working spaces
Distinguish yourself with wall decorations and create an environment where everyone enjoys working. Our interior architects design unique and stylish wall decorations that stimulate, kindle enthusiasm and promote creativity. We take the floors, walls, ceilings, lighting and furnishings into account. The result? Inspiring wall decorations that are eye-catching because they are an extension of your own organisation and corporate identity. Click here for a number of interesting examples. In short: boring meeting rooms and offices lacking inspiration are a thing of the past with BIS|Econocom.
BIS|Econocom Panorama Ceilings. Bringing the outside in!
The BIS|Econocom Panorama Ceiling — part of several smart BIS|Econocom concepts - is a revolutionary solution for letting daylight into your office environment, waiting room or treatment room. A BIS|Econocom Panorama Ceiling is a made-to-measure ceiling system that consists of panels onto which professionally produced photographs are printed. The panels are integrated into the ceiling in your working environment and can be supplied in a large variety of shapes and sizes. Round, square, oval and made-to-measure — the choice is yours. High-frequency daylight strip lighting makes the scenes look highly realistic. You can easily imagine yourself in all kinds of different surroundings.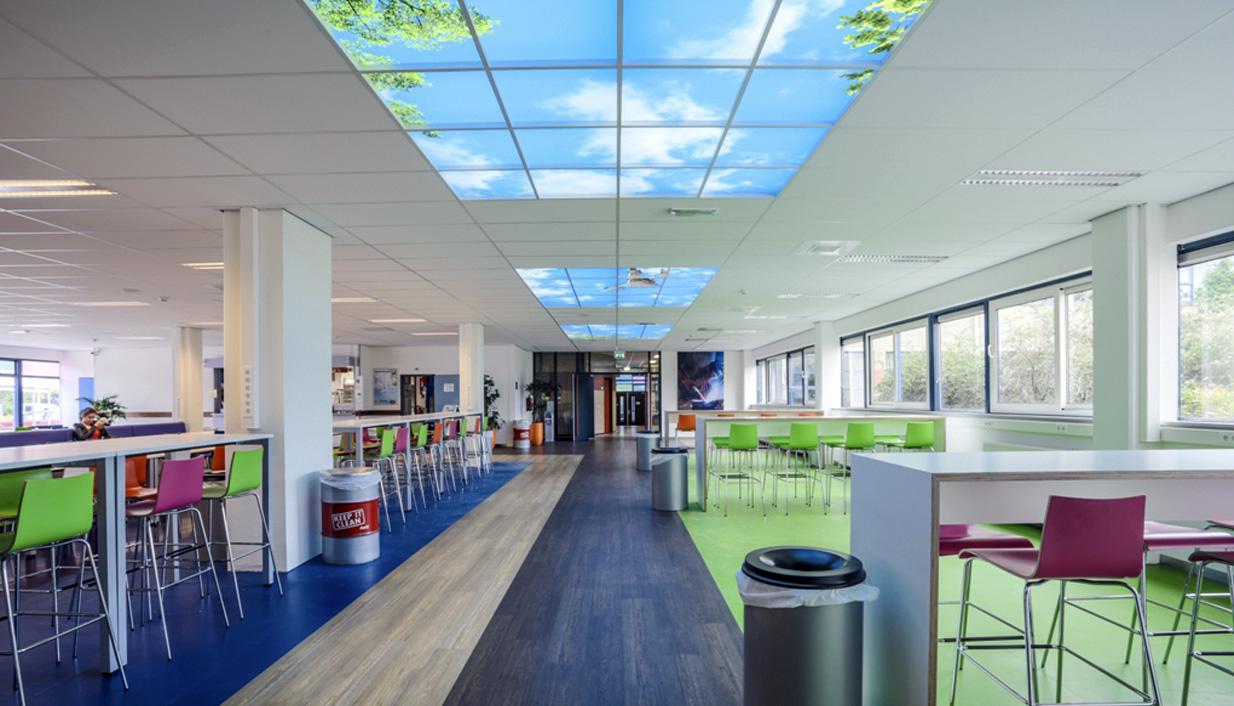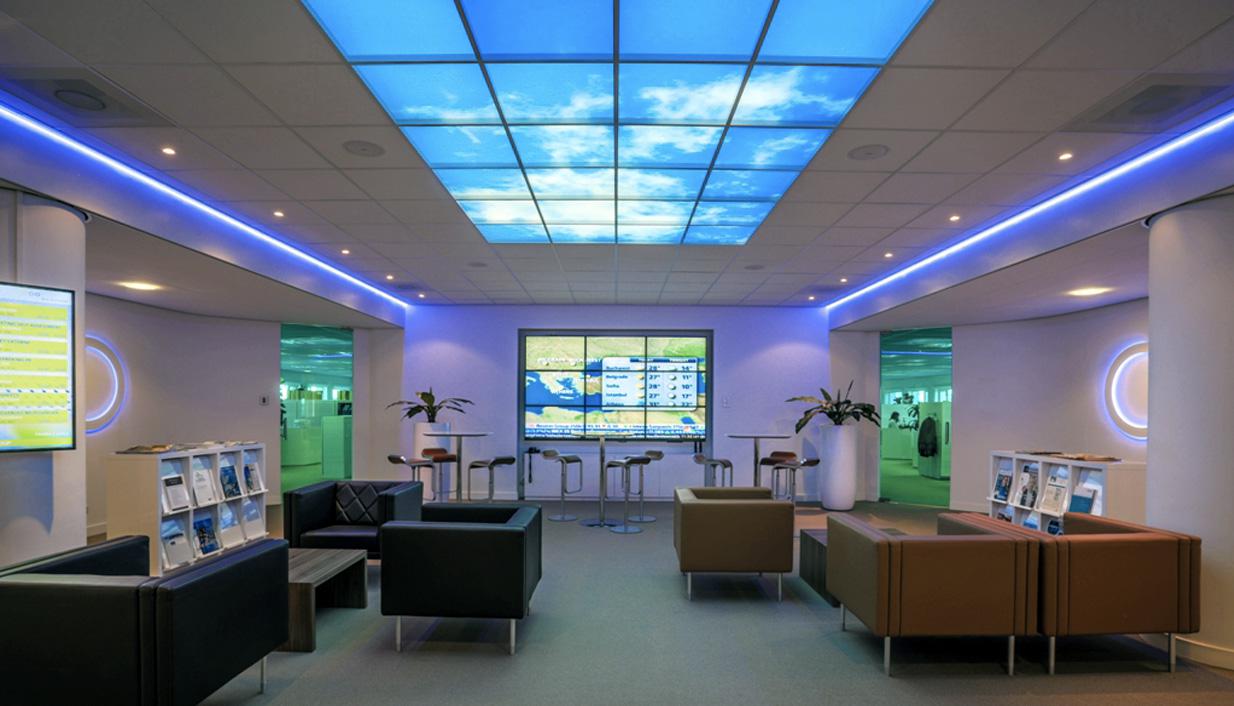 BIS|Econocom Panorama Ceilings make each room more stylish, refreshing and contemporary, thereby creating a pleasant and comfortable setting for meetings and presentations. This innovative solution combines business with pleasure. In addition to the fact that photographs of nature scenes create a stylish room with a pleasing atmosphere, the ceiling system is restful, raises the level of interest in the presentation and increases the audience's attention span. This is both motivating and leads to better performance.