AV as a Service brings AV & IT technology closer
There are many advantages to the integration of Audiovisual and IT technology. For example, you can enhance communications, increase the efficiency of (international) collaboration, reduce the chance of making errors, accelerate the decision-making process, and shorten the route to market. It is clear that solutions for meetings, presentations, teaching, and the provision of information increasingly contribute to achieving the objectives of organisations, teams and individuals. AV as a Service brings these services closer.
Growth through technological innovation
Digital technology is fundamental to the success of your organisation. There is a large chance that you want your organisation to grow by making use of digital innovation in the primary and supporting processes. The only problem is, you can only spend your money once. And planning your digital innovation requirements is difficult and evolves fast. How can you ensure your organisation can deploy the best technology when it becomes available? Are you able to quickly free up budget for digital technologies that increase productivity and strengthen your competitive position?
Accelerate your growth with AV as a Service
Finding the right financial solution is often a major challenge. Until today. BIS|Econocom offers you the opportunity to grow as an organisation and accelerate growth without spending your free cash or making large investments in advance. AV as a Service enables you to benefit directly from the power of our technology without being required to use your own money. You will be taking advantage of the property to use trend. This makes you extremely flexible.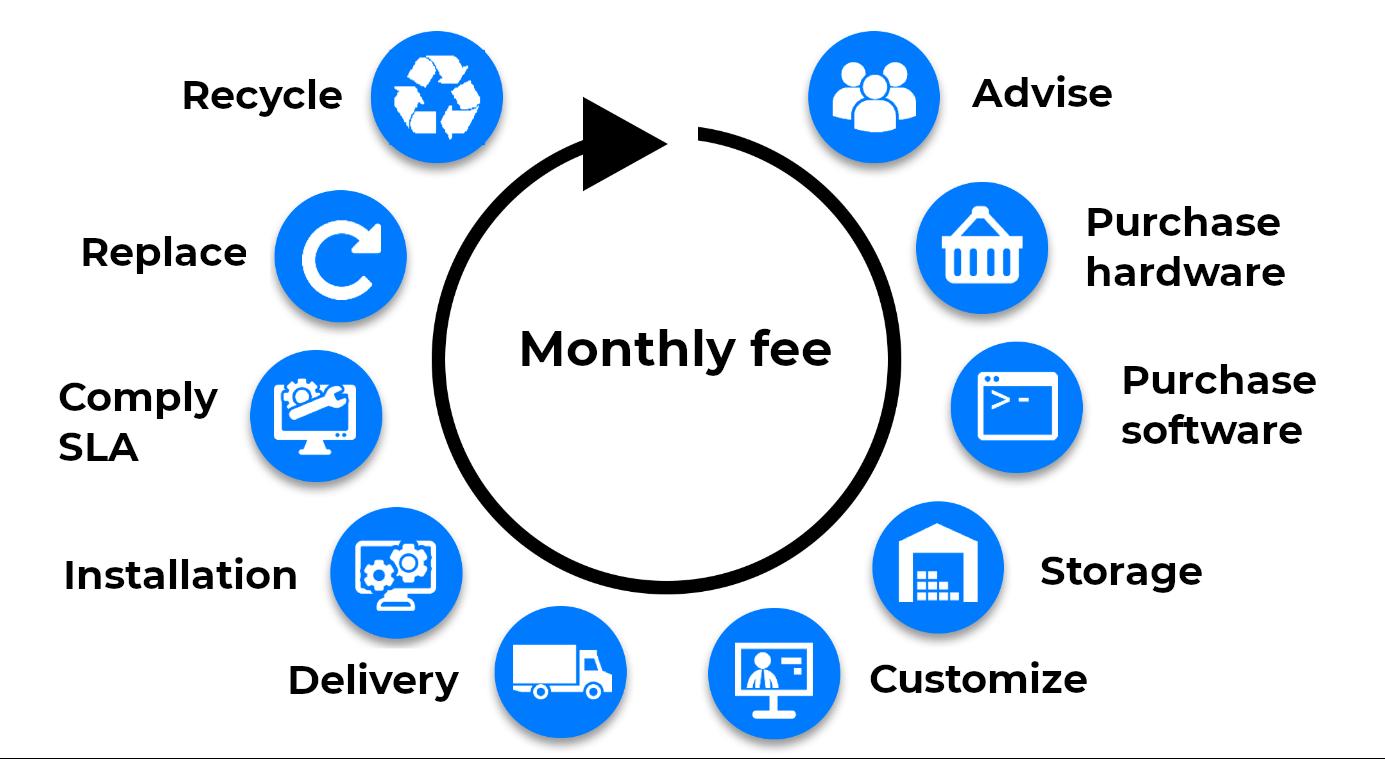 AV as a service, all-in-one on a monthly basis
But the BIS|Econocom AV as a Service model offers much more. Maximum return from Audiovisual and IT technology demands a well thought out and widely supported strategy of digital transformation and technological innovation. BIS|Econocom supports you and concentrates on your objectives, desired applications and the technology required to achieve them. But we also consider environmental factors, adoption, future developments, replacing technology, maintenance, training etc. All of that... As a Service. And all for a fixed amount per month.
Flexible, scalable and future-proof
In short: Thanks to AV as a Service - also known as AV Leasing - you can create a flexible, scalable and future-proof Audiovisual and IT environment that allows you to grow your organisation without tying up all your cash. You can keep your cash free for your core business activities. And you are not required to write off your equipment.
Would you like to discuss your AV as a Service options?
We can help you with your digital transformation. Customer contact will improve greatly; customer loyalty will increase; impulse purchases will be recognised; and sales processes will be accelerated. Of course, we would be happy to discuss the options that best fit your situation.
Call BIS|Econocom on: +31 (0)180 486 777 or contact us using the contact field on the right.
Return to BIS|Econocom Services.
More aout AV as a Service