Transparent communication and effective information transfer between governments
The BIS|Econocom Government team are experts in the AV & ICT field within government institutions and municipalities. Daily contact with clients in this area means that they are well versed in the problems that could arise, so are on hand to provide the best possible solution for your situation. We at BIS|Econocom use our knowledge, skills and extensive experience to transform any room of any shape or size into an area fully equipped for fluid communication (both internal and external), discussion and decision making. More than anyone, we know how modern AV & ICT technology can contribute to transparent communication and improvement of your service.
Our solutions are characterised by the fact that the entire audiovisual architecture is completely attuned to a flawless and interactive transfer of information. In addition to this, we have the knowledge and experience to integrate your audiovisual solutions into your ICT infrastructure and you can come to BIS|Econocom for servicing of your AV products after purchase. We have combined many of our options to create ready-made concepts. Please browse our references page for more information on our clients and completed projects.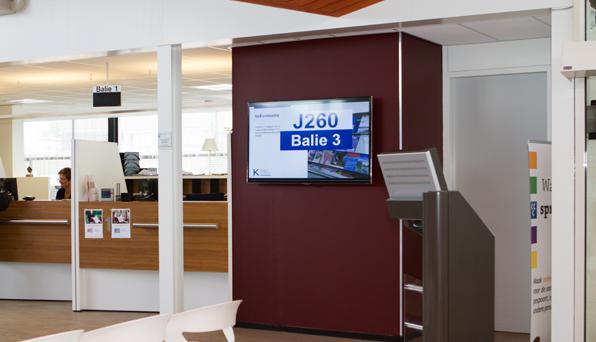 Efficient processing of your queues and making appointments online
BIS|Econocom offers you a powerful solution for the efficient and structured processing of queues. The era of dissatisfied & restless customers has ended. Everybody knows exactly where they stand. We have also included a reporting function. Would you like to know how many visitors have been assisted on a particular day, the average waiting time, the busiest time of day or which counter has assisted the most clients? The data is clearly presented.
Since you can combine this system perfectly with the digital signage solution of BIS|Econocom, you can create the ideal information system for any situation that involves queues of waiting people. You can show the queue numbers in combination with information about your organisation, policy developments, current projects, and much more. It is a combination that will save you a lot of money. This becomes even more interesting when you combine a queuing system with the BIS|Econocom online appointment module, with which you can give visitors the option of making appointments online. Read more about Queue management here.
A shift of private individuals from the public gallery to the living room
There is a revolution going on in governments and it consists of a shift of private individuals from the public gallery to the living room. You can achieve this with BIS|Econocom webcasting. The combination of intelligent discussion systems, cameras and streaming technology offers private individuals the option of attending (council) meetings and press conferences regardless of place and time. It is the textbook example of ultimate government transparency and the perfect way of bringing politics closer to citizens. Their involvement is also enhanced by the option of viewing the agenda, speaker information, chatting, inspecting related documents or leaving comments in addition to viewing the broadcast. Read more about your options with BIS|Econocom webcasting.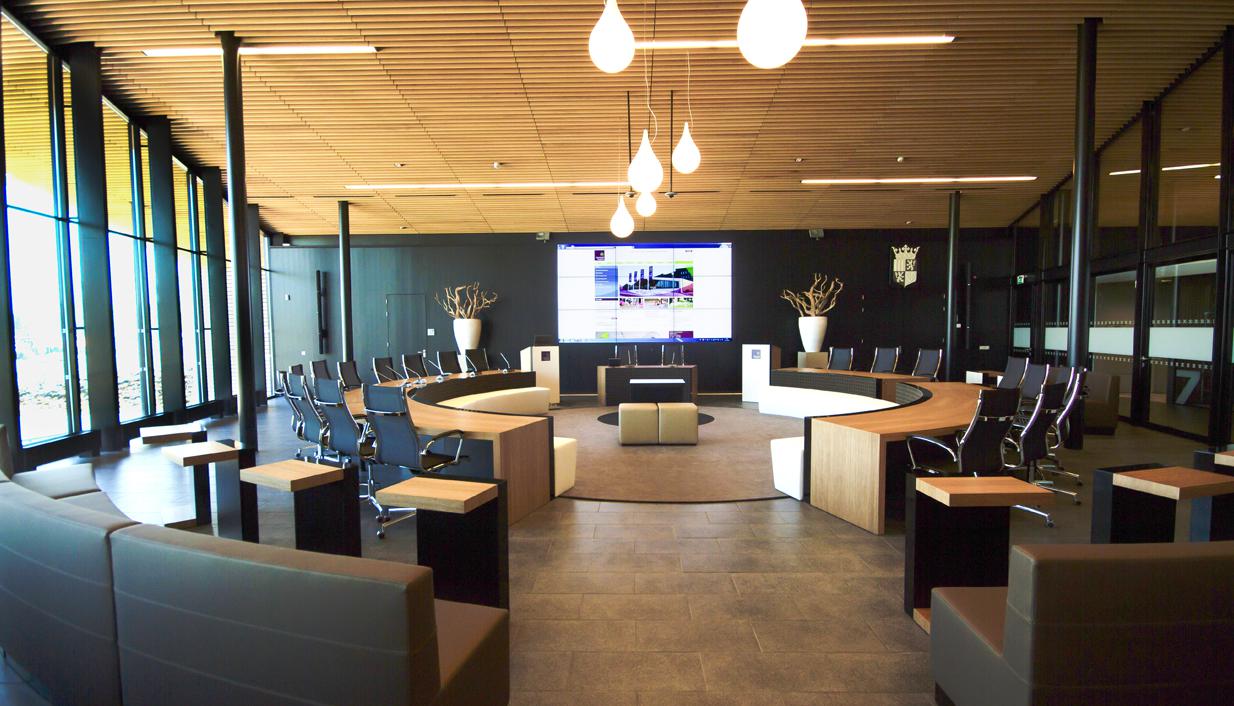 Digital recording, archiving and reviewing meetings
The option of digitally recording, indexing and archiving meetings is linked to the technology of BIS|Econocom webcasting. Keeping minutes of meetings, searching and finding discussed topics becomes much easier. Also, there is no longer the need for viewing the entire meeting. The search function makes it possible to select the topic in which the visitor is interested. The archive can even be searched by date, topic and speaker. It is an attractive service to citizens and a tool with which governments can easily start a dialogue with citizens.
Interactive discussion systems with LCD screens and voice functionality
The interactive discussion system with an LCD screen at every post is becoming increasingly popular. This comes as no surprise, because with a simple touch of a finger, one can see what topics are being discussed, what the agenda looks like, what speaking time has been allotted, who the speakers are, as well as who the other participants are. Simple, additional information regarding the speakers and participants can also be requested and the results of a voting can be made immediately visible on the touch screen and via central projection (anonymously or recognisable). Read more about the discussion systems of BIS|Econocom.
Infrastructure attuned to flexible working and BYOD option
The new way of working. Governments also pay a lot of attention to working in a time- and location-independent manner, flexible use of space, optimal occupancy per square metre, costs savings, better work/life balance and a positive reputation as an employer. BIS|Econocom enables you to achieve the right infrastructure. We can offer workstations equipped with laptop connections, an internet connection, video end-points and much more. Quickly checking your emails, reading the latest news or posting political tweets between work is within reach with BIS|Econocom. We also have the knowledge and skills to capitalise on the BYOD trend: Bring Your Own Device. Your employees bring their own laptops, tablets or smartphones and can log in to your organisation's network.
Trend: interactive information transfer in any room
Interactive communication has become a household name and is desired within governments. It is impossible to imagine meeting and presentation rooms, which centre on information transfer, without an interactive whiteboard or LCD/LED touch displays. The interactive technology is the most important element and is essential for working digitally in this day and age. Governments and councils are using digi-boards and interactive displays in meeting rooms, board rooms, training facilities and presentation rooms, but also in lobbies and reception areas. Read more about interactieve whiteboards and touch displays.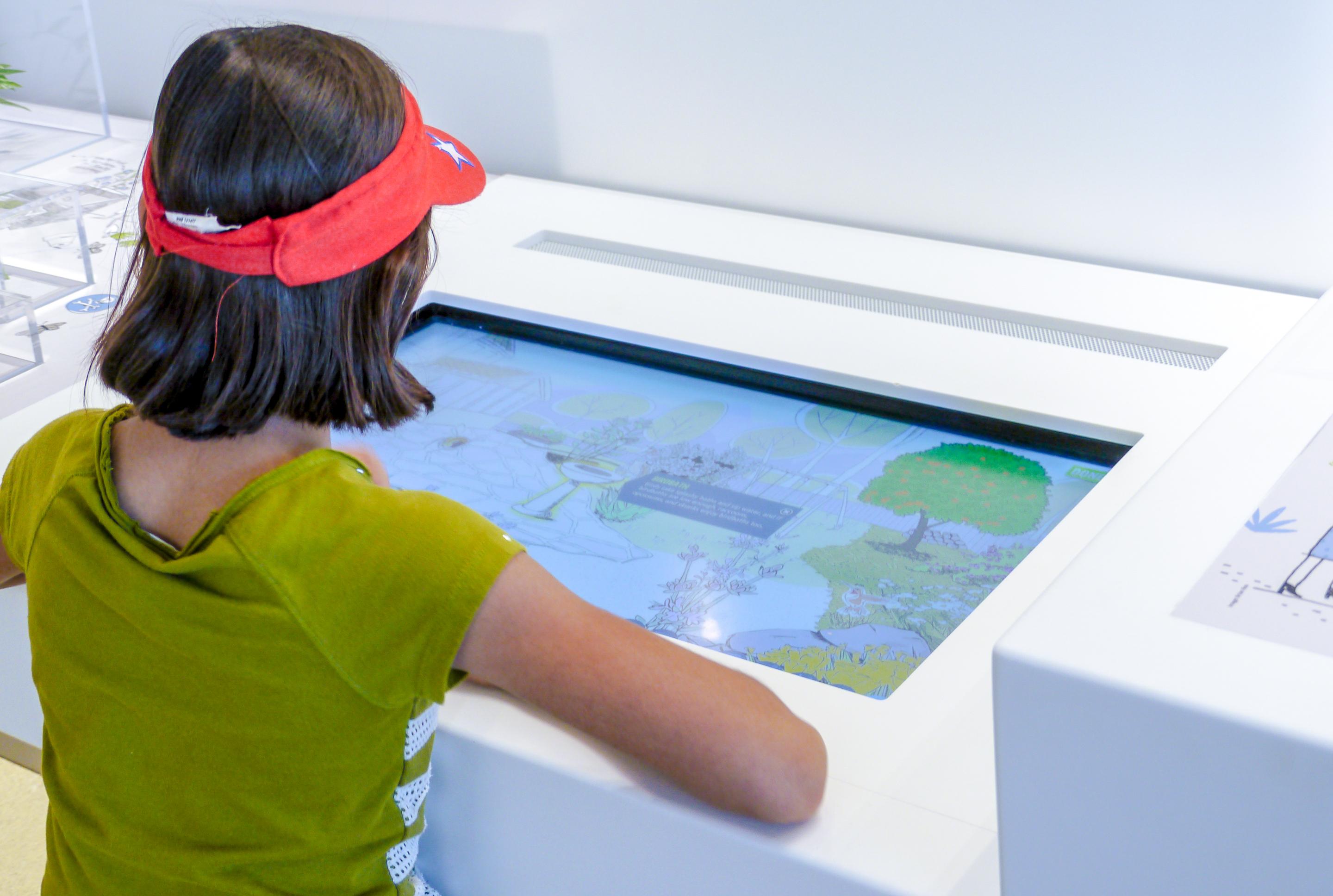 Touch tables bring the option of fully digital work closer
A fully digital government. Modern techniques bring that ideal situation closer by. Digitally requesting, sharing, editing, submitting and spreading information is already possible in your organisation, thanks to the touch tables of BIS|Econocom. With the PresenTable you can reveal every detail of any document, construction drawing, permit application and much more. The interactive software makes it as simple as effective to circle part of the drawing, make notes, zoom in etc. using the touch of a finger on the screen. Naturally, the finished documents can be digitally saved and distributed by e-mail. Read more about the touch tables of BIS|Econocom.
Video conferences: better decisions in a shorter period of time at fewer costs
An increasing number of governments and government institutions are confronted by a fast-increasing fragmentation of the working environment. There is activity on a local, regional, national and even international level, and fellow managers, colleagues and conversation partners are working further away more and more. They cannot be reached due to the miles and miles of traffic jams. A quick and efficient planning of meetings is virtually impossible and practice has shown that a lot of money, time and energy is invested in travel and accommodation, which is very strenuous for man and the environment!
Video conferencing can solve these issues. Increasing numbers of governments are discovering the power and simplicity of video conferencing. Fast, effective, face-to-face, cost-saving and green! BIS|Econocom enables you to even hold conversations and share presentations and documents from your desktop computer, tablet pc and smartphone via video conferencing. Employees feel more involved and experts are within easy reach, so that decisions can be made quicker with less miscommunication and more productivity. More information about video communication under BIS|Econocom VideoCommunication.
Increase your efficiency and strength in the face of disaster
Governments and councils have the duty to prevent and handle disasters. To this end, they have drawn up a disaster or contingency plan with the purpose of having the handling of a disaster, serious accident or crisis in a particular safety area run as effectively as possible. Audiovisual equipment contributes to a great extent to the increase of efficiency and ability to act in the event of a disaster. BIS|Econocom enables you to achieve solutions that improve the cooperation between the various emergency support services. Creating an overview, issuing briefings and instructions, sharing information interactively between various people at different locations, giving feedback and communicating with the press...? this all belongs to the realm of possibilities and should be part of any contingency plan.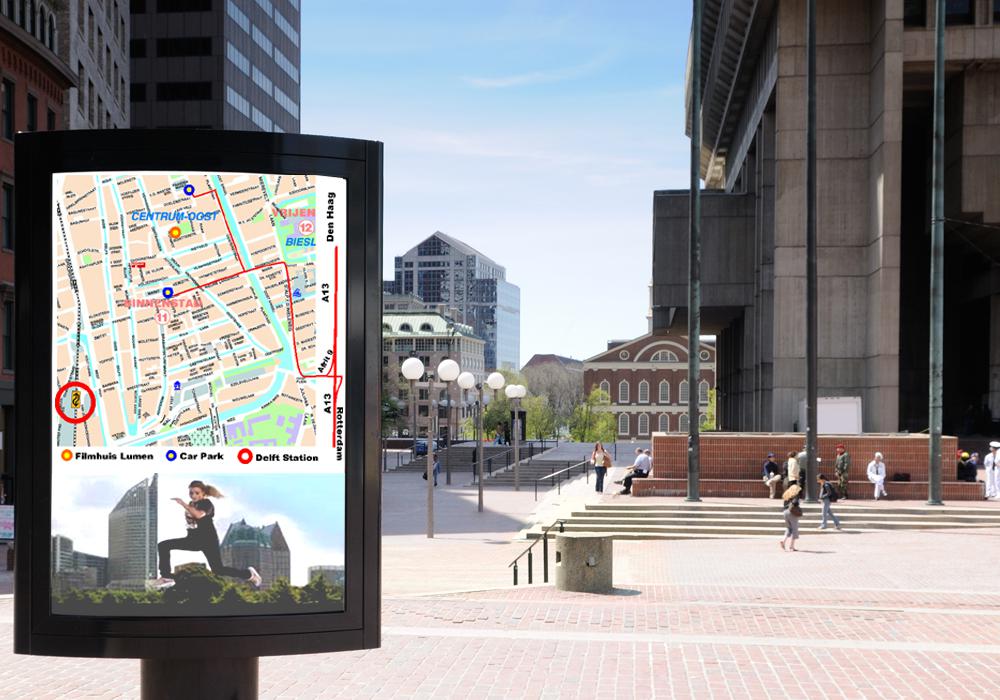 Impressive and dynamic outdoor communication with Outdoor Displays
Outdoor Displays enable you to communicate with target groups in an attractive digital manner in the open air or in major public indoor settings. Impressive LED displays, but also so-called totems, information screens and interactive displays that can be used outside, are becoming more and more popular. The increasing demand for up-to-date information and the wish to use these information carriers in a dynamic manner has resulted in the fact that increasingly more governments are integrating digital information carriers in the streetscape, also in Europe. It is expected that at least half of all outdoor media will be digital in five to ten years' time. BIS|Econocom can also take all worries out of your hands in this specialist area.
Solution for the audiovisual paragraphs in your schedule of requirements
Integration of audiovisual techniques is a profession. A profession that BIS|Econocom commands in fine details. Our consultants are happy to give you advice in the listing of your requirements and demands and in creating solutions that exactly meet your demands. We can give you expert advice on issues such as: Which equipment suits your organisation most? Which technique has to be integrated? What is the correct setup? Which structural facilities have to be organised? And which electrical facilities are needed? The result is objective and professional advice, which you can incorporate into your Programme of Requirements. The big advantage is that you are not confronted with adjustments, repair, loss of time or unforeseen costs, both during construction and afterwards. You can achieve the right solution in one go. How simple or complex it may be.