Dräger
Dräger – founded in Lübeck in 1889 - is an international organisation leading in medical and safety technology. The organisation owes its long-term success to four strengths: close cooperation with clients, expertise of employees, continuous innovation and excellent quality. Dräger's vision is that technology should support and improve life.
Audiovisual furnishing of 42 rooms
When plans were developed for new construction premises for the companies Dräger Safety and Dräger Medical BIS was asked to actively think along about the audiovisual furnishing of no less than 42 consultation and meeting rooms. For BIS this was a sign of the confidence Dräger has in our knowledge and skills and a crowning glory of the years of professional and pleasant cooperation (BIS has already provided the audiovisual solutions for Dräger for 10 years). In order to optimally respond to the need of Dräger and to exceed any expectations BIS has invested in technology and solutions, that match Dräger's vision: innovative and with excellent quality.
Total solution for information transfer
BIS has created a total solution for audiovisual information transfer by combining a dynamic narrowcasting solution with digital information screens with the smart, audiovisual set up of many dozens of rooms; spread throughout the entire premises. Both the narrowcasting solution and all rooms (fitted with the required AV & IT facilities) contribute to the objective to make communication between/with colleagues and visitors more efficient and more effective. From the reception, where narrowcasting screens provide the necessary information whilst waiting, to the canteen – where employees are informed of the latest news, notifications, the menu of the day and scheduled appointments, but also get information about the weather, traffic and social media.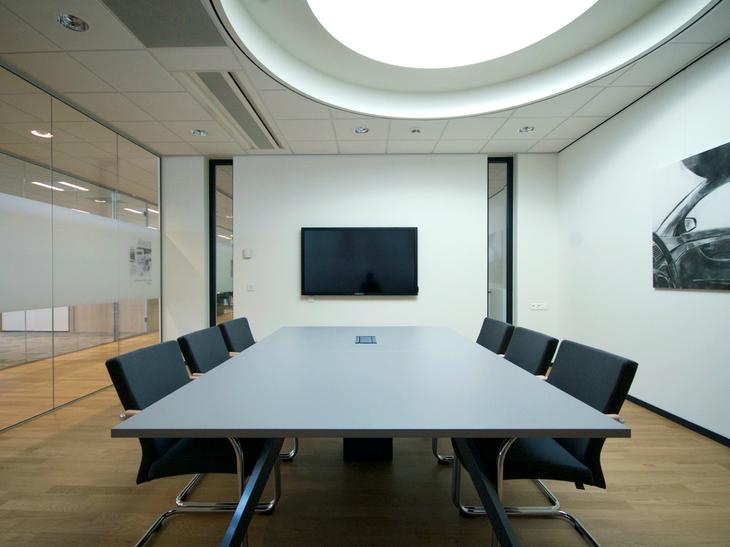 Dynamics due to interactive touch screens
Dynamics due to interactive touch screens touch monitors in combination with special furniture items, in which cabling, peripheral devices and operation are integrated in an attractive manner; provided with good ventilation and thoughtful cable management. The interactive technology of the integrated monitors makes presentations more dynamic. In addition, these screens are perfectly adequate to brainstorm with several colleagues simultaneously and to work interactively on a project, for example because notes are made directly on the display and can easily be stored and distributed afterwards.
Comfortable video conference room
Due to the international character of Dräger and from a cost saving perspective, efficiency and environmental awareness there was the desire to also swiftly and easily keep a video conference with several people simultaneously. To ensure good quality, easy usability and meeting comfort (also for groups!) BIS designed and realised a video conference room. Thanks to the integrated videoconference solution a video conversation can be started-up within a few seconds, documents can be shared and all participants can properly see one another, including the non-verbal signals.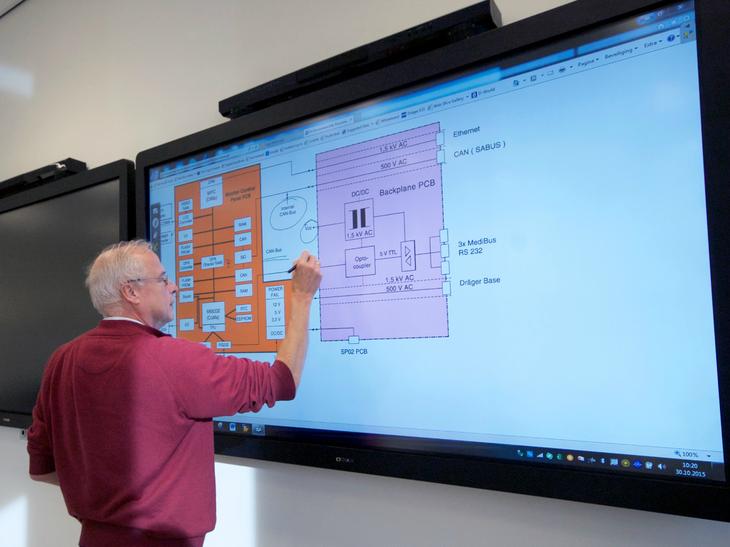 Room booking prevents double bookings
In a building with so many different rooms it is necessary to have a uniform system for booking meeting rooms and to quickly and easily have insight whether a room is free or not. The room booking system installed by BIS offers these options. All employees can book meeting rooms via MS Outlook or directly at the room that they want to use. Small touch displays have been installed at the rooms that also show the availability of that room. Even at a larger distance it can be seen whether the room is in use or not by a green or red LED strip.
Hearty congratulations
BIS is grateful to Dräger for the confidence and looks back on this magnificent project with a good and satisfied feeling. From the orientation phase in the run-up phase up to the delivery, the cooperation has been very pleasant and professional. We congratulate Dräger with their great newly constructed offices!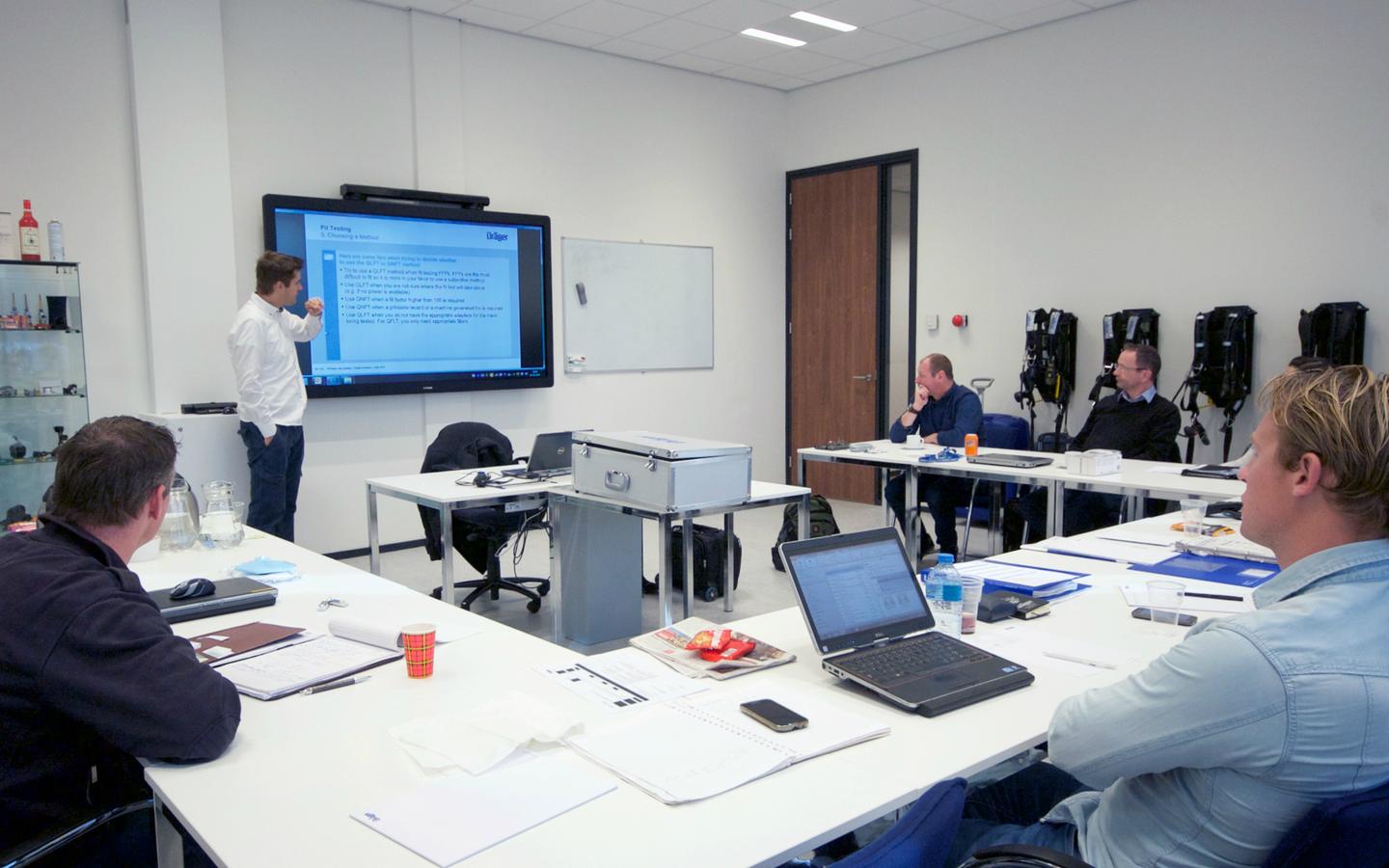 Also benefit from AV solutions
Would you also like to furnish (new construction) premises with dynamic audiovisual solutions for visually attractive and premium information transfer? Please feel free to contact our specialists without obligation.
Please call BIS or use one of the contact options on the right.
Return to the reference overview.