EME Outlook pays close attention to BIS and Econocom
01-02-2018 11:00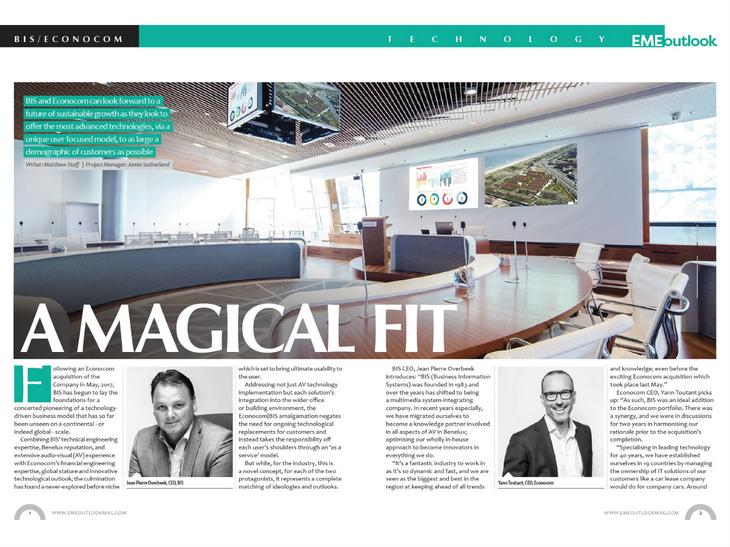 Earlier, we informed you that international media also paid attention (and still pay attention) to the AV-as-a-Service-offering, which BIS has developed together with Econocom Nederland and is constantly expanding. For example, Gary Kayye of rAVe interviewed BIS CEO Jean Pierre Overbeek and the American Commercial Integrator published an interview with the CEOs of both organisations. But that's not all …
Behind the takeover screens
This week an extensive article of 10 pages was published in the English language EME Outlook Magazine, which is distributed to 395,000 readers all over Europe. In an open and dynamic interview, the CEO of Econocom Nederland, Yann Toutant, and the CEO of the BIS group, Jean Pierre Overbeek, present their vision on the added value of audio-visual & IT solutions and the developments in the audio-visual industry. In addition, there is a glimpse into the considerations and ideas behind Econocom's acquisition of BIS.
AV as a Service again
It should come as no surprise to anyone that in this interview too, most attention is paid to AV-as-a Service; as a trend in general, but also to the major pioneering role that BIS and Econocom play in this field in the industry. For example, somewhere in the middle of the interview Yann Toutant says: "Customers don't want to lease or buy; they want to use! So, our 'as a service' model involves us keeping ownership of the technology while continuously delivering services, maintenance, updates and support; to make sure every aspect or responsibility is taken away from the customer".
Great BIS projects
This and many other interesting statements can be found in the interview published online, which is not only very interesting from a textual point of view, but also contains beautiful photos of BIS projects. Please read the full article here.
Would you like more information?
Would you like more information about your possibilities with BIS? Would you like to check out what AV as a Service can mean for your organisation? Please contact us today without any obligation.
Please call BIS +31(0)180 - 486 777 or use one of the contact options on the right.