ING ready for hybrid working
ING decided to centralize their Walloon headquarters in Louvain-la-Neuve. Thus the bank has chosen a building with a surface area of approximately 10.000 m² spread over 4 floors. The building has a central, bright atrium and a garden that captures the imagination: Réseau Nature.
The building has an excellent rating and has been awarded the BREEAM environmental certification. This certification stands for low energy, natural light, intelligent home automation, rainwater recovery, photovoltaic solar panels, etc. Today, we are again the proud AV integrator, we love projects on this scale. We will be pleased to map out below how this organization cooperates (in a hybrid way).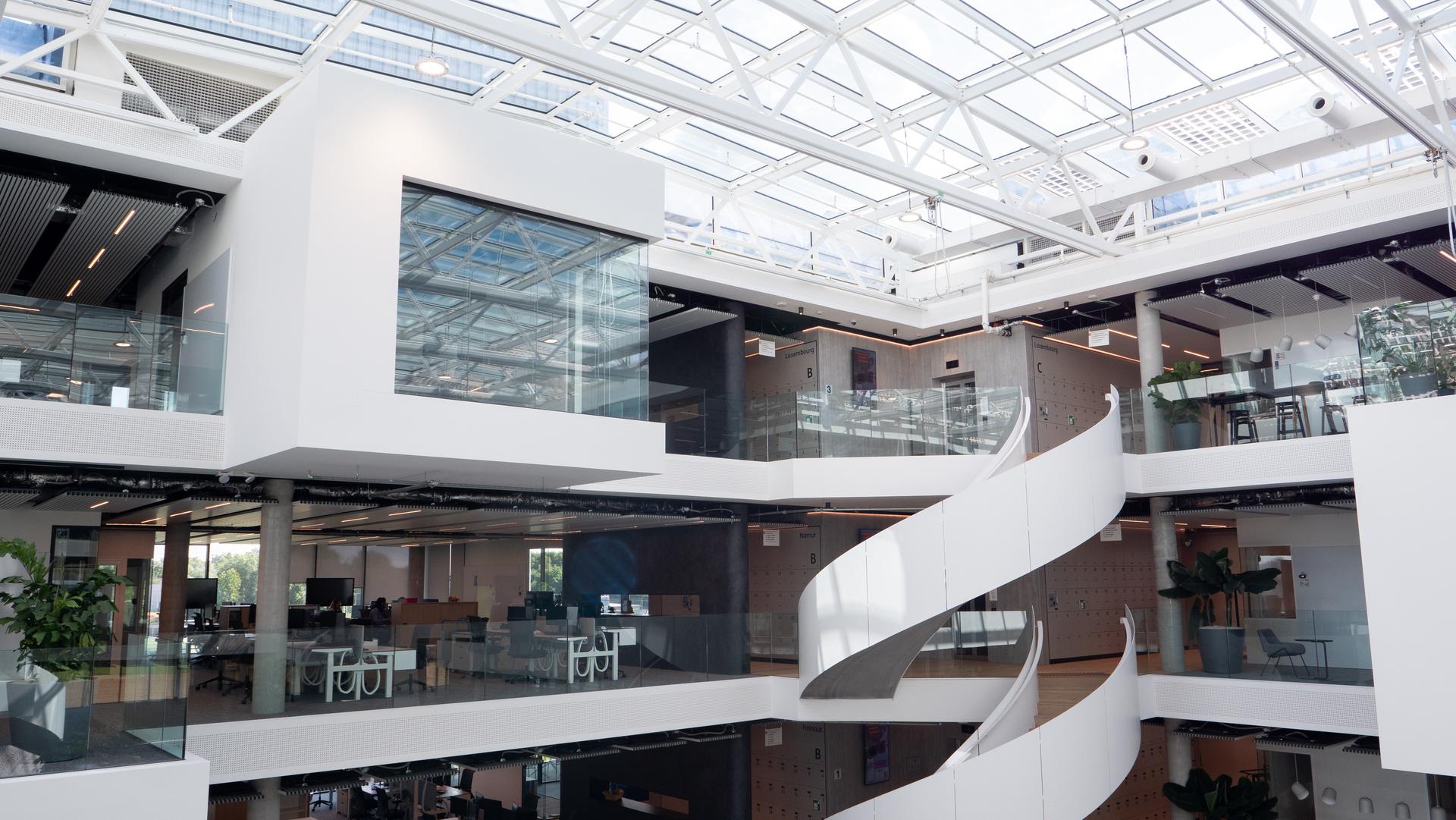 Reach the office employees present
It remains a challenge to always provide visitors and employees with the correct information. Signage displays in the corridors and the elevators are necessary nowadays. Adjust the messages on one or more screens simultaneously via a cloud platform (remotely). A choice was made for 9 displays at strategic locations. We have chosen Samsung's professional QM series. No shortage of light output and perfect colour reproduction. The majority of displays were placed in portrait mode, which in many situations improves the readability of content with a lot of text.
XS – S – M – L – XL – XXL – XXXL
In the initial phase, we divided the rooms according to the purpose of use and the corresponding surface area. Standardization is key, ING works with Microsoft Teams and thanks to the choice of certified MTR hardware, the following classification was created.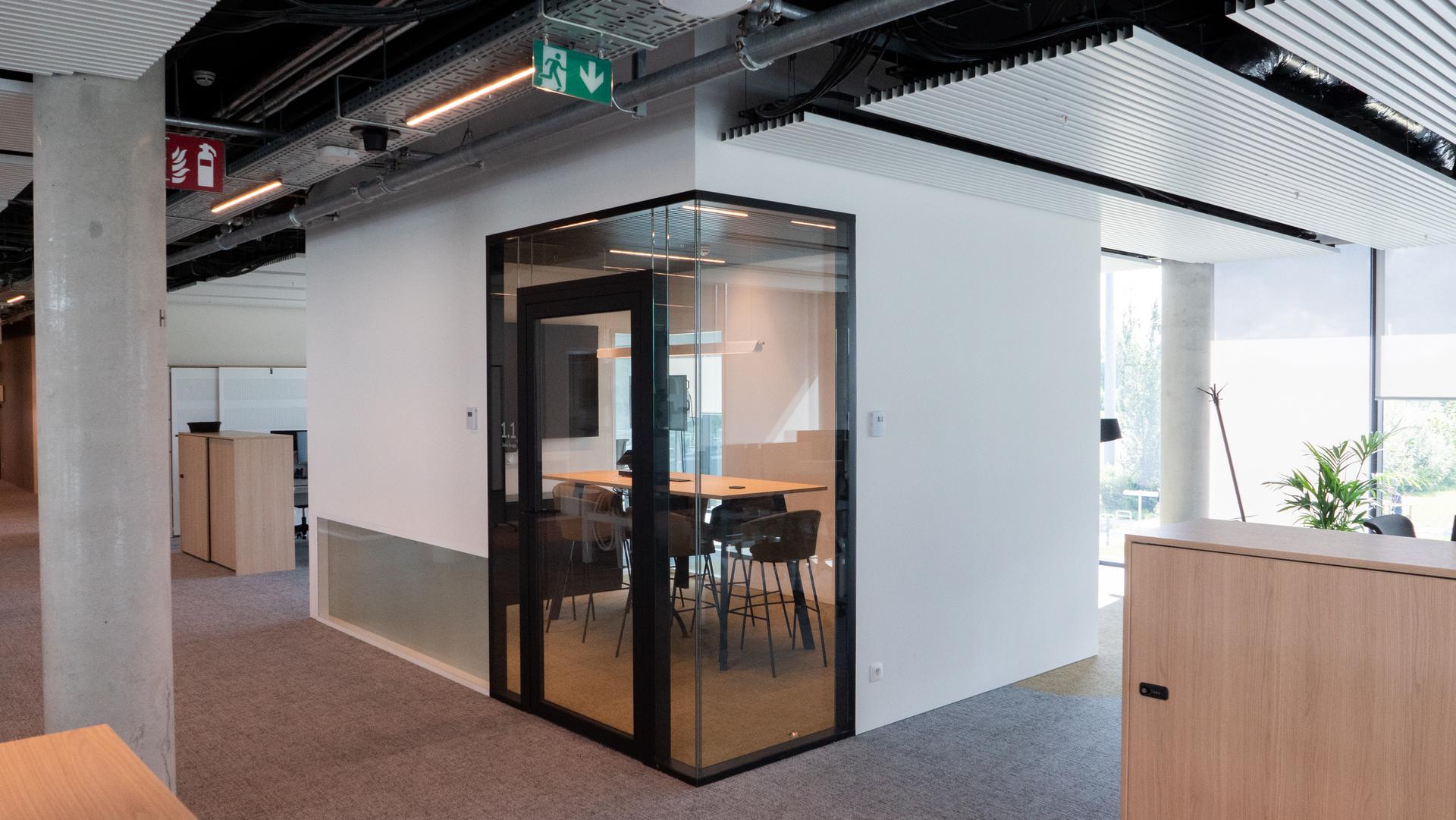 The compact rooms are suitable for isolation or for working on a project with 2 to 3 colleagues. The idea was to have only local meetings here, although the user can always start up online meetings via his/her laptop.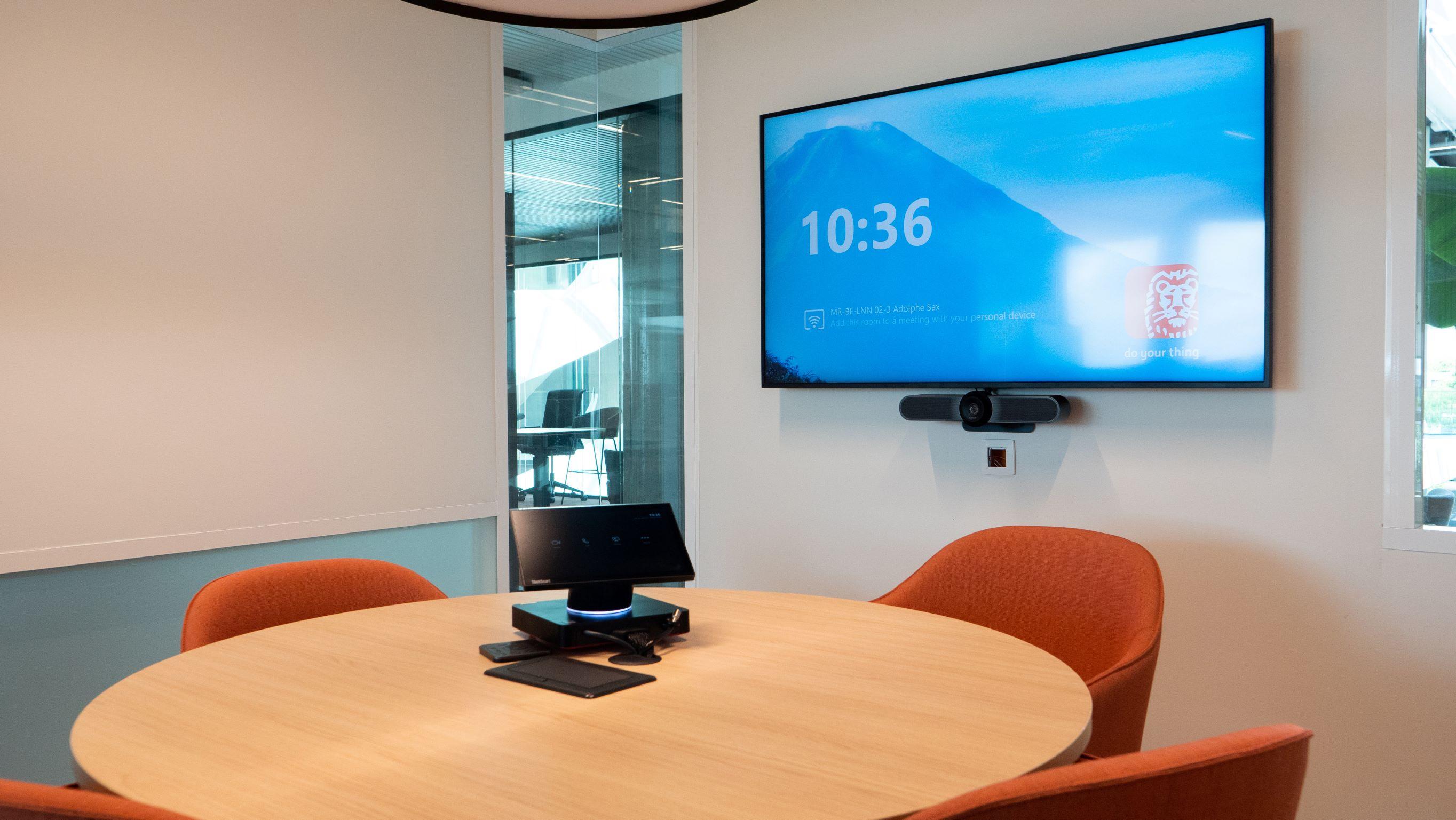 The medium rooms are suitable for both local meetings and online meetings with remote participants. A Logitech MeetUp is controlled via a touch panel. In these rooms, the customer also has Samsung QB displays, the all-rounder in a modern meeting room with natural light.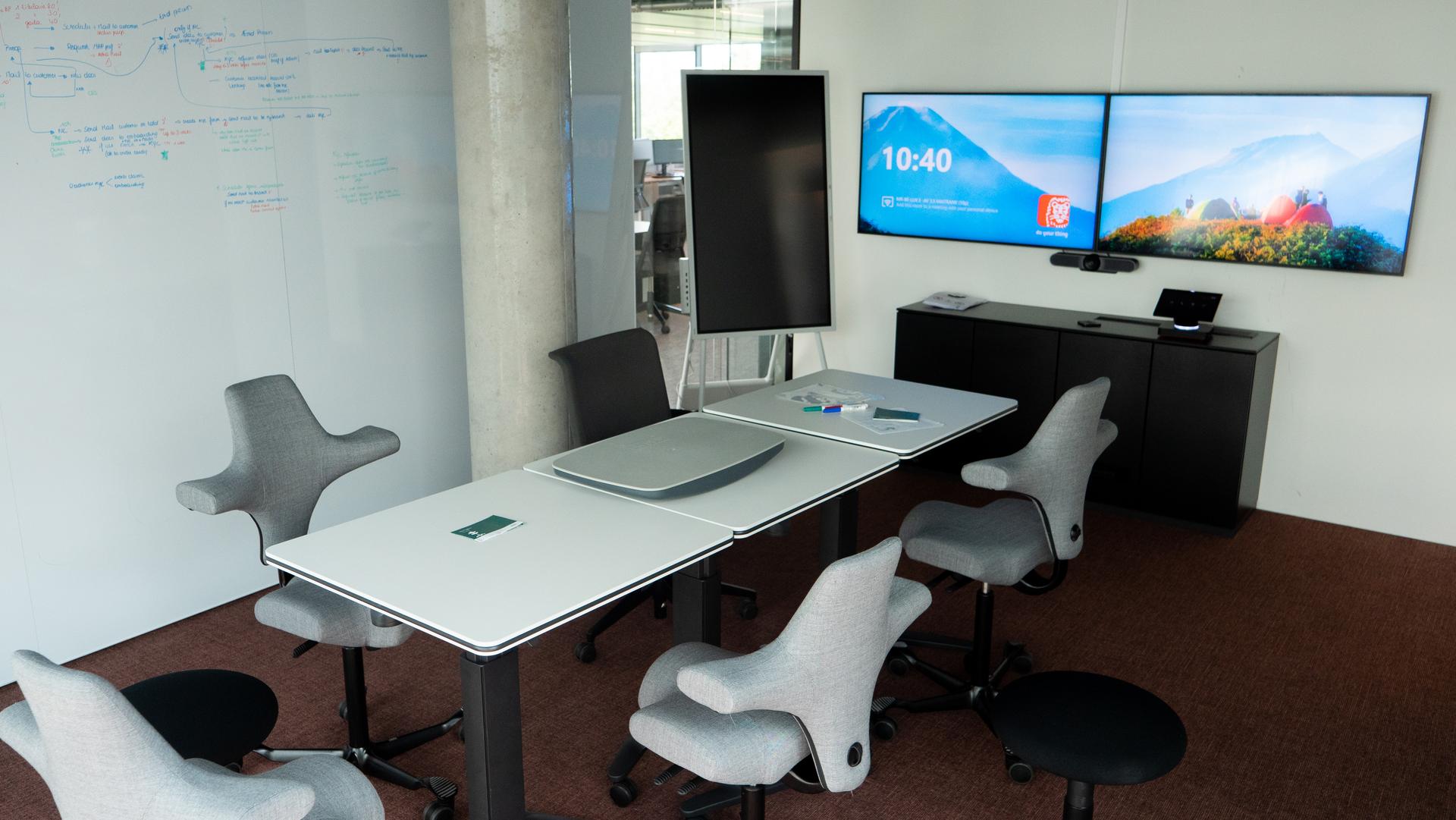 We usually refer to large meeting rooms as from 10 persons. Logitech collaboration solutions are also still used here. What varies greatly in the large boardrooms are the image carriers. Not only the size goes from 75" to 110", there is also a deviation in the type of image carrier. Besides the Samsung QB series ING also has 2 indoor LED walls, i.e. "The Wall" by Samsung. Why exactly this setup? Unrivalled viewing angles with ditto colour rendering. We can only welcome the advent of this technology. What started as a niche product for the happy few becomes nowadays a reachable solution for large organizations.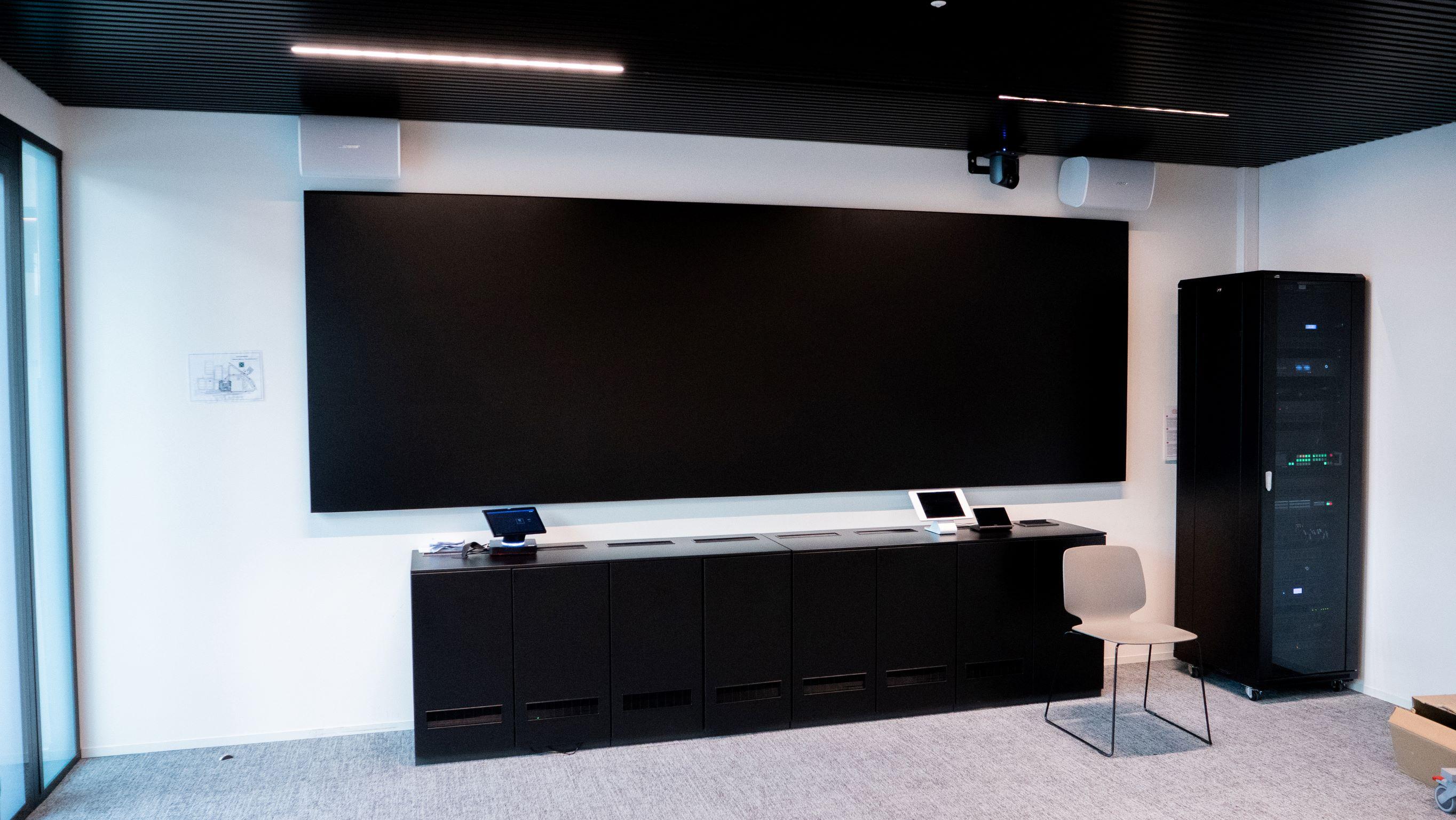 In the large rooms, we have put a mobile digital whiteboard at their disposal. As soon as a meeting requires annotation, brainstorming or interaction, the customer can simply use the additional Samsung FLiP. It does concern the 85" version on a motorized base. A lot of screen estate, so physical cooperation works better than ever before.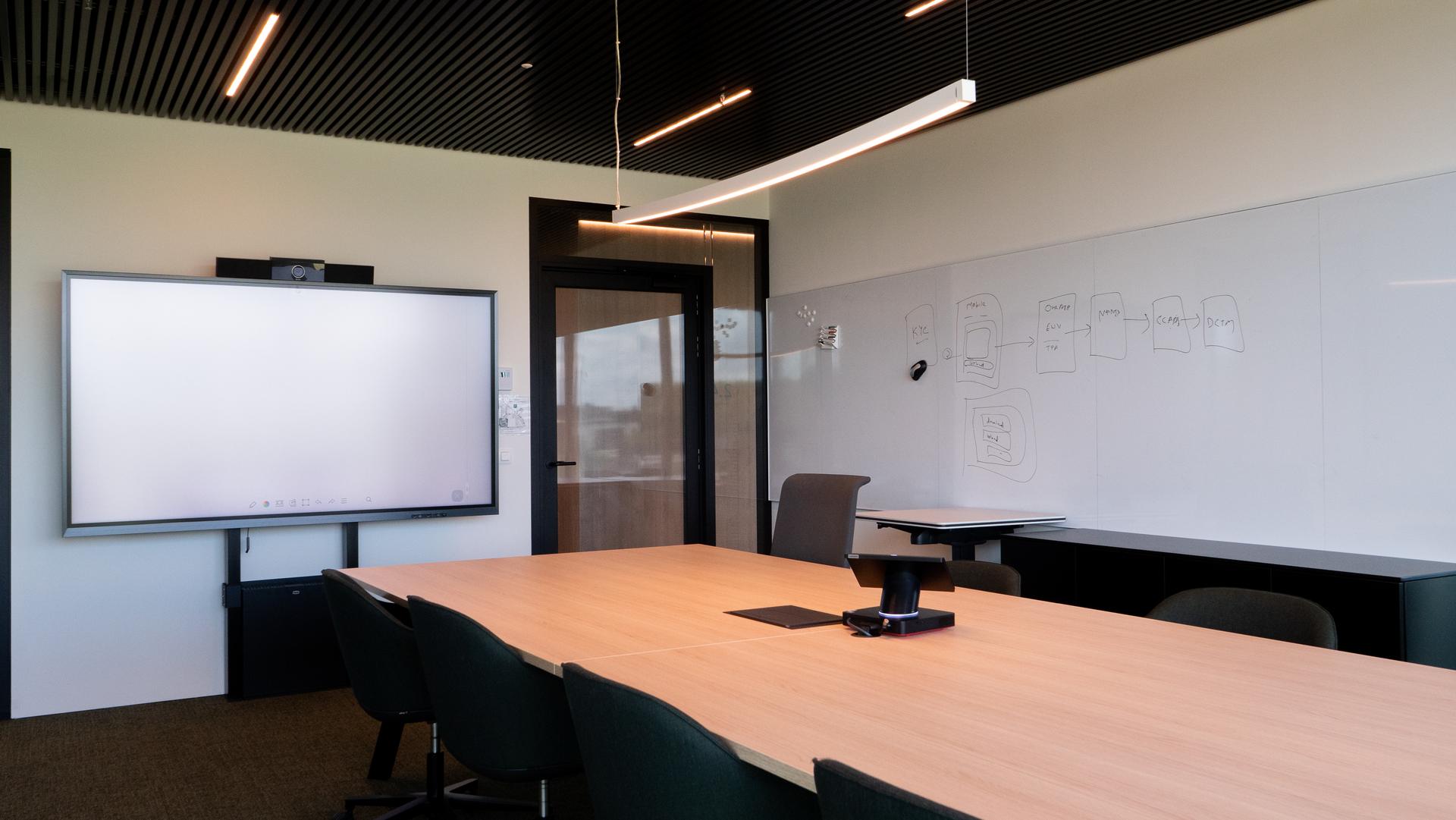 Innovative technology was integrated into various rooms to help the user and makes him/her understand better. Although the user never comes into direct contact with it, he/she does enjoy professional Biamp microphones, Digital Sound Processing and more. Today invisible technology makes the difference between a seamless operation or a stressful experience.
Learning centres – Coffee corners – Recharge rooms – Interview rooms – Fitness
Finally, we would like to share photos of some unique rooms. After all, you cannot meet or work all day long. ING is in step with the times and offers its employees various opportunities to relax and practise sports. Thanks to these facilities, employees have an additional reason (besides collaboration) to come to the office frequently.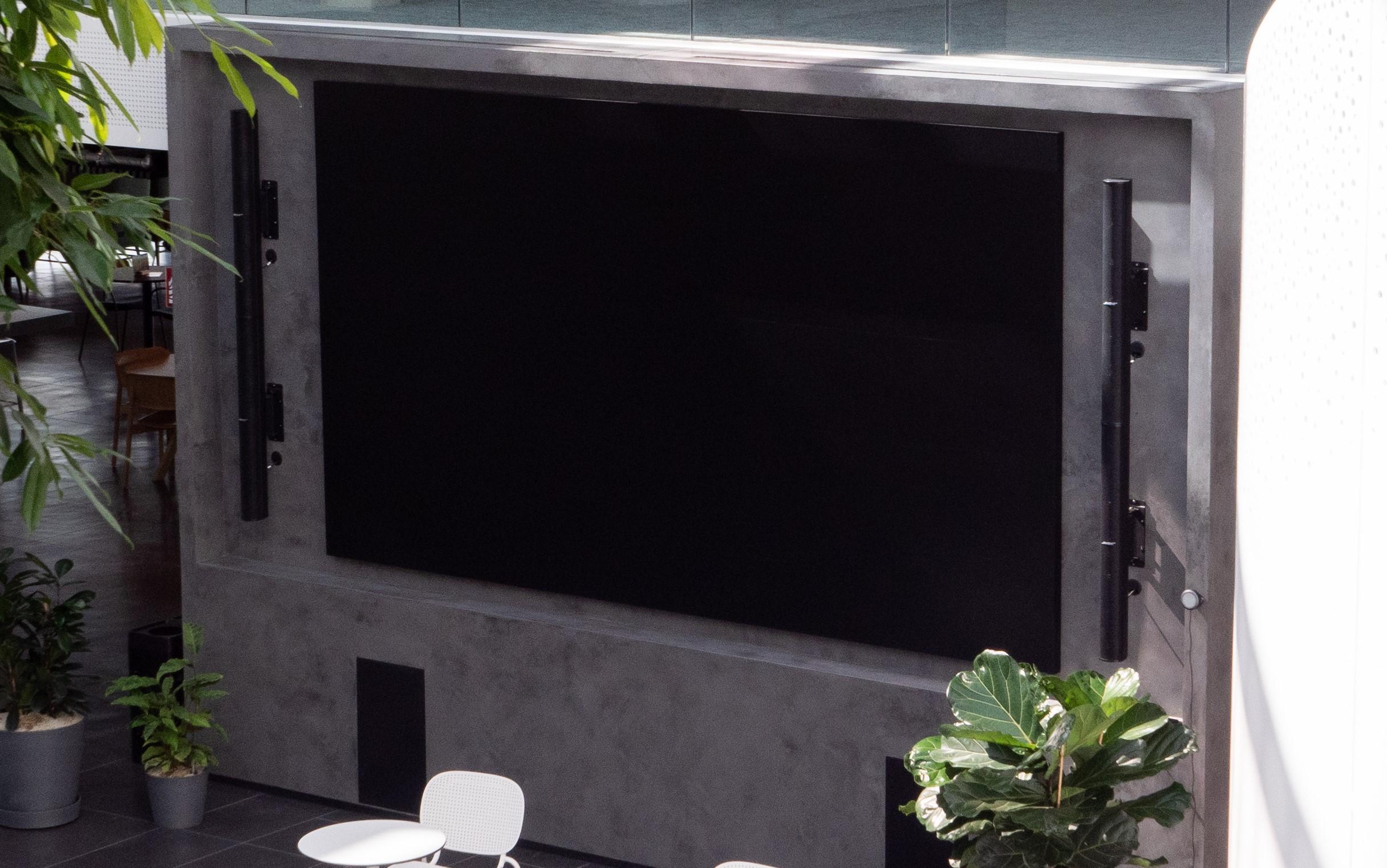 Atrium
Bringing large groups together again... For a long time it seemed like a dream, but it is possible again. ING resolutely opted for indoor LED technology from Samsung. The setup is controlled with a Crestron touch panel and audio is provided by Shure mics and BOSE MA12 column speakers.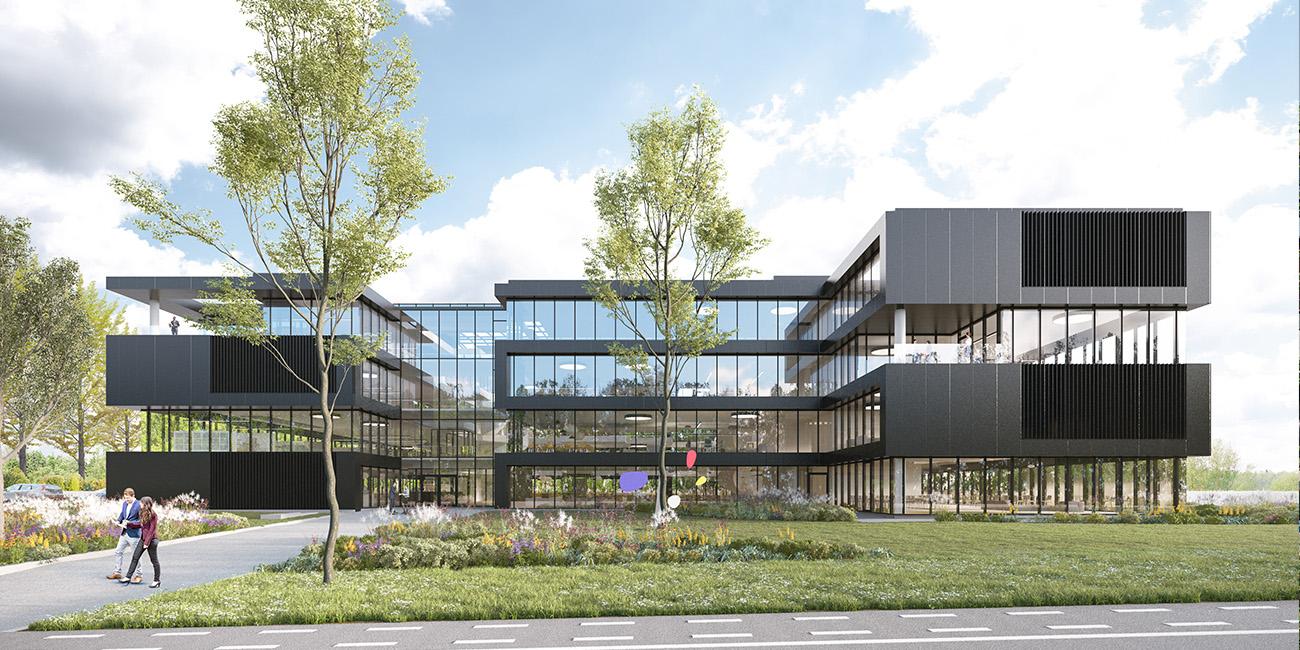 Acknowledgments
We take this opportunity to thank all of you for your confidence and the smooth collaboration. We wish ING productive meetings & training sessions in this modern building. Do you also want to innovate with technologically intelligent audiovisual solutions? Call BIS|Econocom Belux on 015 287 487 or contact us via the possibilities mentioned on the right.