Learn & innovate on the AG Campus
The brand-new AG Campus is situated in the heart of Brussels. A learning and innovation centre where employees can go to develop themselves, coach colleagues, exchange ideas and set up new projects together. It is the ultimate meeting place of AG Insurance. We have been talking about hybrid working for about two years now, but training courses are also increasingly coming under the heading of 'hybrid' because they are organized in different formats.
As soon as you walk in, you feel the focus on innovation, growth opportunities and interaction. The new campus embodies the values of AG Insurance. It is therefore more than an office building; it reflects AG Insurance's ambitions as a catalyst for collaboration and growth. A great place to Discover. Learn. Grow.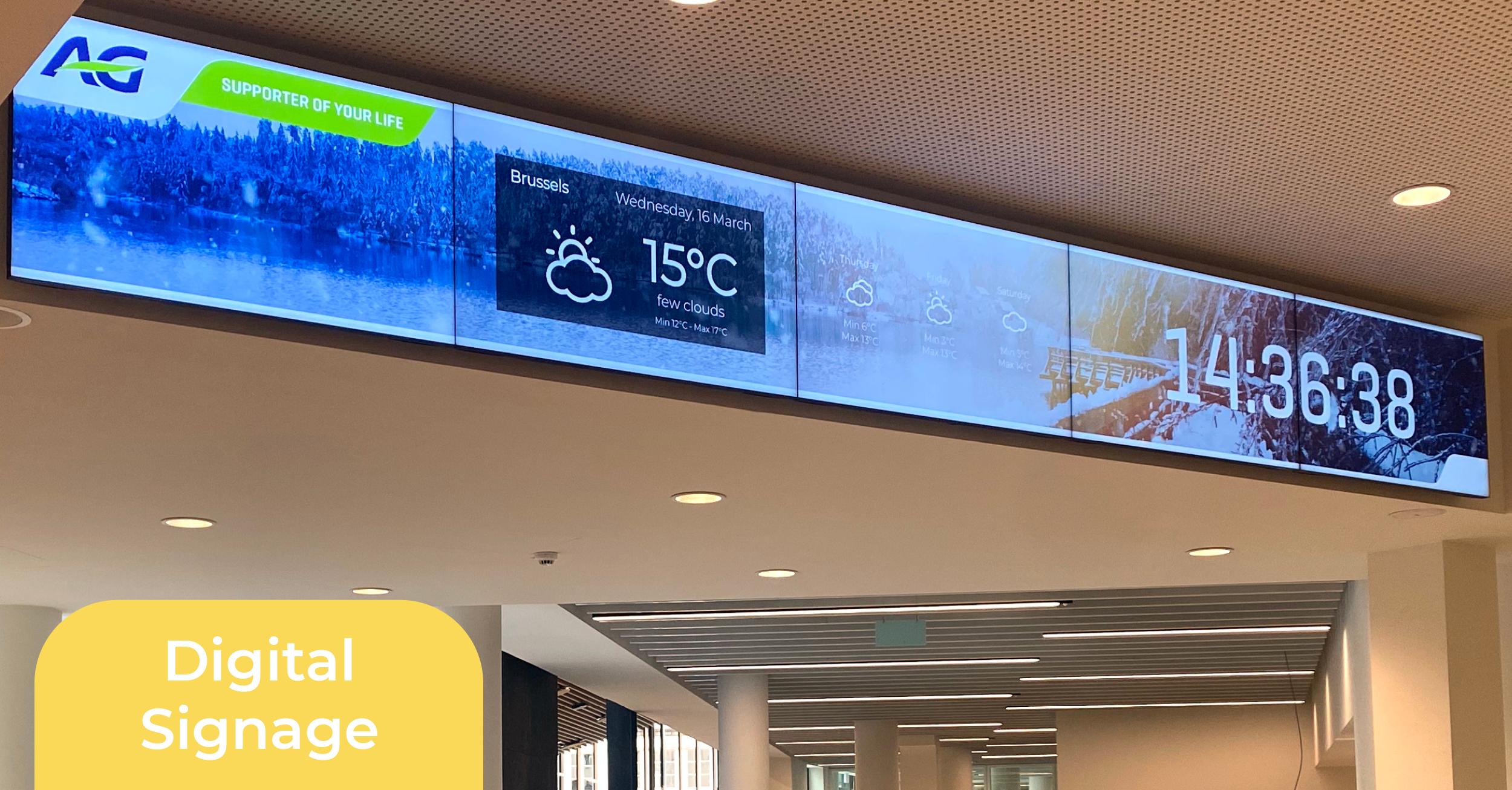 It is clear that AG Campus, as a talent magnet, does not overshoot its target. 75% of the working millennials would like to work at home/at a remote location. 43% is allowed to work at home/at a remote location. AG Insurance understands very well how the labour market works today.
Microsoft Teams as a binding agent
Meeting rooms, brainstorm rooms, huddle rooms, … The Campus has a wealth of spaces and rooms. These are all connected by Microsoft Teams. A concept was elaborated for each main activity, always with a focus on (partially) remote participants. In the design phase, it was crucial that trainings could be followed in various ways without compromising the quality of meetings or lectures.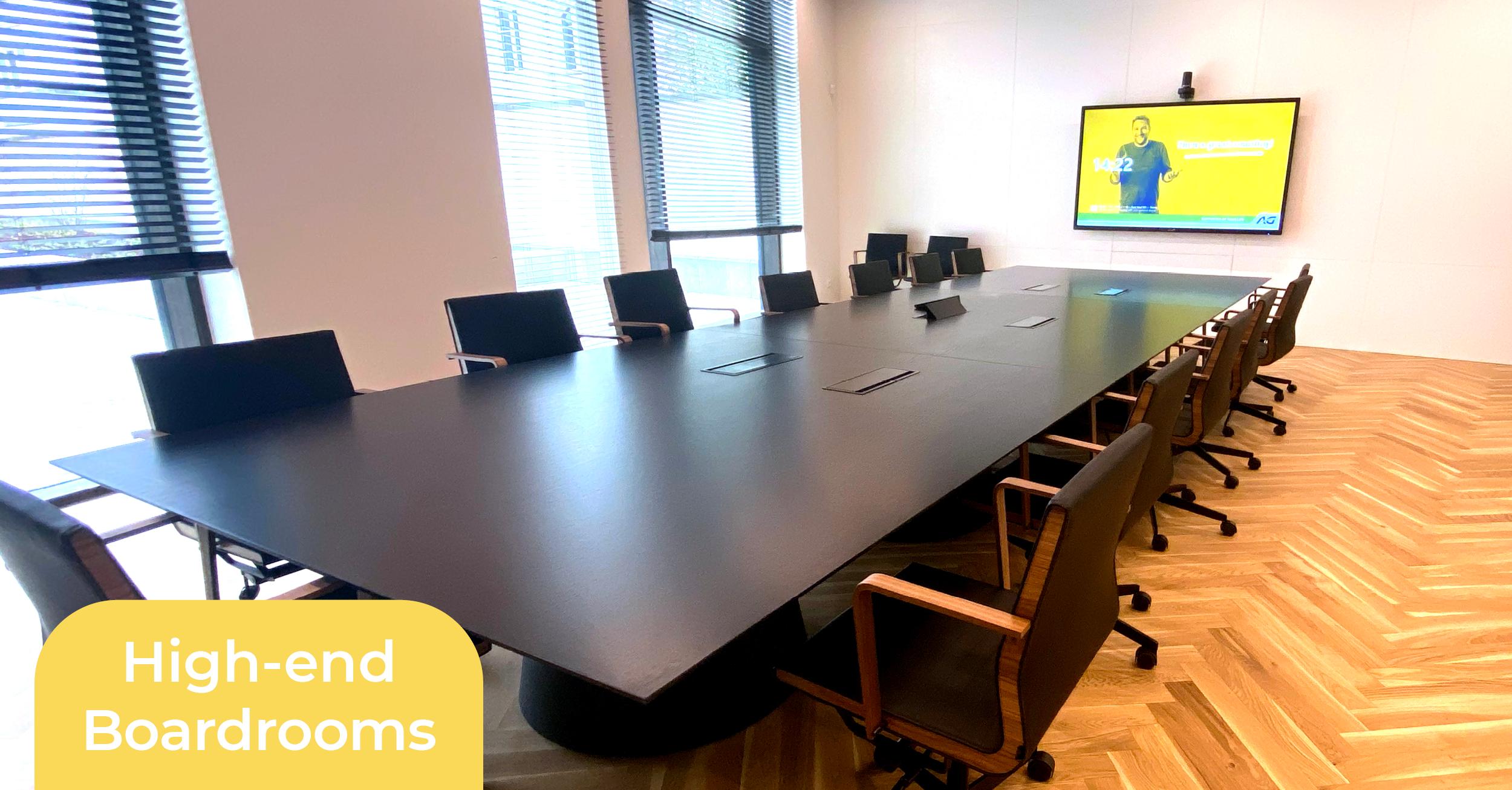 Most of the rooms and spaces are equipped with a Logitech Tap conference kit with a 4K Rally camera. Active tracking of the instructor, intuitive control, a fully wireless experience, … these are the things AG Insurance was looking for. The control of each room (small or large) is therefore identical! Thus no room is more difficult or easier to operate. In specific situations we have used Poly cameras (Poly Studios & X50s) but here too the control runs via the familiar Logitech Tap interface. This contributes to a 100% seamless experience throughout the Campus.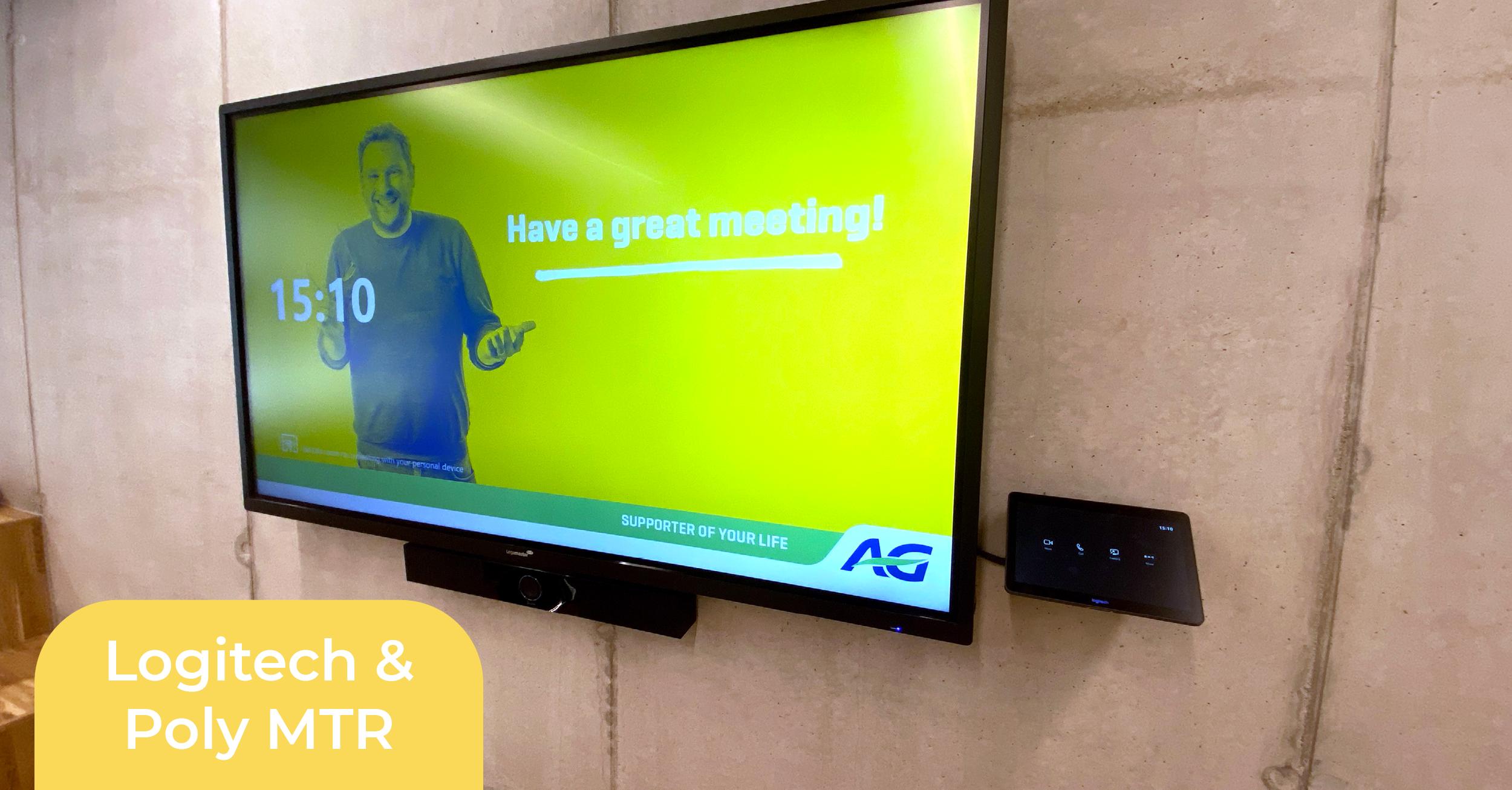 The large rooms were extended with additional Biamp ceiling microphones, which are a permanent value in all our installations. For audio output we rely on the speakers of the Logitech room kits. In the meeting rooms, various BOSE speaker zones were configured using an active DSP.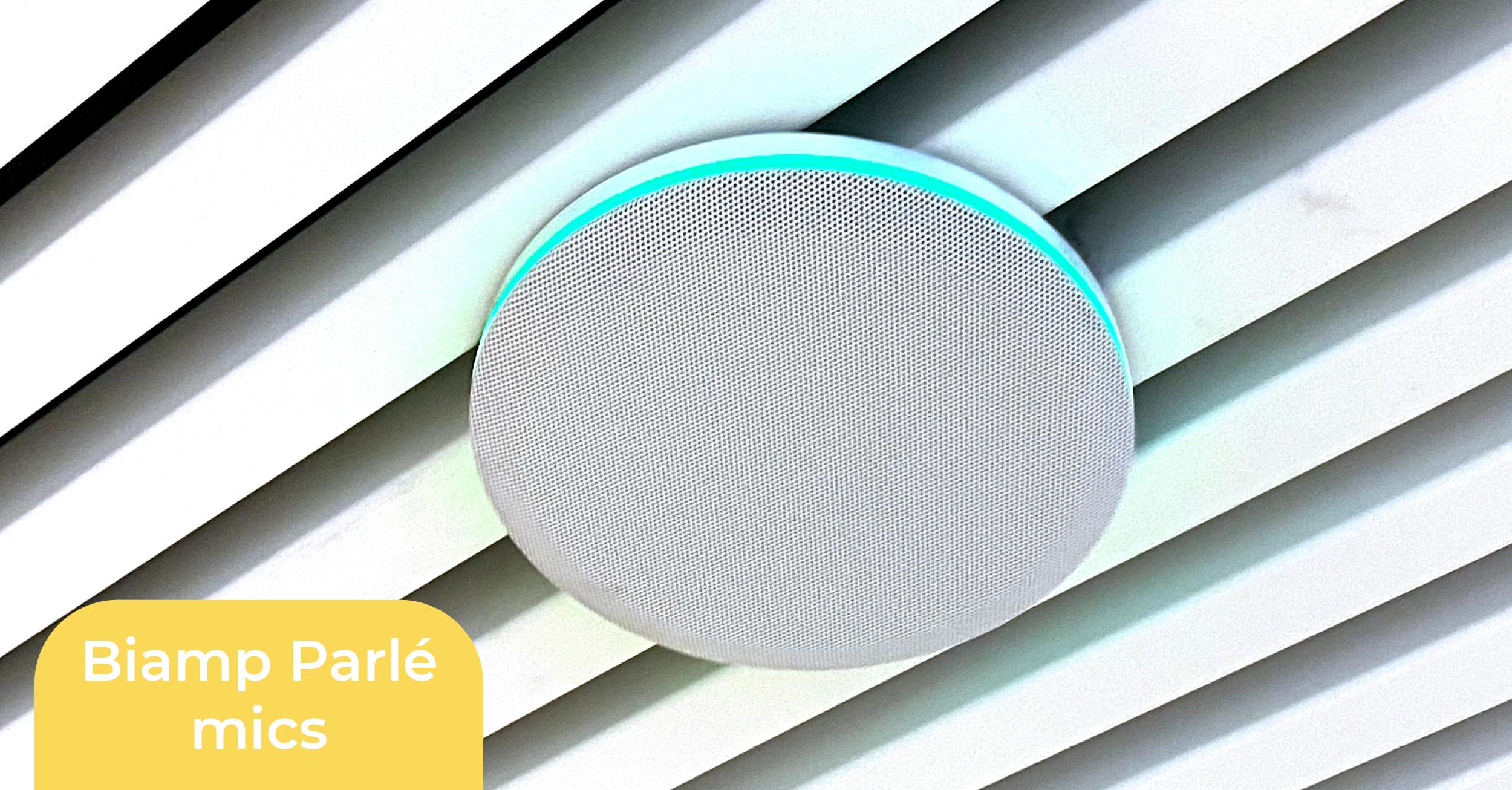 All rooms are literally 'interactive', every screen has touch functionalities thanks to the Legamaster. And yes, these touch features work in Microsoft Teams online teaching sessions as well as during local meetings.
Digital Signage is used for planning and communication
Each organization has its own wishes, which is why we always offer a customized project. We advised AG Insurance to choose a 1x5 Samsung video wall to provide the sleek reception with news, weather and traffic information. AG Insurance already had a competent signage system that was adopted on the Campus. In the corridors and large meeting rooms, there are altogether 8 landscape screens. The occupancy of the training rooms and meeting rooms is displayed on the screens in the familiar AG Insurance corporate identity.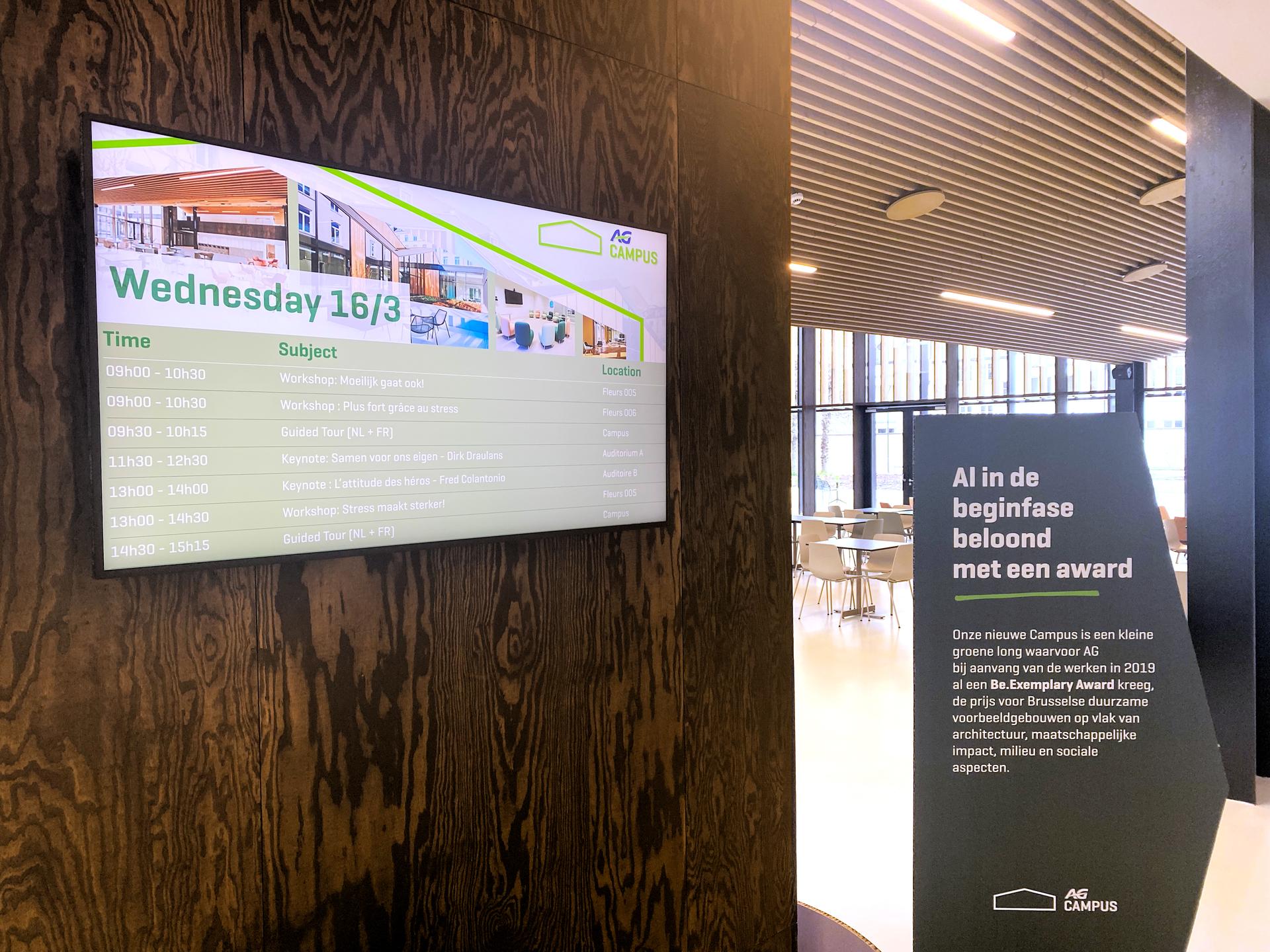 We also like to create clarity on the outside of the rooms
Unexpected interruptions, ghost bookings or double bookings… Entering a full training room or being disturbed during an important meeting is uncomfortable. This often leads to irritation or annoyance. Nowadays this problem can easily be solved. Make it visible on the outside of the room whether the room is available or not. A Room Management system provides a solution. Each bookable room has a handy Room Booking Panel with an interactive LED ring. In the long run, our client also builds up numerous user insights; after a few months, it should certainly be possible to draw conclusions. Which rooms are constantly booked? Which rooms are ignored? Are there users who report malfunctions via the door panels? A wealth of information for the facility & IT manager.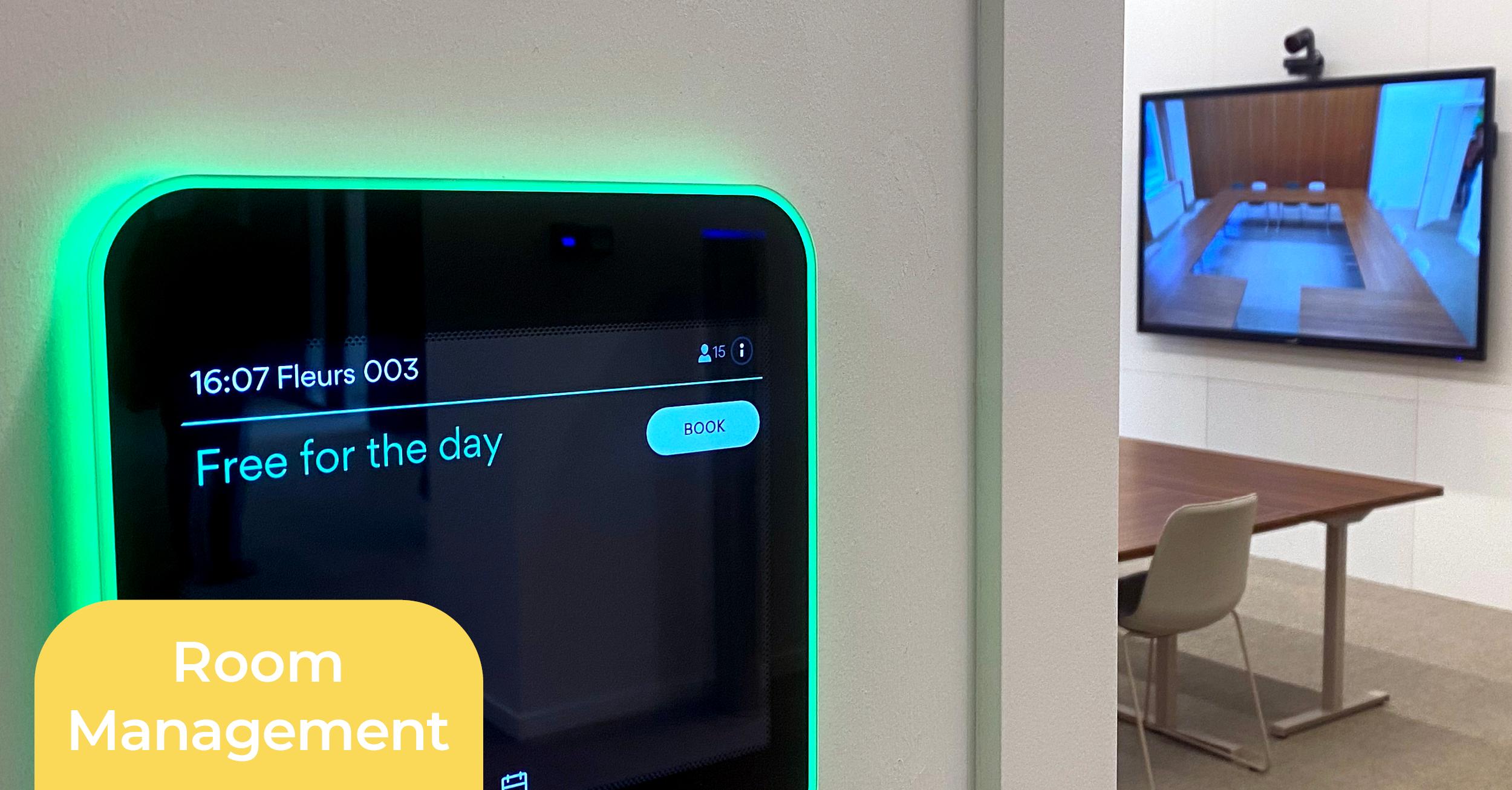 Acknowledgements
AG Insurance is always thinking ahead. For their customers and for their employees. This challenging project brought us into contact with great people. When we are all heading in the same direction, anything is possible. We would like to thank you again; today we are a very proud workplace/learning partner.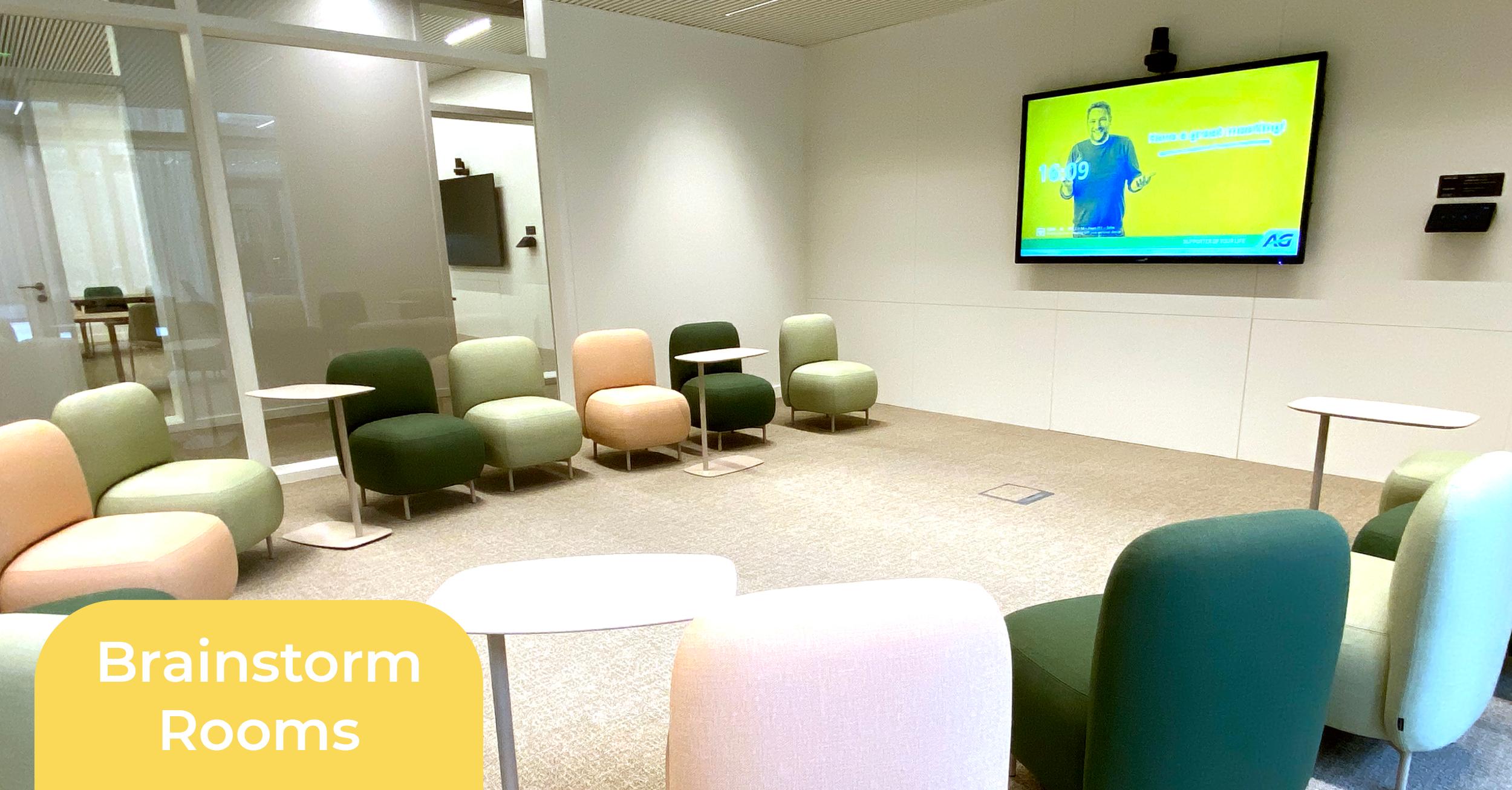 Do you also want (hybrid) collaboration with a maximum of comfort? Then be sure to take part in our inspiration session on April 26th in Mechelen.