Cofinimmo
More than 35 years of experience and efficiency in real estate. Cofinimmo was founded in 1983 (just likes BIS). Today, the company is the most important listed property company in Belgium, member of the BEL 20 and benefits from the RREC (Regulated Real Estate Companies). Cofinimmo owns and manages more than 2 million m² of property spread over Belgium, France, the Netherlands, Germany, Spain, Finland and Ireland. The company seeks to offer a high dividend yield and long-term capital protection.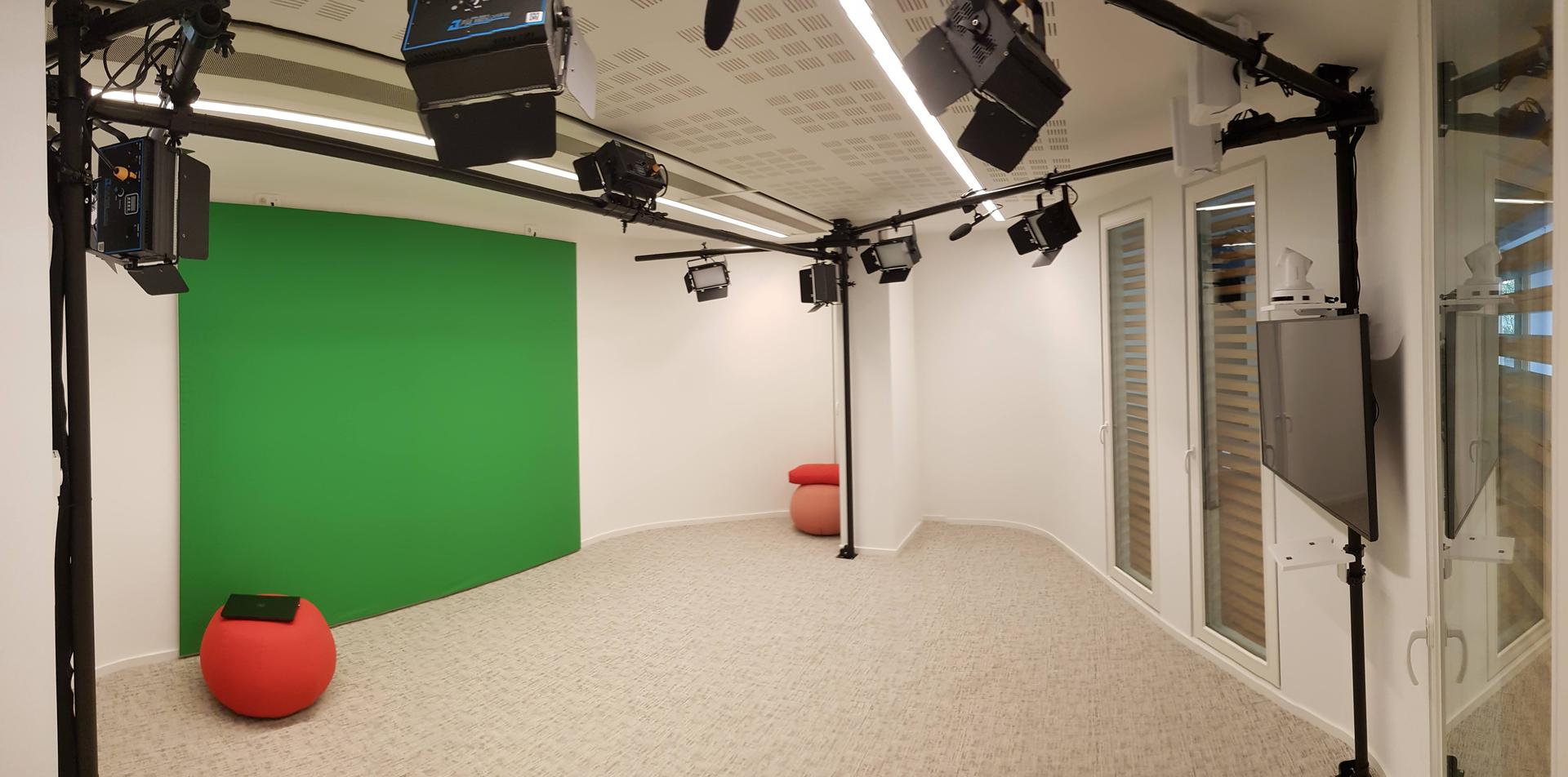 Thanks to the most efficient and affordable proposal, BIS|Econocom entered this trajectory. The goal was to build as universal a studio as possible based on the green key principle. This setup was also equipped with a BYOD conference mode where your laptop gets control of the entire setup.
Green key
For the green key effect to be optimal, we need a uniform green background which is highlighted (by soft lights). In addition, we have offered various lights used as front, filler and backlight to highlight the person/presenter. By doing so, the person is separated from the background and there are no hard shadows on the face.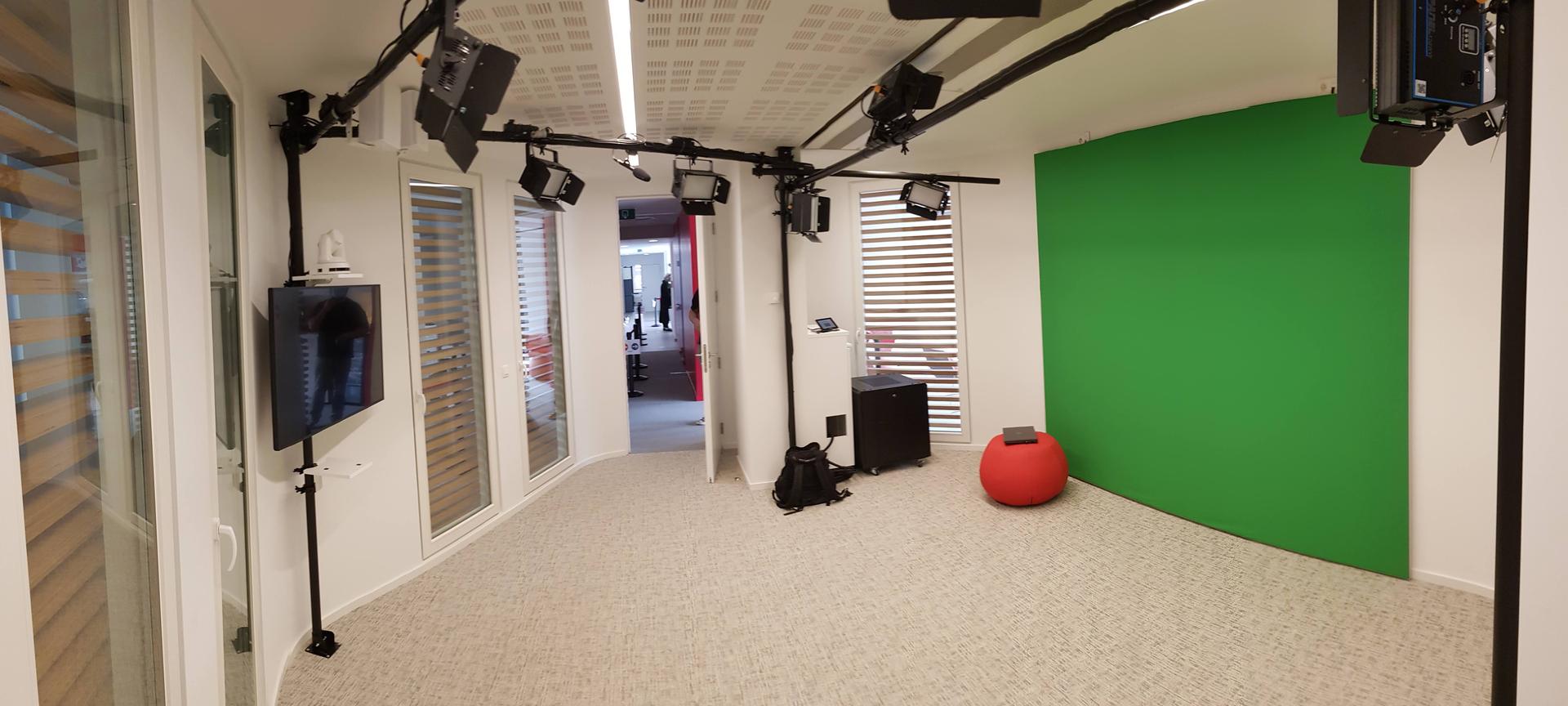 Acoustics
Acoustic material was installed on the ceiling and the walls to minimize standing waves and audio reflections. In addition, loudspeakers were attached on the ceiling so that all audio from the presenter's laptop can be played during the recording. It goes without saying that the recording can also be shown and monitored.
Eye contact and visibility
Image capture occurs via a high quality PTZ camera, with an HD-SDI broadcast output. It has deliberately been installed next to the door to guarantee an ideal and natural viewing angle. The return screen is located near the camera. This is crucial to keep eye contact with your spectators while you are looking at your presentation or content on the screen.
Customized Crestron interface
This touch panel offers a sleek and powerful user interface for controlling the entire studio. The touch screen provides an intuitive interface that is fully customizable with easy-to-use capacitive controls, true feedback and real-time status display. A built-in proximity sensor wakes the screen without requiring any user interaction.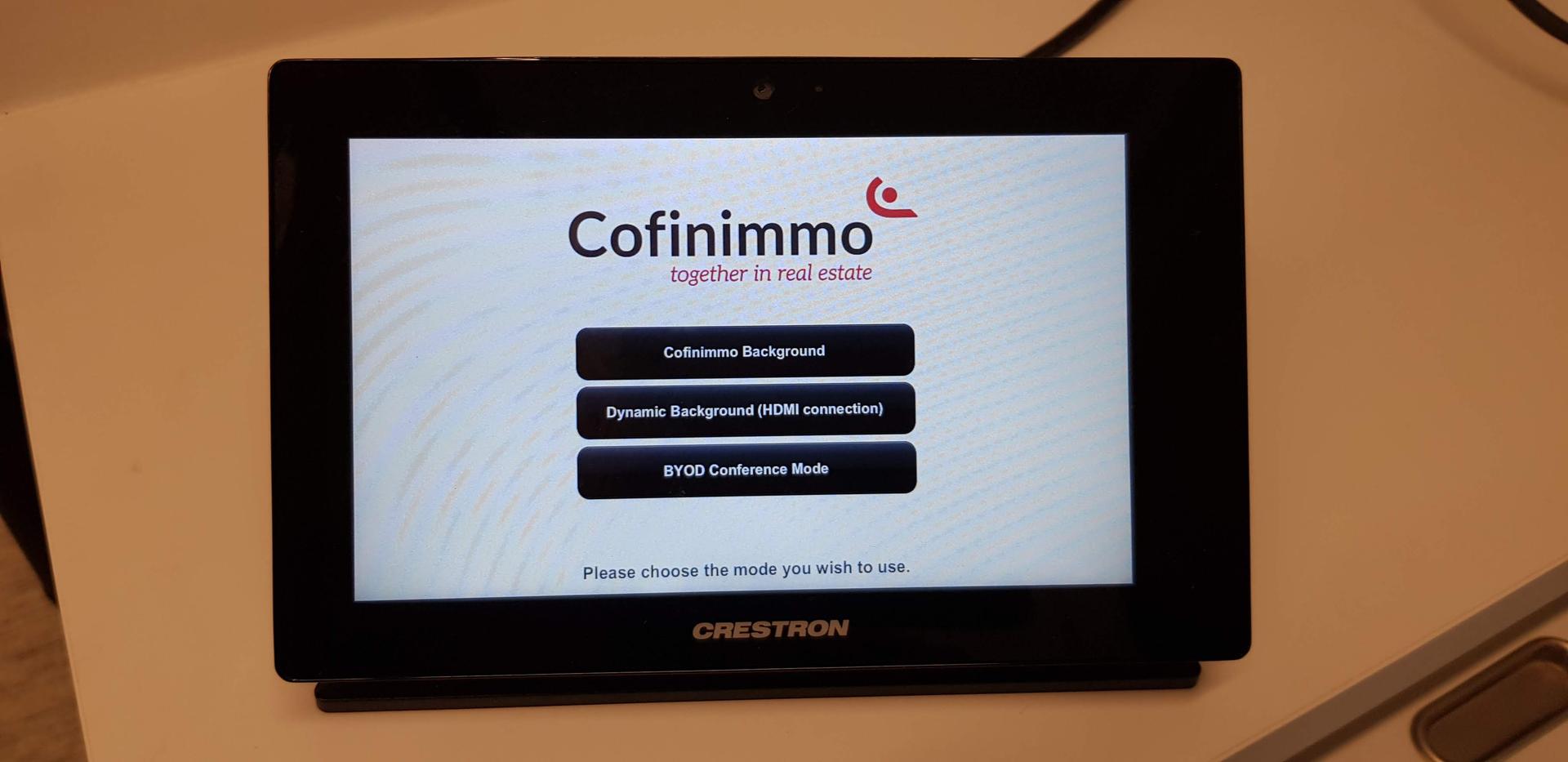 The customer disposes of 3 modes to quickly switch between the different scenarios. In addition to dynamic backgrounds, the studio was also equipped with a BYOD conference mode. Therefore any personal device can easily be connected to the 4K camera, speakers and microphones. In Microsoft Teams or Zoom, you will have the best peripherals at your disposal.
We take this opportunity to thank Cofinimmo for the smooth collaboration and wish the Cofinimmo-team many beneficial virtual meetings.