A recording studio for the University of Antwerp
The power of a webinar lies in the live interaction of the participants. Studies and our own experience reveal that well-crafted webinars can catch the attention of the spectators for easily an hour. No other online medium equals this duration. Given the ongoing pandemic, the University of Antwerp was looking for a compact and sophisticated recording studio without taking on board the disadvantages of a classical recording studio.

Thanks to the most efficient and affordable proposal, BIS|Econocom entered this trajectory. The goal was to build as universal a studio as possible based on the green key principle. At present, one studio is activated and on a short-time scale this concept will be duplicated in multiple locations of the University of Antwerp.
Effective and viable communication through live webinars
Chroma key and green screens offer the possibility to create, without any stage decorations (and its troublesome storage) a whatsoever environment/setting. Everything that is green in the background is replaced by an image or video input provided by a USB stick or HDMI input of a laptop, media player, etc. Of course, the use of green screens is not a new technique; it is often used in photography and cinematography. But, in the meantime, it becomes essential when giving classes regularly or hosting professional webinars.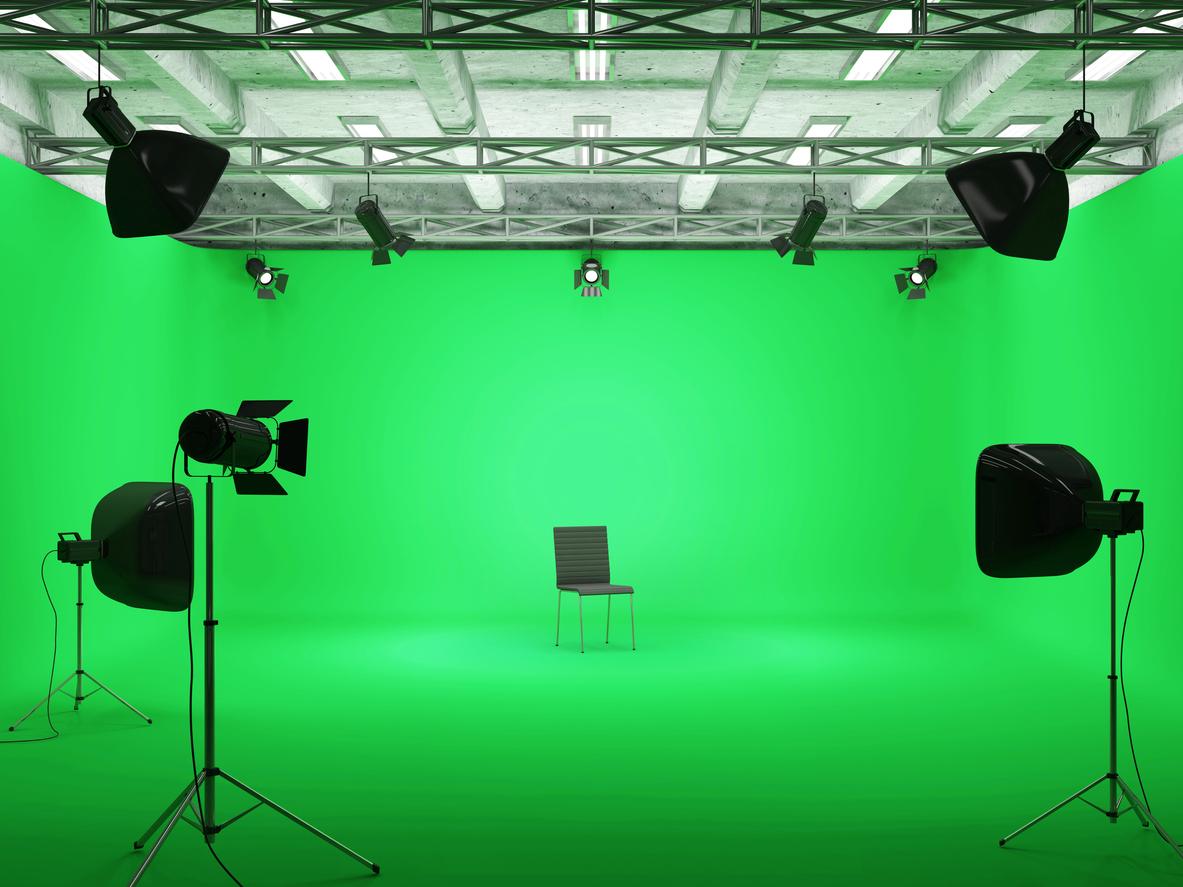 The customer can use a neutral canvas with a transparent logo if appropriate. A simulation of a filled auditorium is also a nice option, you automatically create more involvement and you breach the sometimes distant or chilly aspect of a webinar.
For this concept we are working with an Epiphan Pearl II. This is the big brother of the device we recently installed at Febelfin (Pearl Mini). Why did we have to use a higher series? Because of the green key possibilities. Moreover the mobility of the installation was less decisive than at Febelfin. This studio is not supposed to be moving each week to another location.
Lighting
In order to perform the green key effect correctly, we need a uniform green background which is highlighted (by soft lights). In addition, we have installed 3 lights used as front, filler and backlight to highlight 1 person/presenter. By doing so the person is separated from the background and there are no hard shadows on the face. We have chosen dimmable LEDs with a high CRI (Colour Rendering Index) so that all colours are rendered naturally. In order to attach the lighting and cables optimally without losing floor space, we decided to work with a pipe grid system on the ceiling.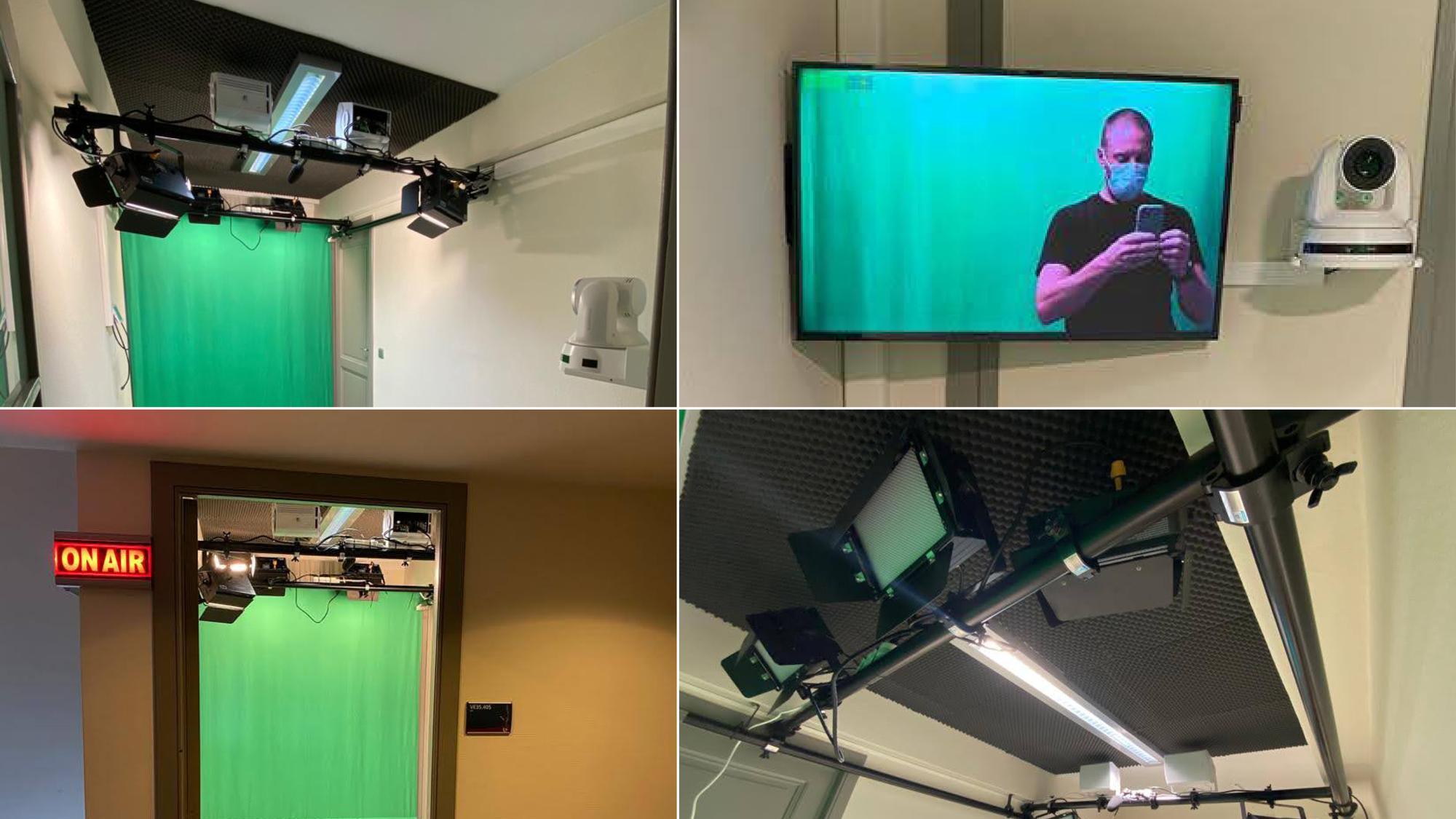 Audio
Given the fact that the presenter will always remain (or be seated) on the same place, we can guarantee an excellent audio pick-up with one single qualitative directional microphone (Sennheiser MKE 600 Shotgun Microphone). In this way, the microphone is always ideally located and always out of sight. It cannot be manipulated by unauthorised persons, even in a later stage.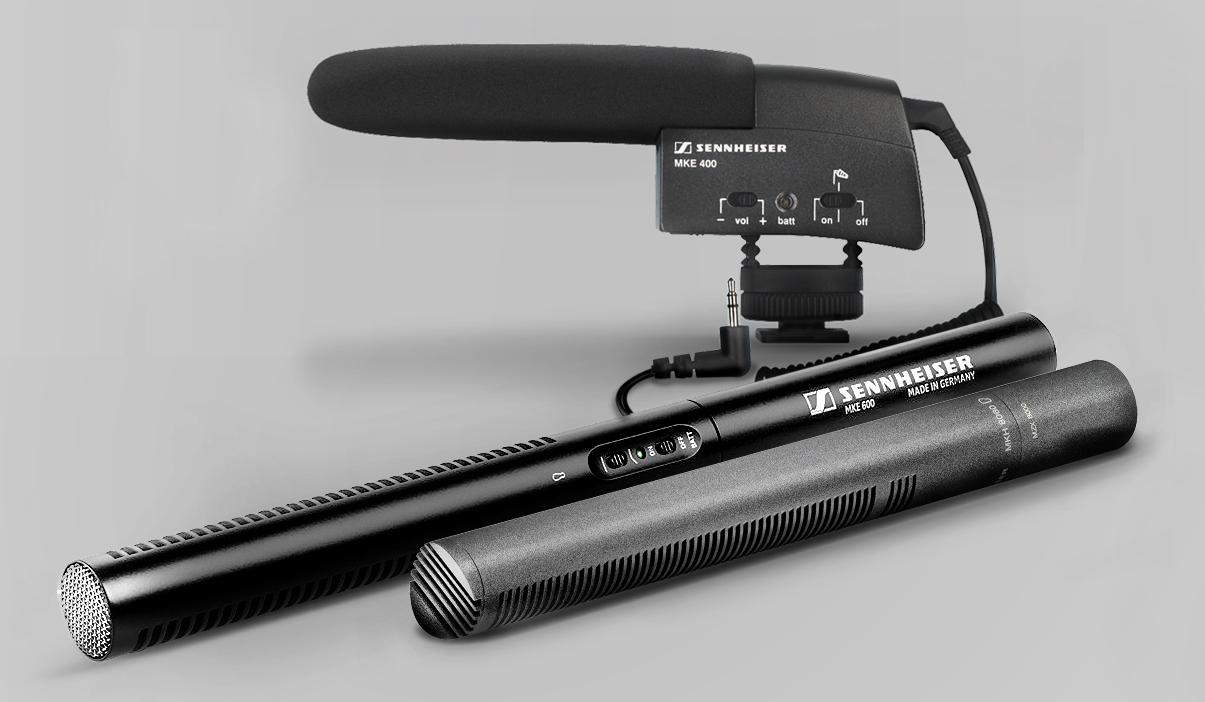 We have provided a digital audio processor that always ensures an optimum recording level regardless a silent or loud presenter. This DSP also manages the sound mixing of a variety of sources such as laptop audio or video played locally.
Acoustic material was installed on the ceiling and the walls to minimise standing waves and audio reflections. In addition, 2 loudspeakers were attached to the ceiling so that all audio from the presenter's laptop can be played during the recording. Of course, the recording can also be shown and monitored.
Video
Image capture occurs via a high quality PTZ camera, with a HD-SDI broadcast output. It has deliberately been installed next to the door to guarantee an ideal and natural viewing angle. The return screen is located near the camera. This is crucial to keep eye contact with your spectators while you are looking at your presentation or content on the screen. Via the touch panel, a number of presets can be selected taking into account the various studio scenarios.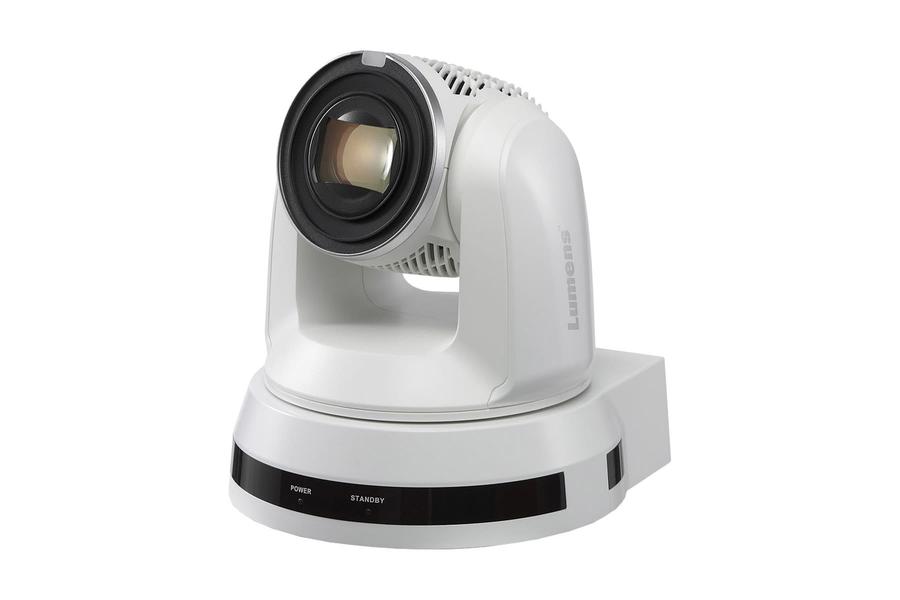 This customer is using the popular presenter tool by Logitech, called Spotlight Plus. With this type of presentation remote you can, for example, manage and highlight PowerPoint slides so that your annotations are also visible in the recording or live stream.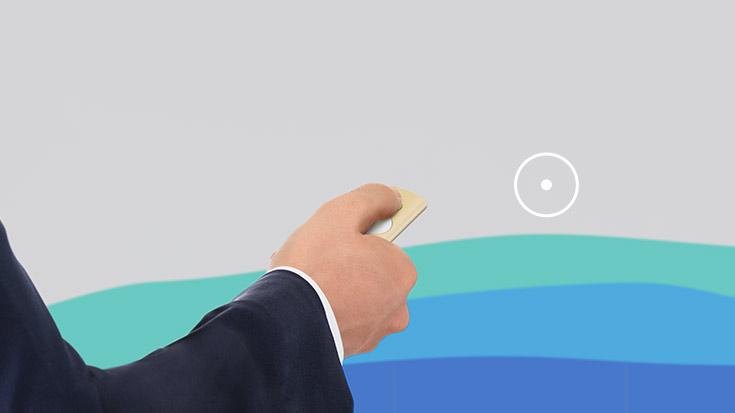 The Pearl 2 recording device
According to us the Pearl 2 is a very reliable and easy live streaming solution. Especially managing your streaming, recording and live switching in one place with an all-in-one video production system is difficult to equal. The Pearl 2 works with video sources from SD to 4K. Connect up to six sources at a time to encode and stream one 4K Ultra HD program or up to six 1080p Full HD programs. Pearl-2's hardware-accelerated encoder provides flawless H.264 encoding for maximum performance and compatibility with any video portal.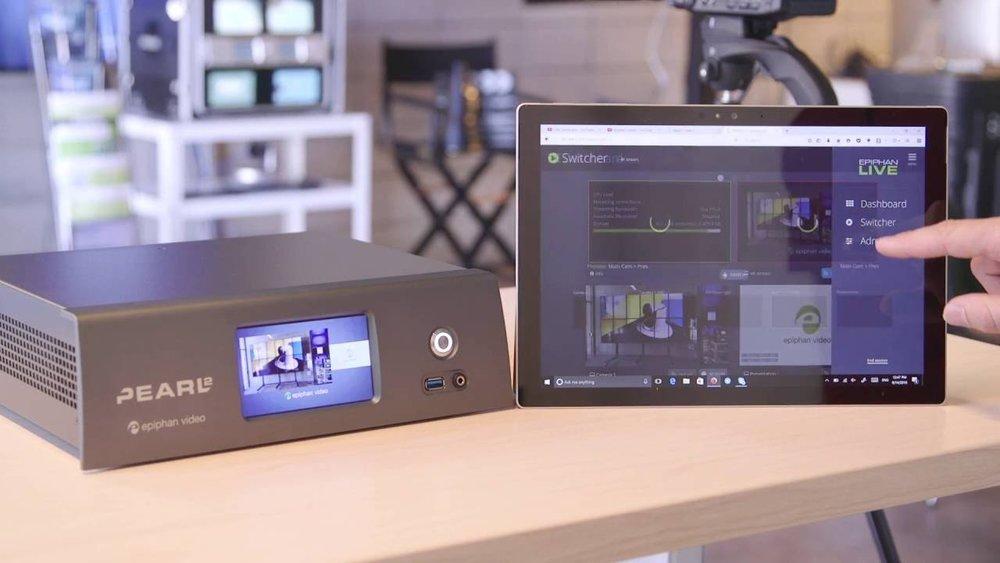 We take this opportunity to thank all of you for your confidence and the smooth collaboration. We wish you many productive webinars from the cosy studio! Do you also want to innovate with technologically intelligent audiovisual solutions? Call BIS on: 015 287 487 or contact us via the possibilities mentioned on the right.