Febelfin & Febelfin Academy
This reference case is particularly special to us. For more than ten years, Febelfin & Febelfin Academy have been cooperating very smoothly with BIS|Econocom. The two previous buildings were equipped with modern meeting tools, training rooms and digital signage. Today in 2020, these 2 bodies have moved together to 1 completely new building in Brussels... at an absolute top location! Together they occupy the second floor of the new Phoenix-building.
Training rooms with return monitors & camera registration
We want the trainer and the audience to feel at home in the room so that they can concentrate on the content and not on the technology. We therefore ensure that all equipment is perfectly attuned to each other and can be controlled centrally via a button panel integrated in a storage unit. This Visioncube includes among others, wireless microphones and a docking station as well as connection points and the Barco Clickshare system. A Logitech Rally camera opens the way to stream the sessions live or to record them for redistribution afterwards. You will read more about streaming later. The customer also has a mobile Samsung FLiP that is very easy to link to different rooms.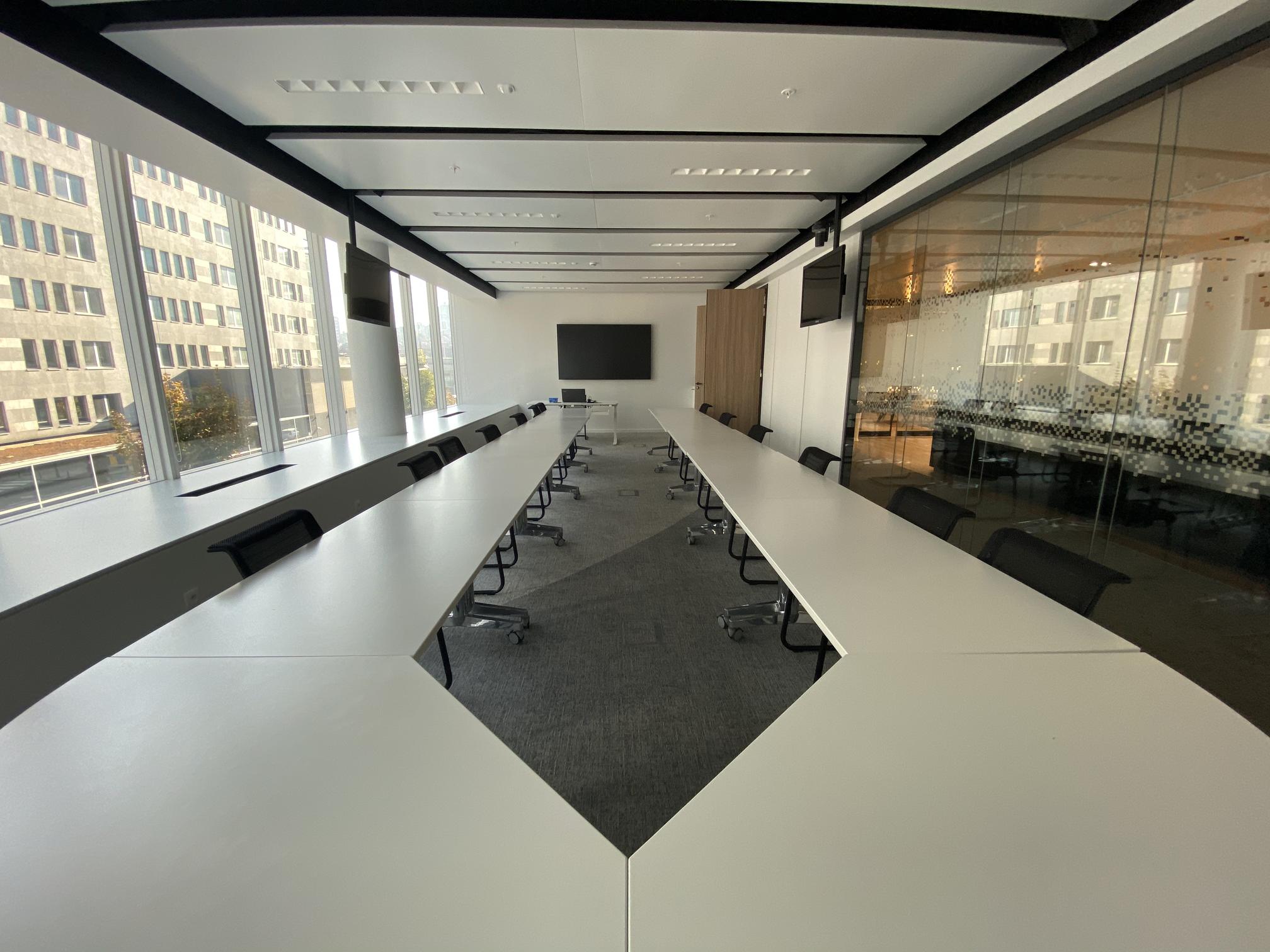 Meeting rooms with BYOD via Poly Studio's & Logitech Rally Plus kits
When entering a meeting room, you can only put one cable in your laptop. You then take over control of the Samsung display with the associated video conferencing solution. The smaller rooms are equipped with the Poly Studio with extended mic on the table. The larger rooms are equipped with the Logitech Rally Plus systems. The laptop or tablet is always central, if you can work with Teams you can perfectly set up a call (without extra explanation) and make maximum use of the equipment in the room. These solutions are Microsoft Teams certified (the so-called MTR's) so your laptop automatically prefers audio & video via these external devices.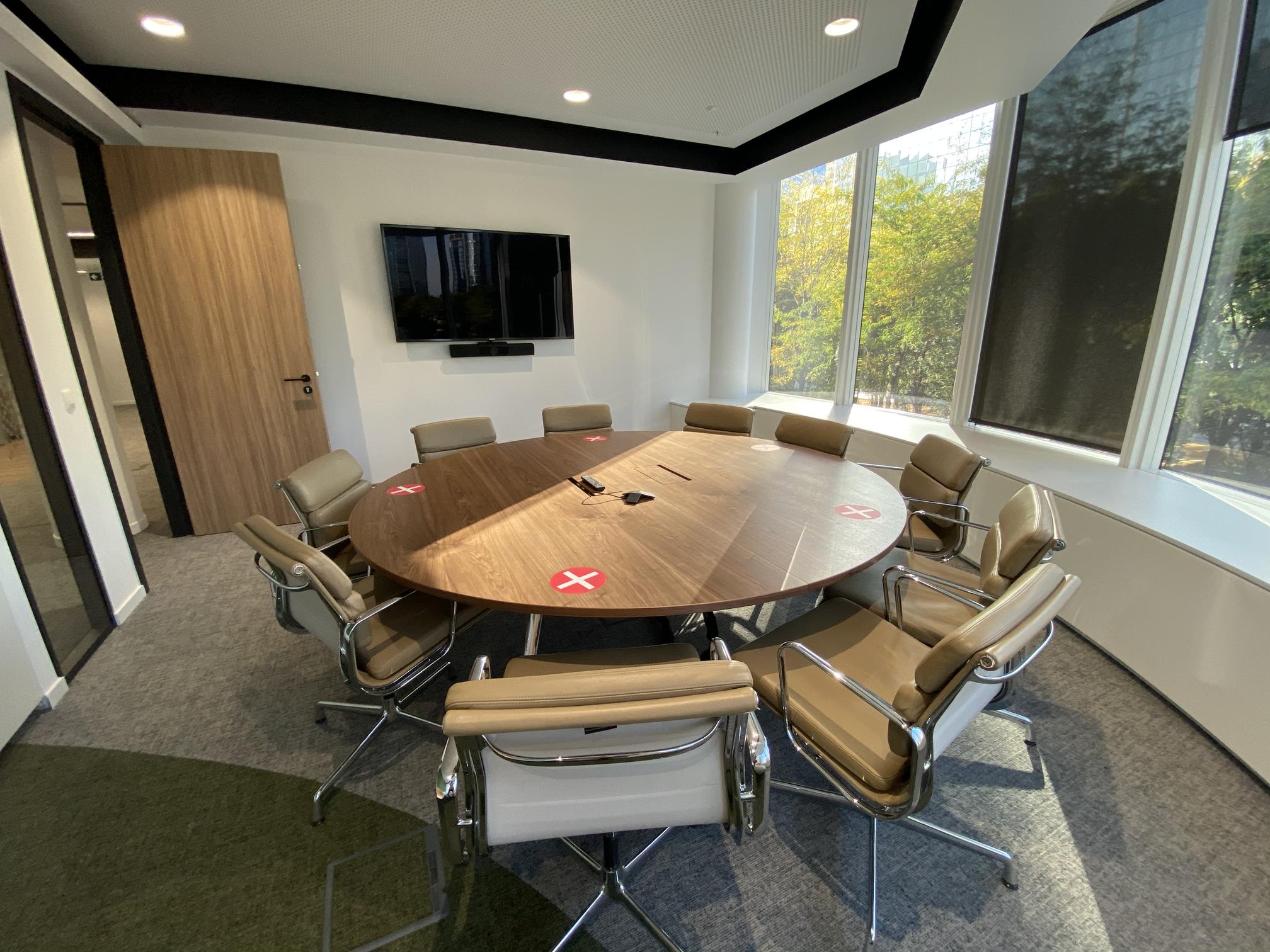 Microsoft Surface Hub Room – For the ultimate Teams experience
The Hub 2S is the successor of the first generation Surface Hub and has a 50" LCD display with a 4K resolution and an aspect ratio of 3:2. Input on the screen is realized via voice commands, the touchscreen or a stylus. For voice commands and video conferencing, the 2S has eight microphones and two speakers on board. There is a 4k camera on top. Entering the room and sharing your screen via Miracast with touchback remains spectacular.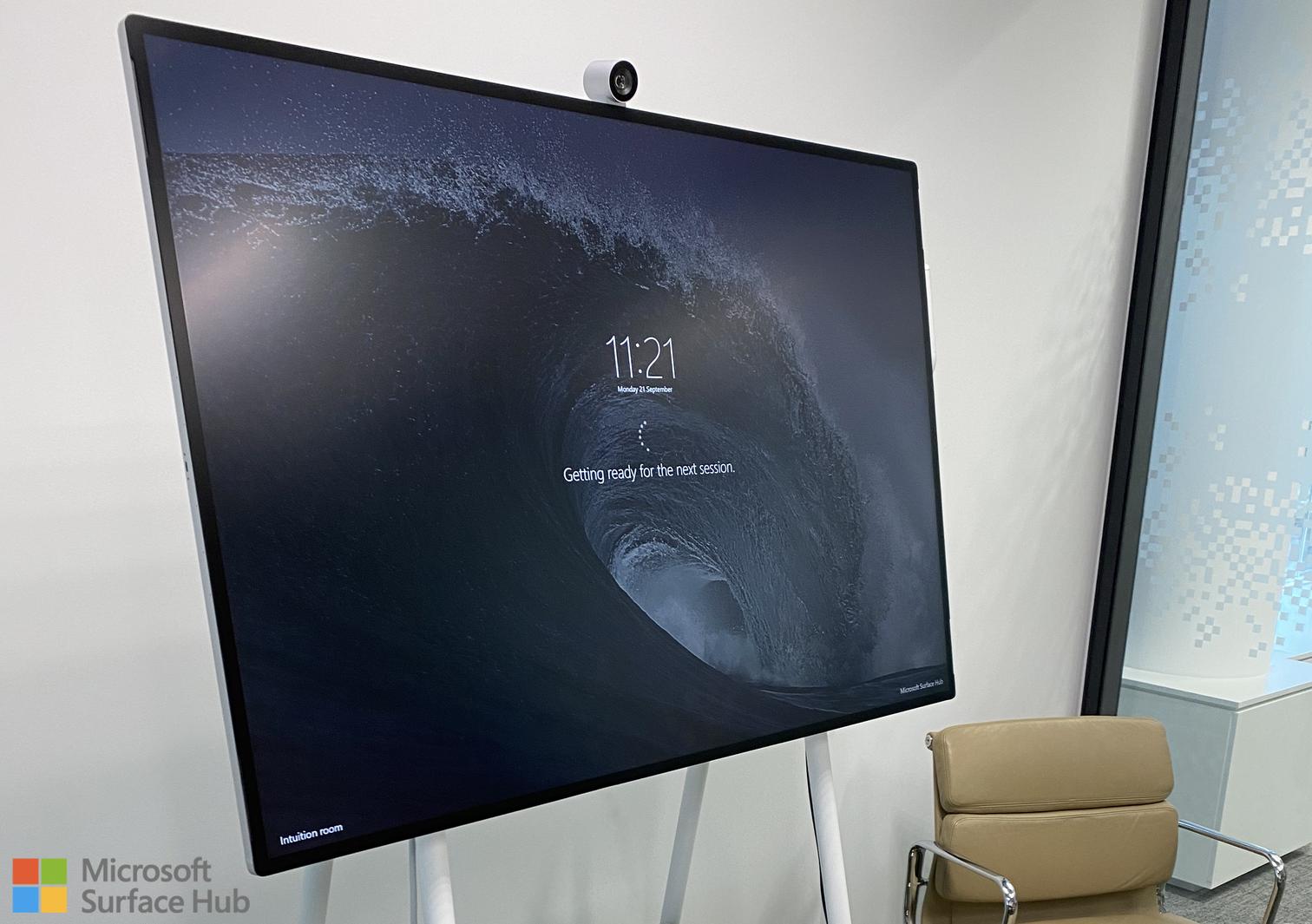 Digital Signage – Room occupancy & corporate branding
Each organisation has its own wishes, which is why we always offer a customised project. We can recommend a video wall at a large central hall or, for example, an interactive screen at the reception desk to log in. Nor do we forget the corporate identity. In addition to hardware, software and maintenance & support, we also assist in the development of templates and the creation of content. At Febelfin (and the Academy), you will find a mix of portrait & landscape screens. We also show the occupancy of the training rooms & meeting rooms via a link with Microsoft Exchange; all these templates were recreated as the corporate identity was completely refreshed just before the relocation.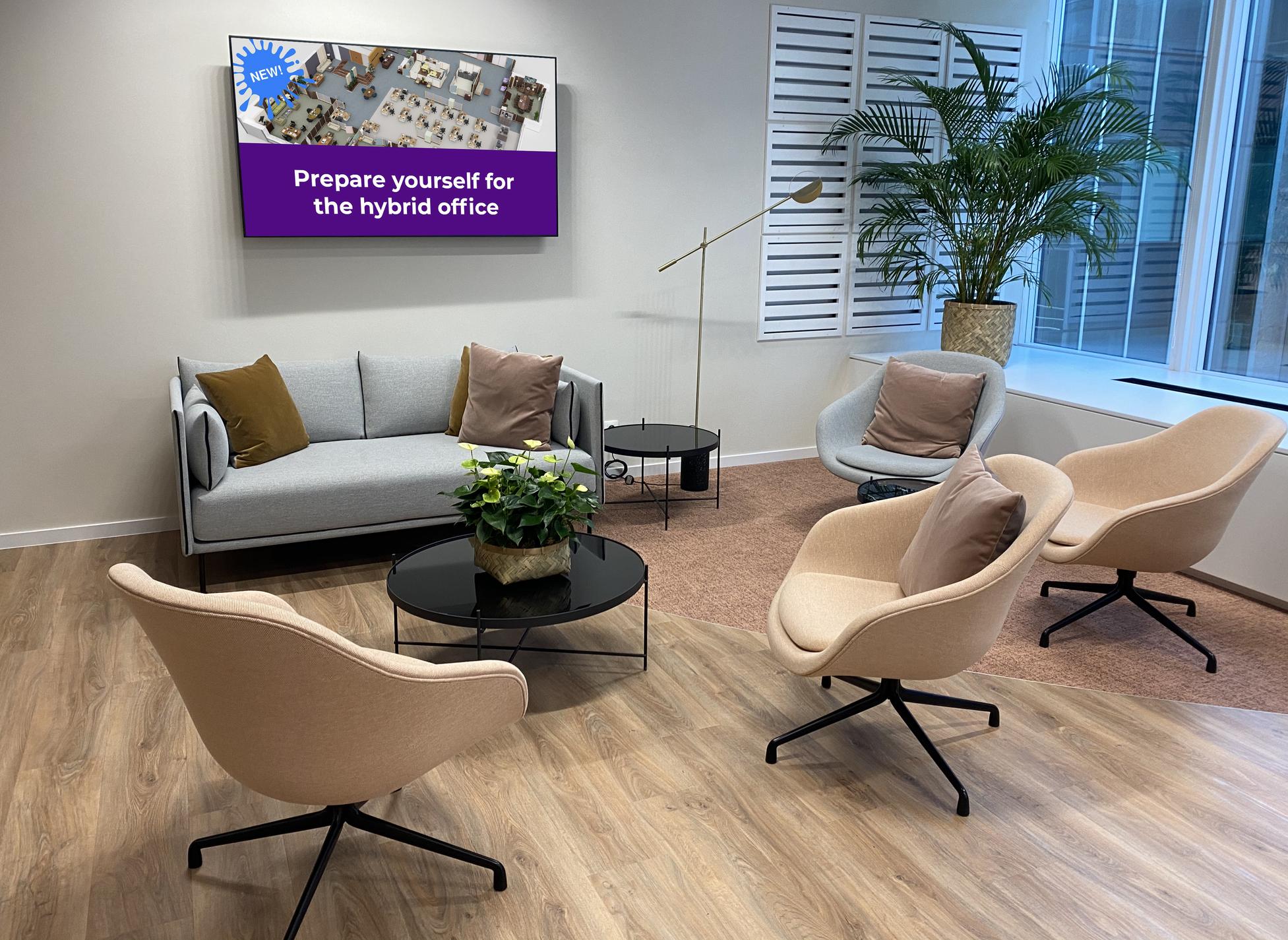 Roommanagement – Evoko Liso
The popularity of room management is not surprising. You get a clear insight into the availability of rooms and simply book a room via your calendar or smartphone, including the facilities you need. Each meeting room is equipped with an Evoko Liso room booking panel with 3 types of status LED indicators.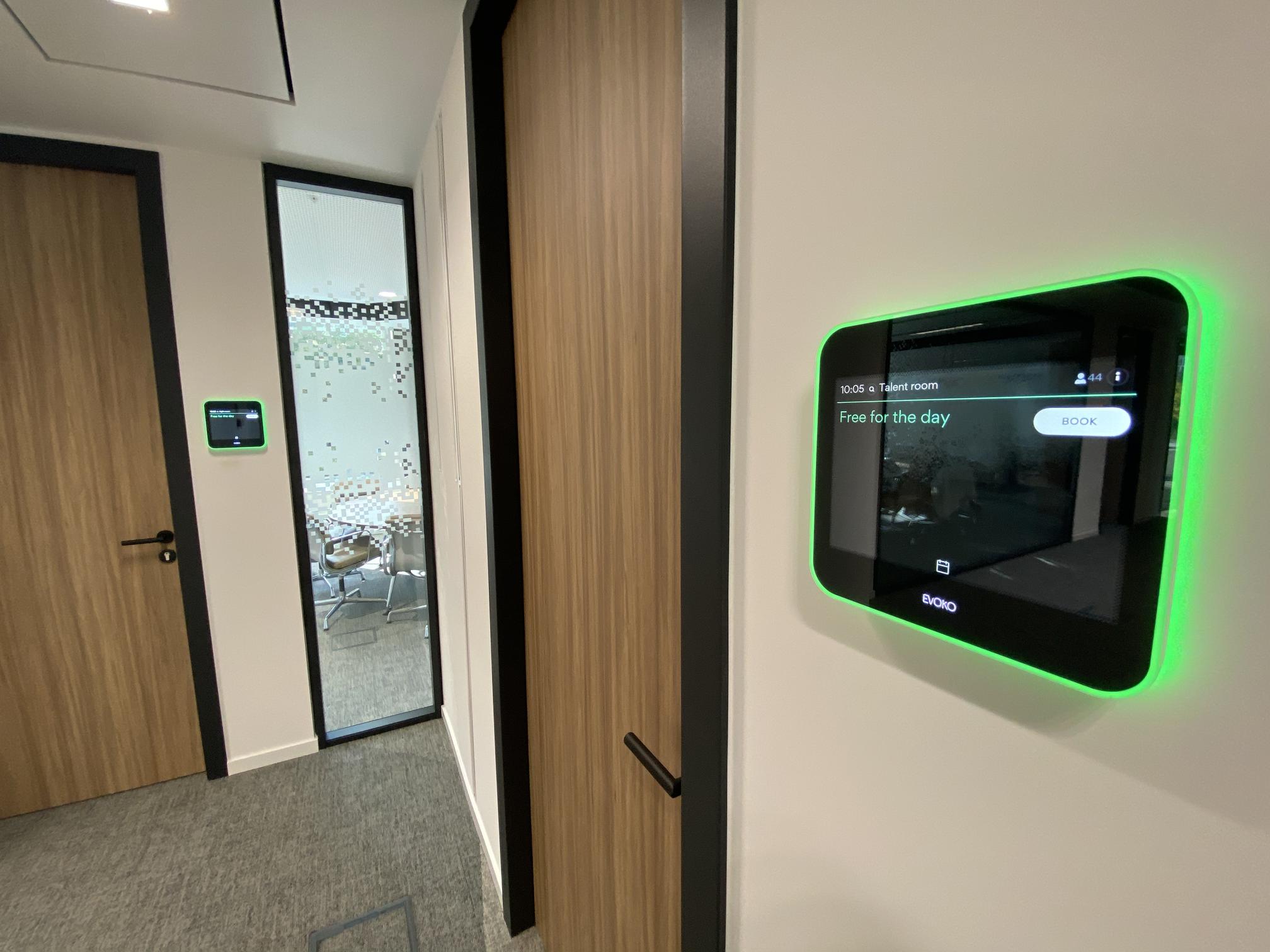 Epiphan Pearl Mini – Affordable mobile recording studio
Since the lockdown we get a lot of requests for this device. It is an all-in-one video recording, streaming and switching system. The Pearl Mini supports Full HD video quality and is ideal for smaller events or local lessons. Two cameras are used, for lectures one camera and one laptop source are possible. The Pearl Mini is very user-friendly and makes a presentation in no time, it also features a built-in touchscreen, a local viewing option, an SD card slot and the ability to directly connect a microphone.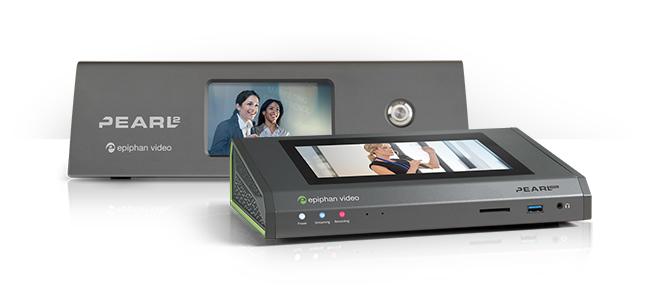 The Village – coming together
In this room we have installed a projector with a motorised projection screen. A simple button panel was integrated into the wall to operate the whole room. With 10 built-in speakers from Biamp, presentations for large groups can be given, but background music can also be played. The installation is linked to a headset microphone. Here too, a camera and the necessary patch connection were provided for the Epiphan recorder.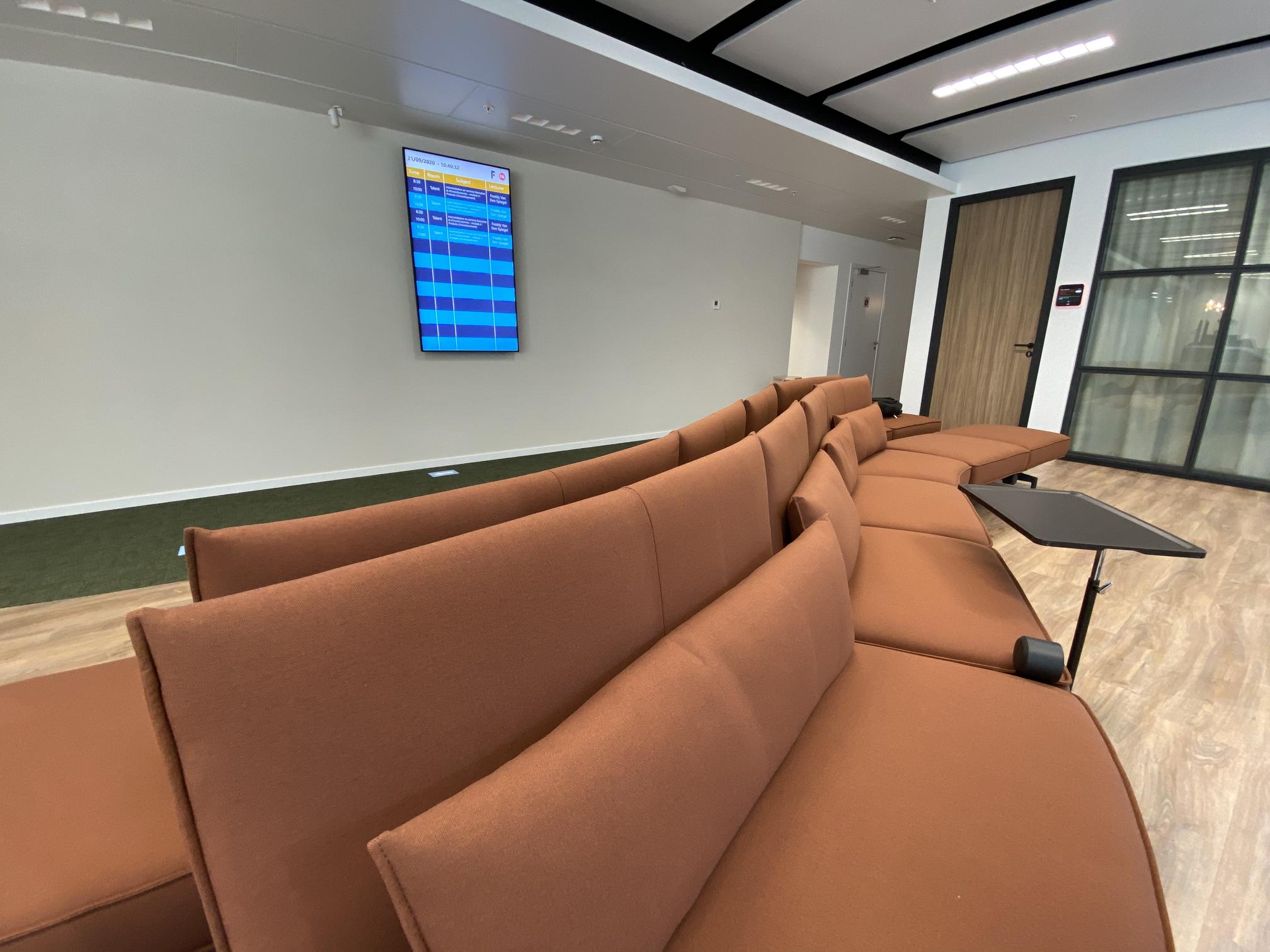 We take this opportunity to thank all of you for your confidence and the long-term collaboration. We wish you many productive meetings & training sessions in the beautiful building! Do you also want to innovate with technologically intelligent audiovisual solutions? Call BIS on: 015 287 487 or contact us via the possibilities mentioned on the right.