Belgian Federal Pensions Service
The Federal Pensions Service was created on 1st April 2016, as a merger of the National Pensions Office for pensioners and future pensioners from the private sector and the Public Sector Pensions Service for pensioners and future pensioners from the public sector. The current Federal Pensions Service assigned BIS|Econocom to set up a high-end boardroom for 34 people. In addition to the audiovisual part, they also called on our interior designer to draw a custom-made table that met all the requirements of the end customer.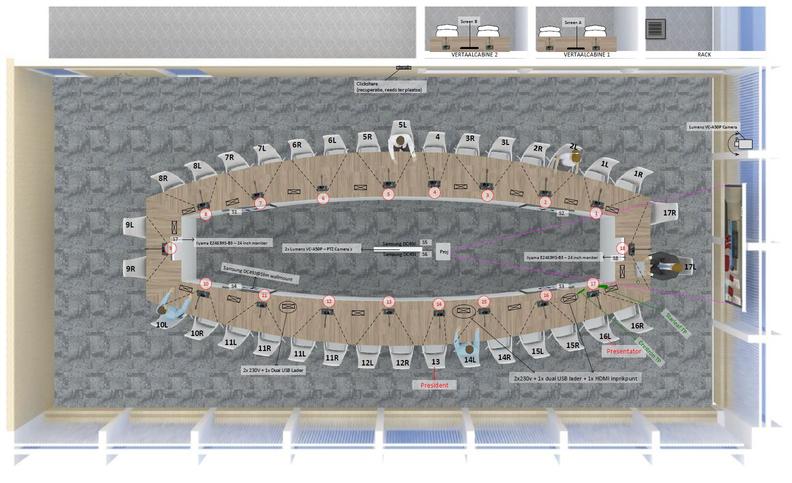 Unique boardroom
The boardroom had to make local consultation possible, hence the choice for the Bosch Dicentis conference system with voting possibilities. Simultaneous translations are thus possible as well as Dual delegate (interface) so that the customer can easily provide 1 device for 2 people for local meetings without an external party.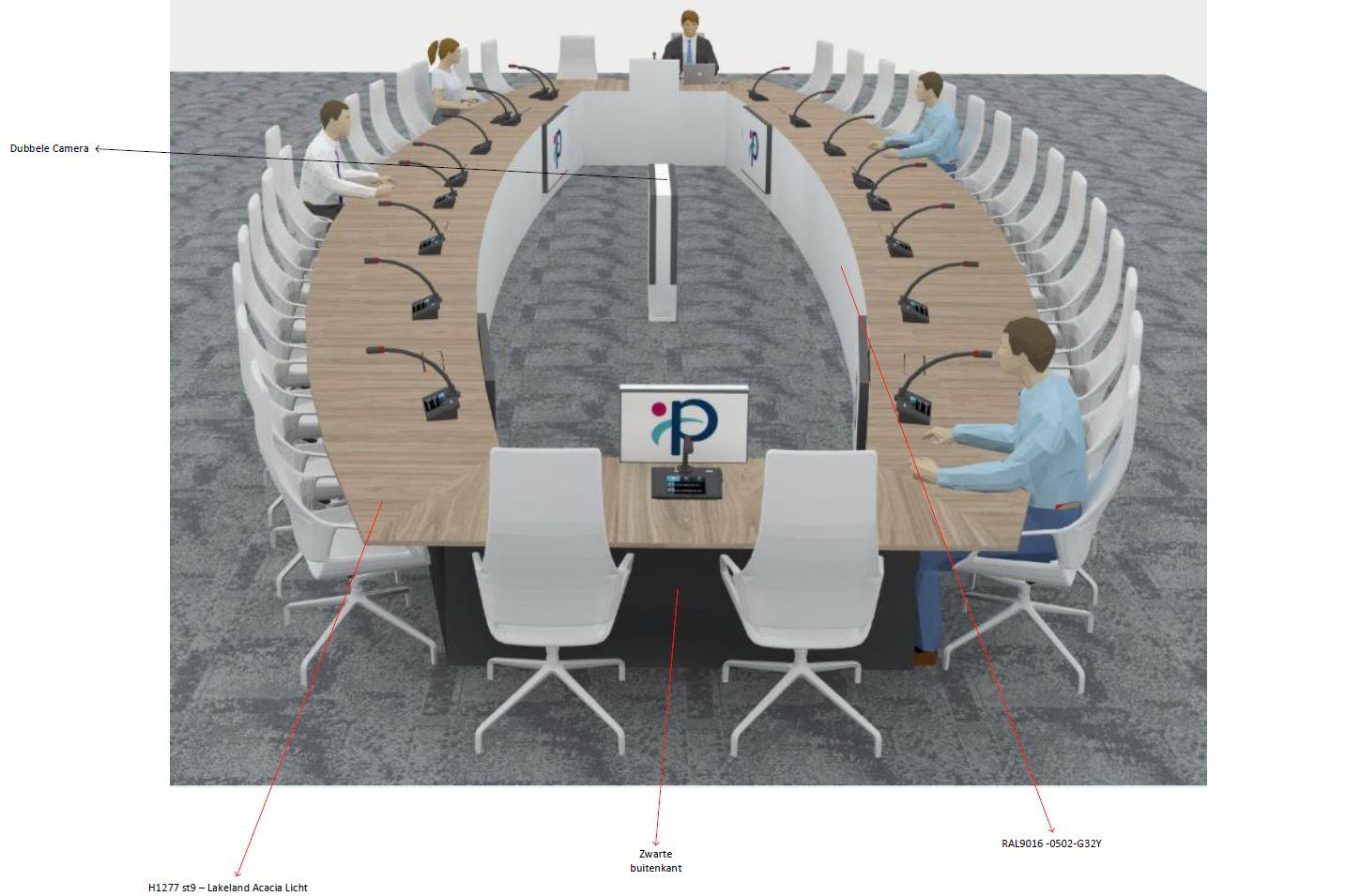 In addition, we have also connected the room to Microsoft Skype & Teams, this is through a link to the StarLeaf Cloud. This enables the customer to easily set up calls to any environment. The Bosch discussion devices can also be used to smartly pick up audio and forward it far away. It was a challenge to get 34 people in the picture but thanks to a self-designed piece of furniture this mission was successfully accomplished.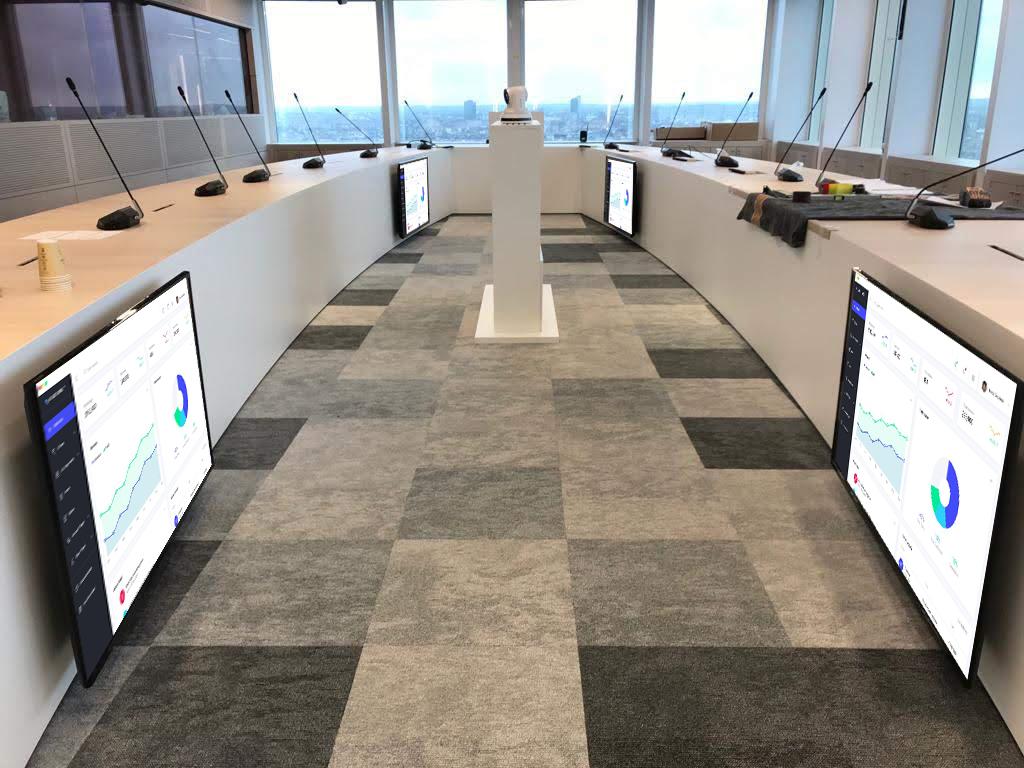 Each side of the table is captured with a Lumens 4K camera, followed by a separate camera that captures the speaker and as icing on the cake, a room overview cam is always "watching" to display overviews during votes and the like. The presenter himself prefers to use the built-in Barco Clickshare device, this content can also be shared through Skype. All cameras have the auto speaker tracking function, so the control is fully automatic.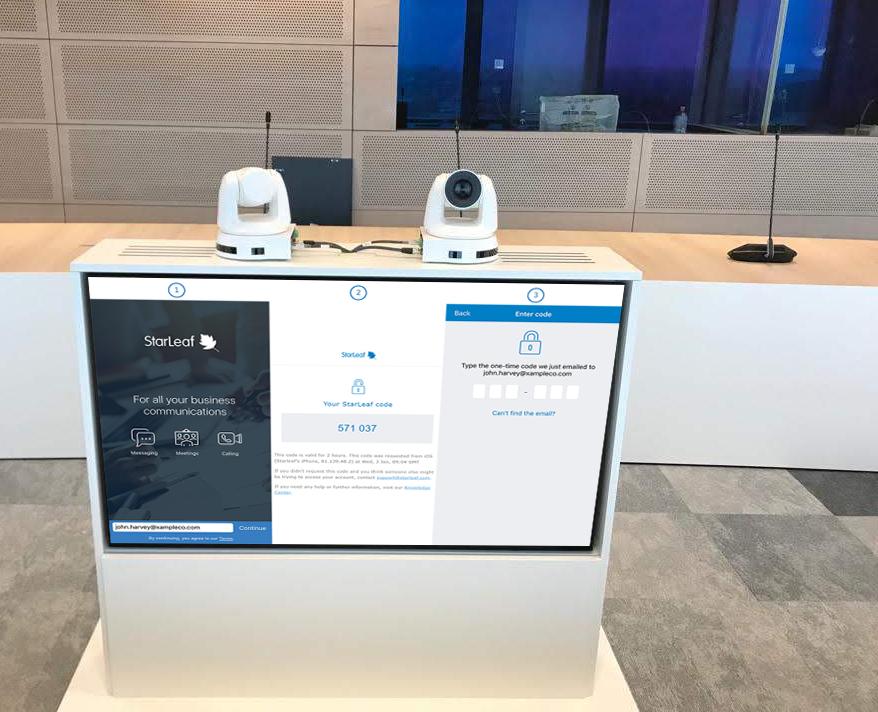 Besides a large-screen projection of a Hitachi Laser Beamer, the 34 people also have 4 return screens. The shape of the table, however, ensures that you don't hinder each other from looking at the projection, but even then, the return screens are certainly useful for displaying, for example, content coming in from a video call.
Audio is provided by BOSE in-ceiling speakers and general room control is ensured by a Crestron Touchpanel.
116 digital signage screens
Apart from this beautiful boardroom we also provided 116 display points with the PADS4 digital signage system in Brussels. Our digital signage software also offers the possibility to link information & databases so that data from the existing systems are automatically integrated into the presentations.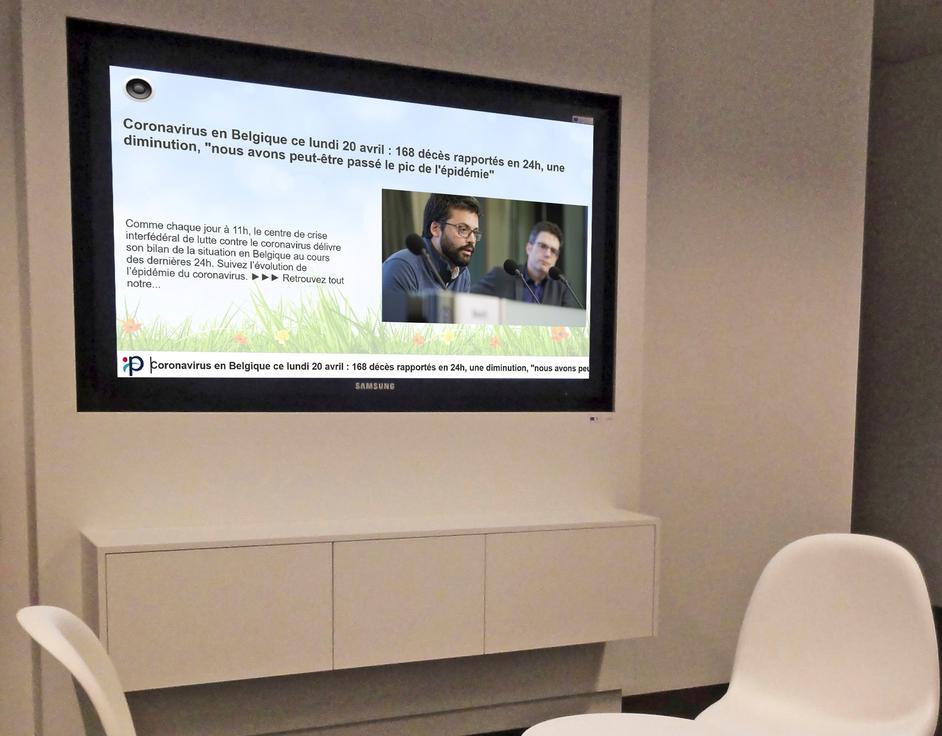 We would like to thank all staff members at the Federal Pensions Service for having chosen BIS|Econocom. It was a great pleasure for our team to cooperate with you.