IEE
IEE S.A. is a worldwide developer, manufacturer and supplier of advanced sensing solutions and electronics for the automotive, building security and management, sports and medical areas, looking into broadening its sensors' offer for additional markets, industries and applications. Founded in 1989 and headquartered in Bissen, Luxembourg, the company has since expanded and runs operations in Europe, the U.S. and Asia. IEE employs over 4,100 people, with more than 10% of the company's workforce focused on Research & Development, working on uncovering the next technologies. BIS|Econocom is the new preferred partner since the recent move to the new building in May 2019 which was desgined by Belvedere Architecture S.A.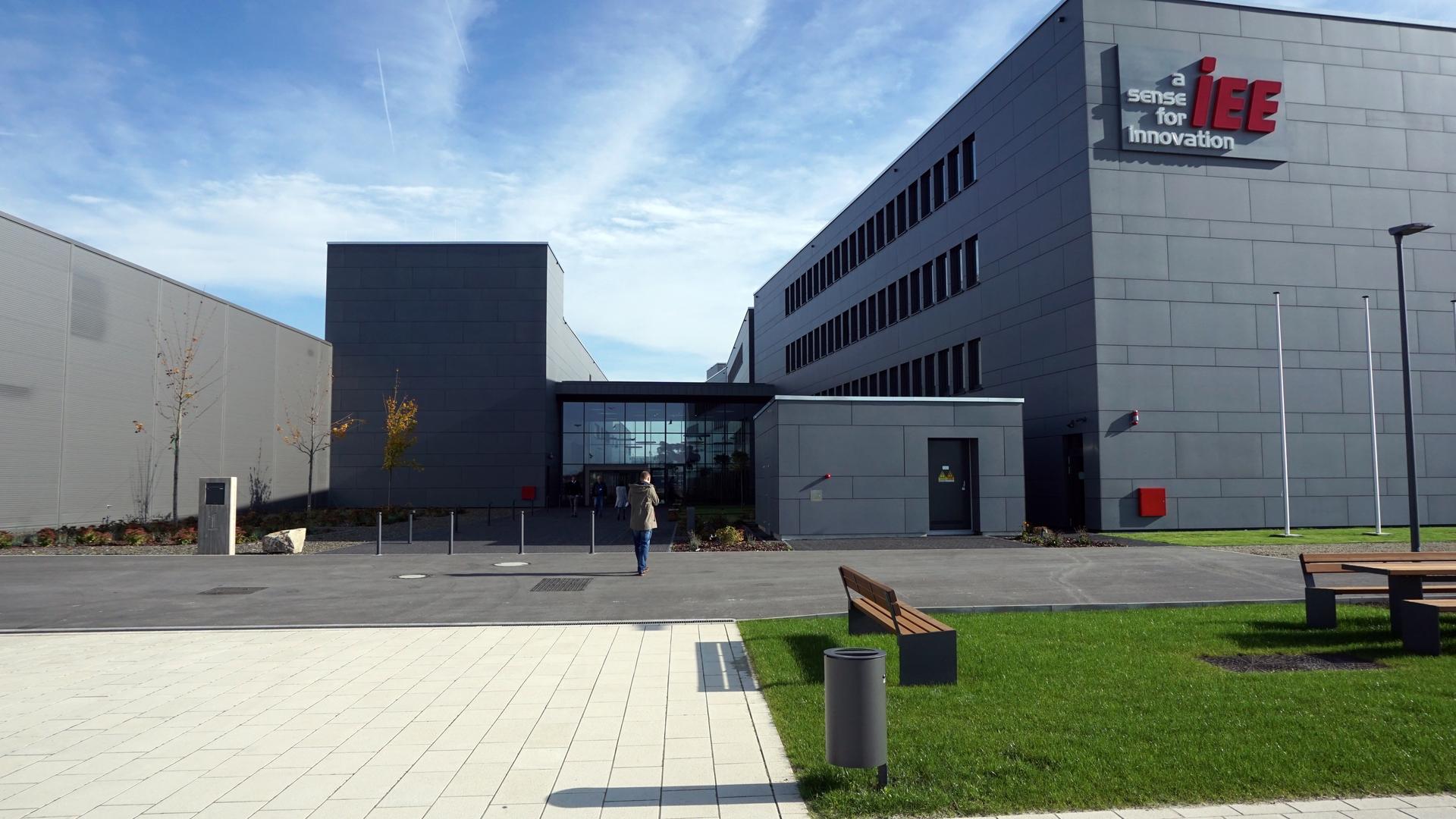 Strengthening Collaboration at IEE
There are undeniable benefits to video communication including cost savings, more efficient meetings, knowledge sharing, increased productivity and better cooperation. BIS|Econocom defined 4 types of meeting rooms to cover all these needs within the company. There are huddle spaces, small meeting rooms, medium-sized collaboration rooms and one large board room. IEE implemented BYOD and a user can simply connect to all rooms with a single USB cable. This connection provides audio, video and data to the user. We will sum up some of the key solutions used at IEE.

Biamp Devio: A versatile solution for productive meetings
Designed for huddle rooms or small conference rooms, Devio provides AV experiences for users of web-based conferencing systems. It offers easy BYOD connectivity, in addition to making rooms with dedicated computers sound great. Devio includes patented Beamtracking™ microphones and professional grade DSP to optimize the audio quality and intelligently mix conversations from around the table, allowing everyone on the call to be heard.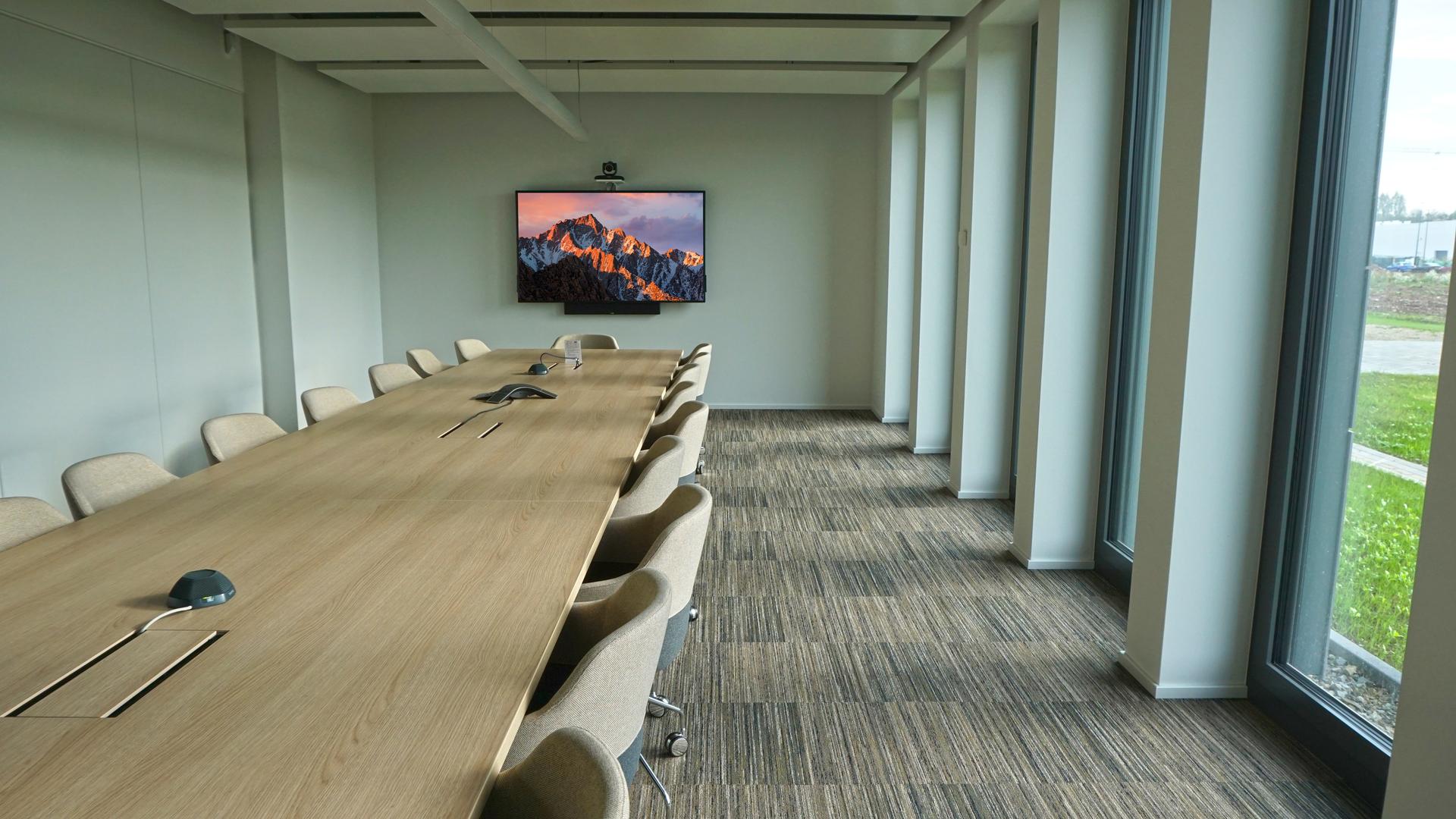 IEE Room Booking the Smart Way
It is not surprising that room management systems are popular. One gets a clear insight into the room availability and can simply book a room via the calendar or smartphone, including the facilities needed. Each meeting room is equipped with an Evoko Liso room booking panel with 3 types of status LED indicators.

Samsung FLiP: encouraging collaboration at all levels
Collaborate, brainstorm, meet -a must in today's business world. However, in practice it is still not easy to facilitate this. The equipment that supports interactive forms of collaboration often offers multiple options, which sometimes makes its use unnecessarily complicated. Therefore, various smaller meeting rooms have been equipped with the Samsung FLiP. Whiteboarding - but also enabling a simple connection to the laptop - were part of the key expectations.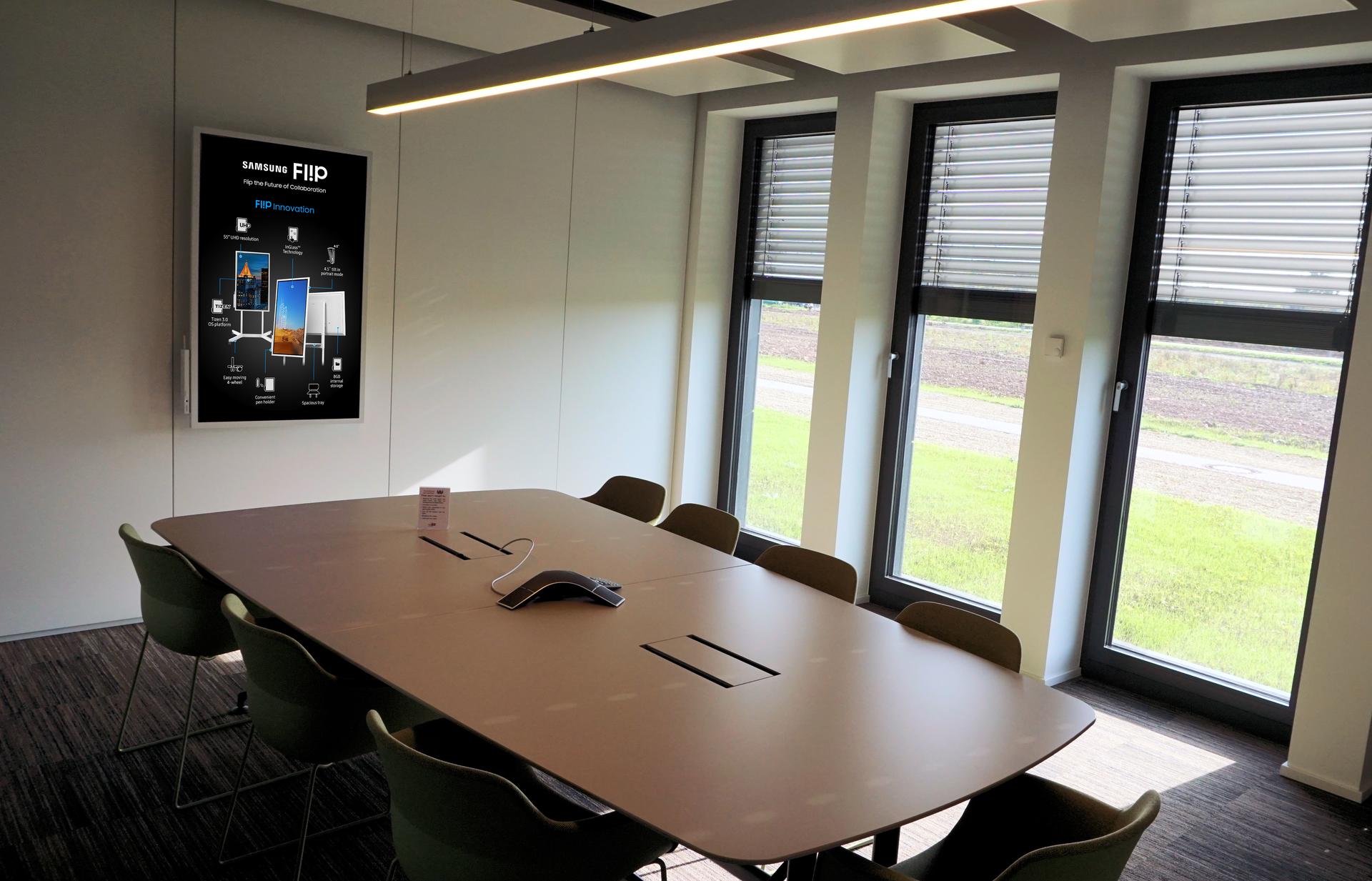 Barco Clickshare: the usual suspect
All medium-sized rooms are equipped with the Clickshare CSE-200. Anyone at IEE – including guests – can connect with one click and share documents? right away, without the need for any training. Users simply plug a USB-powered device – the ClickShare Button – into their PC or Mac and click the button to get the content from their laptop on the large meeting room screen.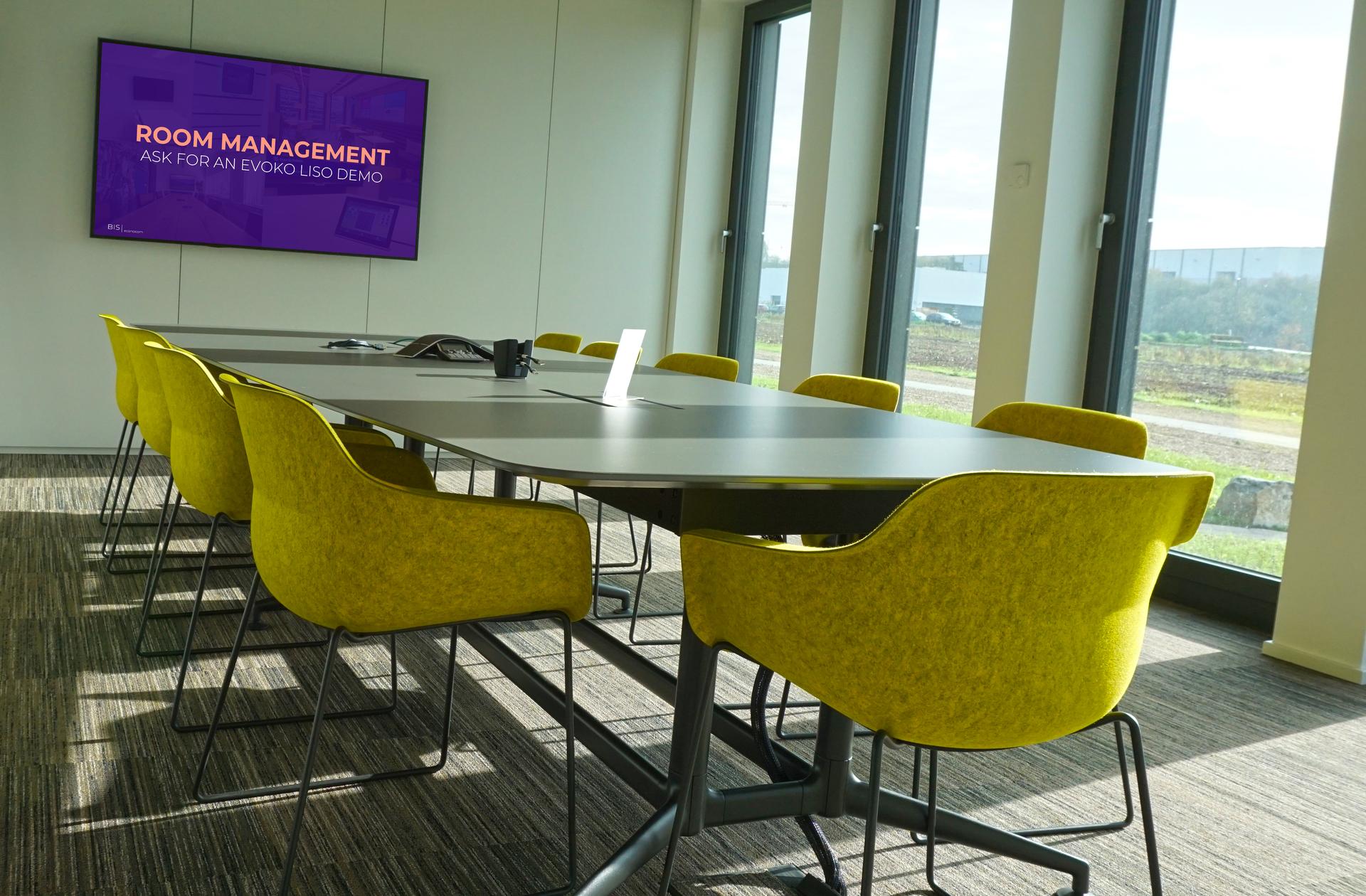 Digital Signage for optimum communication
In the corridors, coffee and lounge areas, BIS|Econocom has installed professional digital signage displays. By doing so, all messages and events can be communicated to the staff. In addition, news, weather & traffic information is also displayed. At this point in time, our client uses the built-in Magic Info Software over the network. BIS|Econocom will upgrade this system with the PADS4 digital signage system for better graphics and connecting to multiple data providers.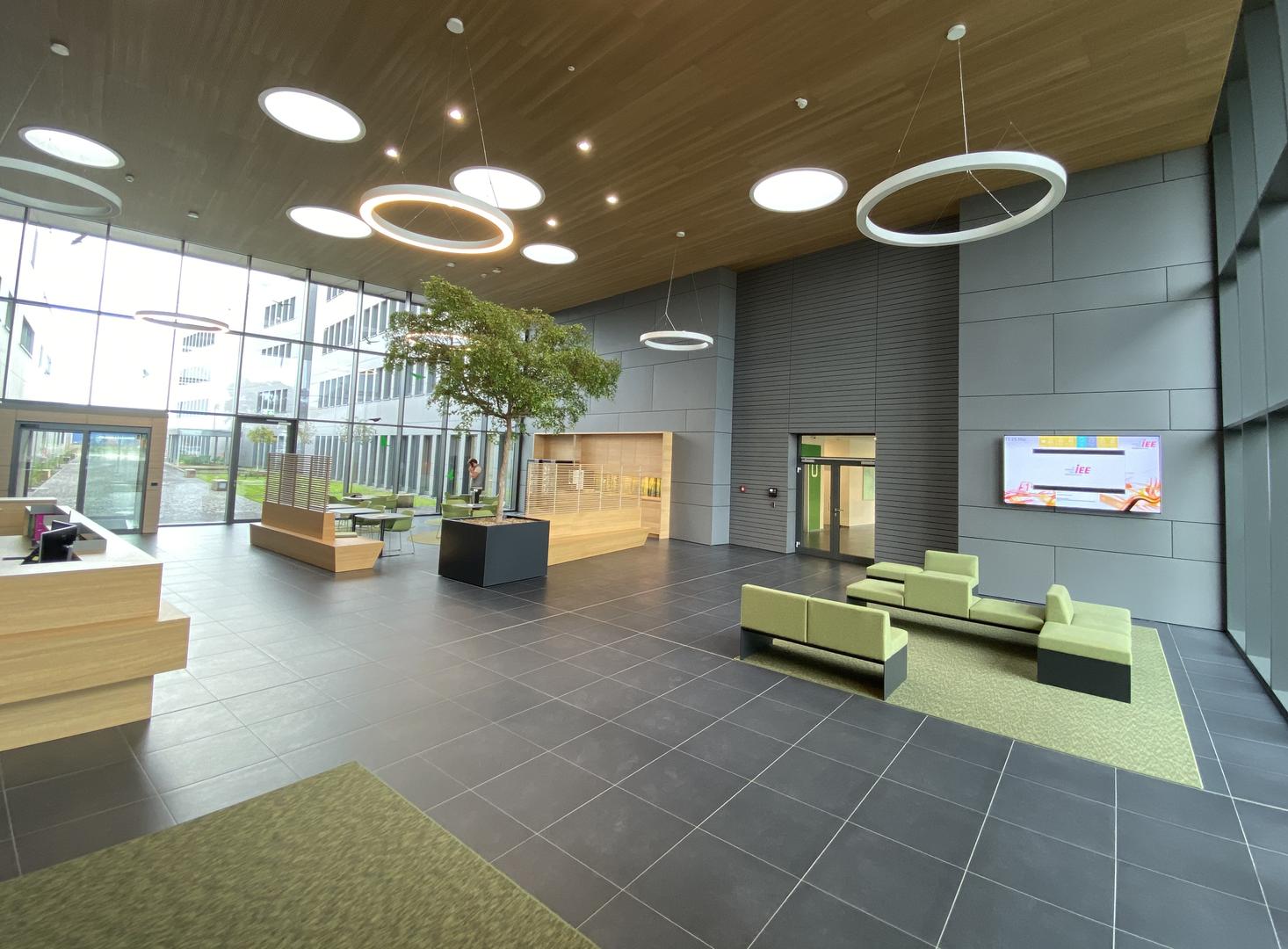 We would like to thank everyone at IEE for chosing BIS|Econocom. Our entire team really enjoyed working with you across the border.