P&V Insurance
From its origins in 1907, the principle of P&V Insurance was solidarity with the insured and society. The same cooperative spirit still remains today. Providing to as many people as possible a fair and honest protection, at the best possible conditions. P&V Insurance is part of P&V Group. Through its insurance companies, this group offers a wide range of insurance solutions to individuals, self-employed, companies and institutions. They use different brands, as well as different distribution channels. P&V's products and services are commercialised via a network of exclusive agents.
Situation overview
To solve this problem, BIS revealed itself as the most suitable partner to provide the major upgrade of the audiovisual material. The wide range of our products fully met the customer's expectations. After the first visit to our showroom, we were of the same mind. All new technology had to be integrated in 1 building where flexible working and better collaboration became key. P&V has chosen Skype for Business as its ecosystem. It's a pleasure to inform you about the technology we integrated in this overall project:
Collaboration tools (Surface Hubs, Polycom Trio, Clickshare, ...)

Tailor-made furniture with processed state-of-the-art AV technology

Digital Signage network with more than 20 display points

Evoko Liso roombooking

High-end boardrooms & compact Huddlerooms for short consultation

...

Digital Signage
Internal communication towards the staff is key, also at P&V. The on-premise variant of our digital signage system has been chosen. Via 22 displays (ranging from 48" to 65") spread over the departments and the restaurant everybody is kept informed about what is happening on- and off-the-job. Each department can individually post content but, in the meantime, news can be pushed quickly to each screen (if relevant to all employees). This all happens via shared network folders which are department-specific. The user just has to drag and drop the slide or video into the right folder. The content's look & feel was also provided by BIS, the lay-out of various templates perfectly fits with the corporate identity of the group. Various data connections were realised so that a great part of the information is keeping itself up-to-date. (RSS & XML feeds, links to SharePoint, …)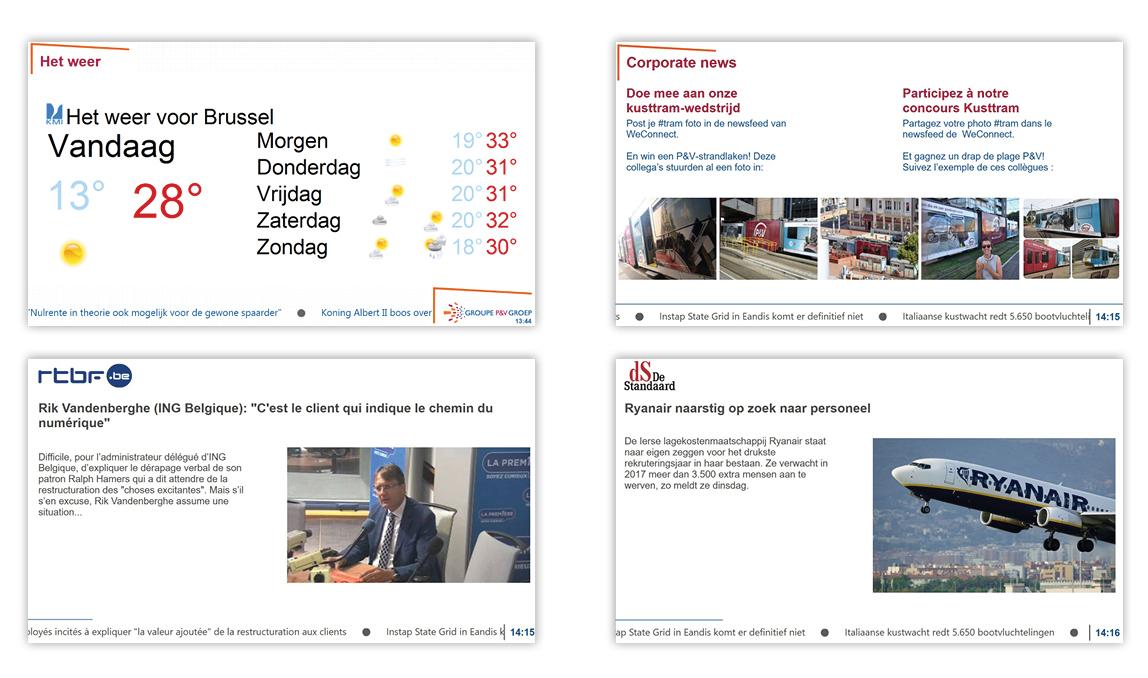 Meeting room reservation system
All meeting rooms are linked to the Exchange server via an Evoko Room Manager system. So it is immediately clear in the corridors which room is free or occupied. Via the Evoko panel it is possible to book an ad hoc meeting without using your PC. The Evoko Liso touch panel provides an intuitive user experience.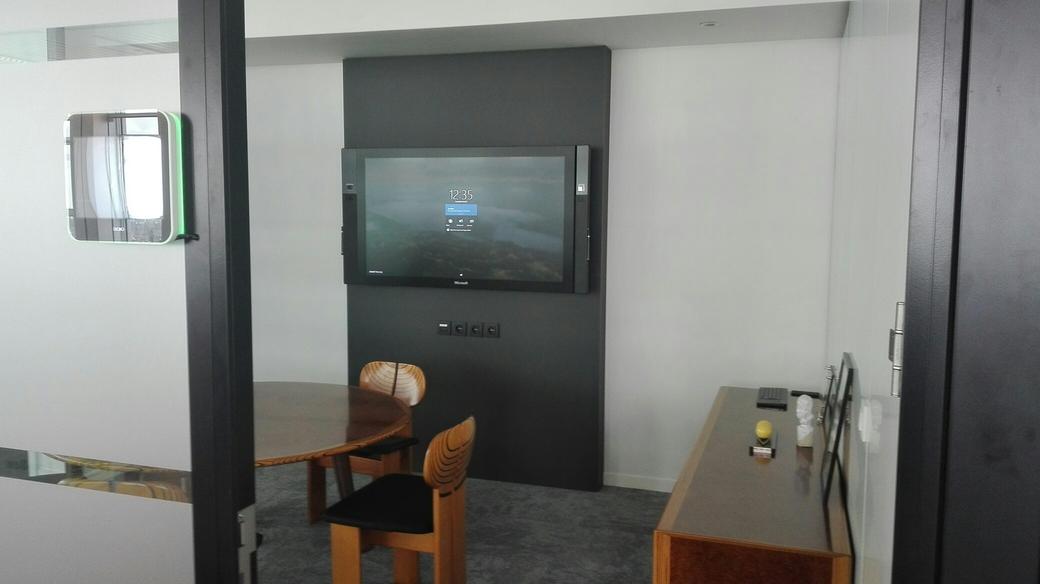 Compact meeting
In order to make the concept of flexible working a success, a sufficient amount of small meeting spaces is needed, where you can isolate yourself or hold short discussions. Most of the huddlerooms are equipped with a 55" Professional Display and a Polycom Trio or Barco Clickshare so that laptops (and other sources) can be shared wirelessly with the displays.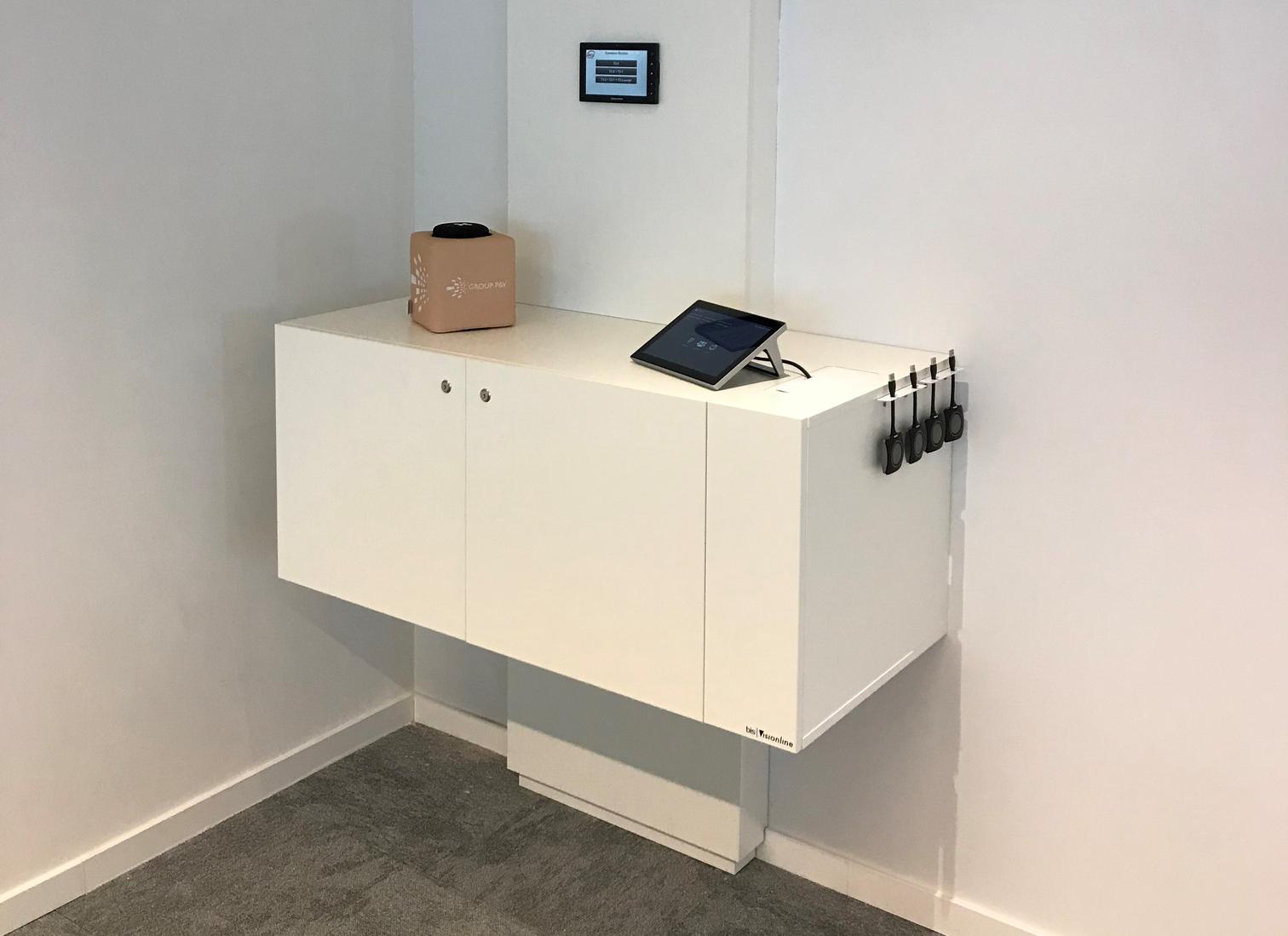 Medium- & High-end boardrooms
The medium-size boardrooms have a 55" Microsoft Surface Hub at their disposal. Each staff member can log in with his personal credentials to have immediate access to his documents, Skype contacts, ... In addition, the High-end boardroom is equipped with a Nova table with video conferencing and built-in return monitors. Thus we can easily show the content which is being discussed while you are looking straight in the speaker's eyes through a Polycom Group 500 system. The sound is subtly amplified giving you the impression that you are sitting right next to each other. We take this opportunity to thank P&V Group for their confidence and the pleasant 'collaboration experience'!
More information needed?
Do you also want to innovate with technologically intelligent audiovisual solutions? Call BIS on: +31 180 - 486 777 or contact us via the possibilities mentioned on the right.