LED wall on the facade of AFAS Circustheater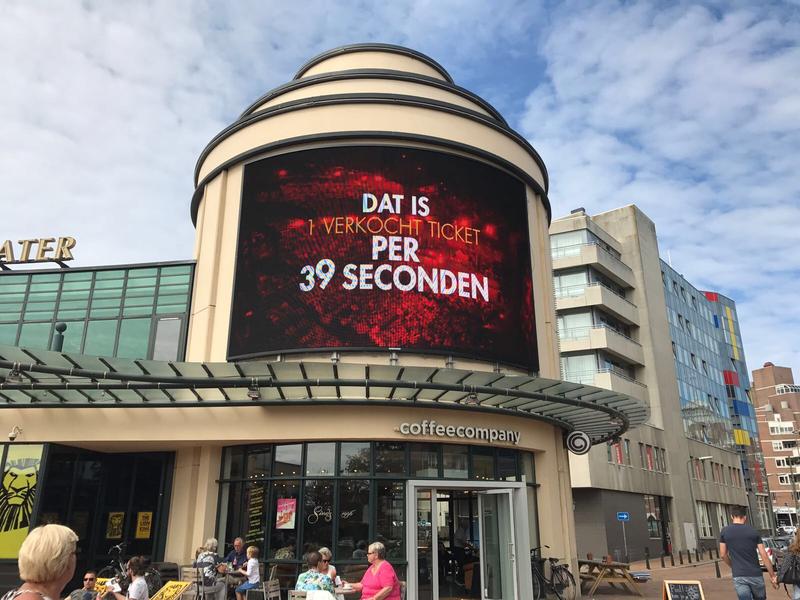 Commissioned by musical producer Stage Entertainment, audio-visual & IT leading company BIS BV, part of Econocom, realised this beautiful "digital billboard" on the round facade of the AFAS Circustheater in Scheveningen. Both Stage Entertainment, Samsung and BIS are particularly satisfied with the end result.
Informing and inspiring
Stage Entertainment has wonderful productions to its name, such as Mamma Mia!, The Lion King and Wicked. Because the musical producer is known for his visual spectacles, the management was looking for a way to inform and inspire their guests with dynamic and beautiful visual content. Albert Verlinde, managing director and producer of Stage Entertainment Nederland: "a dynamic, high-end look and appearance is very important to us. Even before our guests are inside, we want to show what we have to offer. Thanks to their many years of experience in display technology and numerous specific LED solutions the choice for Samsung and BIS was easy."
Strict installation requirements
The curved LED screen is mounted to the round facade of the AFAS Circustheater, an eye-catching prime location on the Scheveningen boulevard. The sometimes extreme conditions of sand, sun, sea, salt, wind and water not only place high demands on the quality of the LED wall itself, but also on the installation of the screen. Partly because of the strict installation requirements, BIS was asked to supply and install the Samsung LED wall. Thanks to the knowledge and experience of their installation teams in combination with thorough preparation and project management, BIS satisfactorily completed the entire project in 30 days.
Customer experience paramount
Bart Donkersloot, sales director at BIS, is proud of this project: "At BIS we put our client first in thoughts and actions. The same applies 100% to Stage Entertainment. In their assignment to BIS, it was emphasised that the intended solution had to strengthen the customer experience. I think it's really neat to see how all the pieces of the puzzle have fallen into place and we - together with Stage Entertainment and Samsung - have succeeded in translating the client's requirements into a stunning solution, which is also unique in the Benelux".
Would you like more information?
Would you like more information on the Samsung Curved LED wall at the AFAS theatre in Scheveningen? Please send an e-mail to
info@bis.nl
. Are you interested in your possibilities with premium LED technology and would you like to get acquainted with BIS, our solutions and facilities? Please fill in the
contact form
in or call BIS on +31(0)180 - 486 777.