Siemens
Following a limited offer to tender, BIS was asked to advise us on the audiovisual organisation of more than 100 rooms for the relocation of our office in The Hague, ranging from the coffee corner to the Board Room. In addition, we wanted an innovative, eye-catching display in our central hall to visualise our organisation, solutions and other information in an attractive way. We are more than happy with the final result. BIS helped us out perfectly. - Siemens
With a turnover of more than €1 billion, and almost 3,000 employees, the Siemens Group is one of the largest electronics and technology companies in our country. The varied delivery programme of Siemens Nederland covers virtually all areas of electrical engineering and electronics. Worldwide, Siemens turns over more than €76 billion annually, of which approximately €4 billion is spent on research and development in order to maintain the pace of innovation. In addition to continuity and reliability, Siemens customers are looking for quality and innovative strength within a global operating knowledge network.
Relocation in three phases
When Siemens Nederland decided to carry out a move within their Hague office, a limited offer to tender for multiple audiovisual systems was used to ask integrators about their thoughts for the allocation, layout and realisation of the meeting rooms, consultation rooms, management rooms and presentation rooms, as well as the Board Room and several coffee corners. In addition, the intention was to achieve the approximately 100 rooms in three phases. BIS was one of the parties consulted. Our advice fitted Siemens requirements and wishes so well that we were assigned the project to realise the recommended solutions.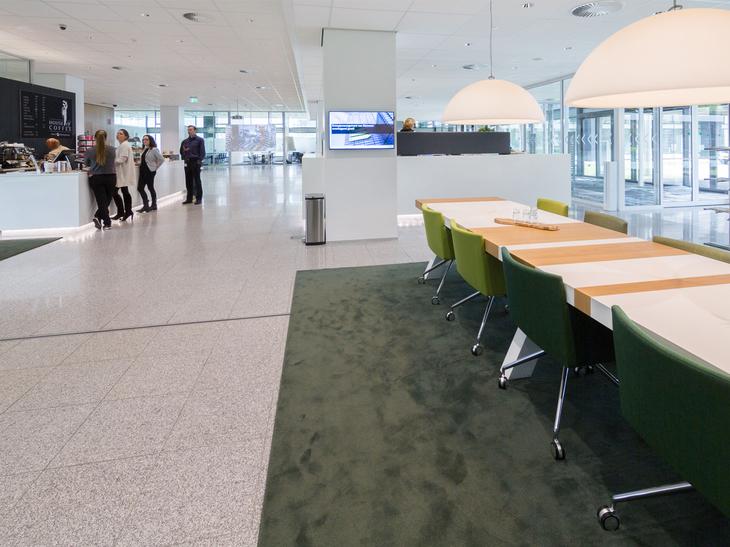 Different concepts
Taking user-friendliness and quality monitoring into account, BIS recommended several concepts composed of comparable components for the different room types. High-quality Samsung screens (in different sizes), an Extron or AMX control panel (for central control of the equipment and the environment), outstanding cable management and functional set-up provide clean and tidy rooms in which all the equipment can be operated and used in the same way. This means users are familiar with the audiovisual solutions in every room and can make full use of them.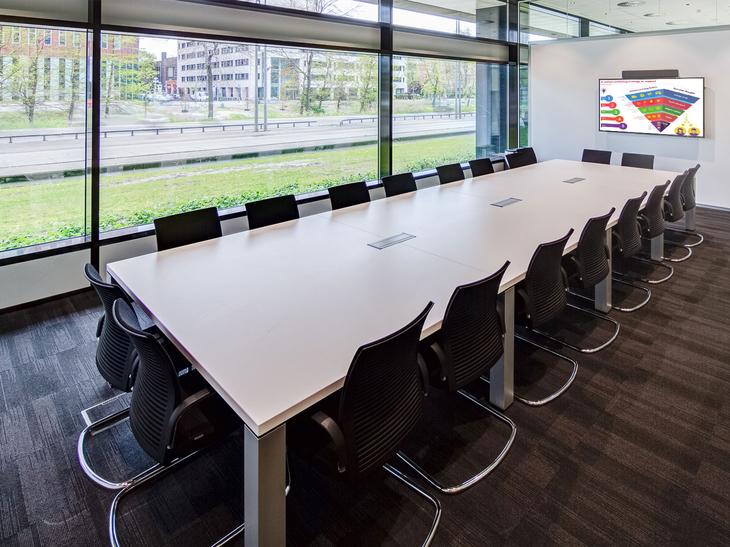 Special eye-catcher
In addition to the approximately 100 rooms, Siemens wanted an innovative eye-catching display to be placed in the central hall as part of the refurbishment where all kinds of information can be displayed. The purpose of this eye-catcher is to inform Siemens employees and visitors in an exciting way about Siemens, its products and services, innovations, and many other facts. An additional wish was that this room had to be set up to be multifunctional with high-quality, reliable and user-friendly equipment.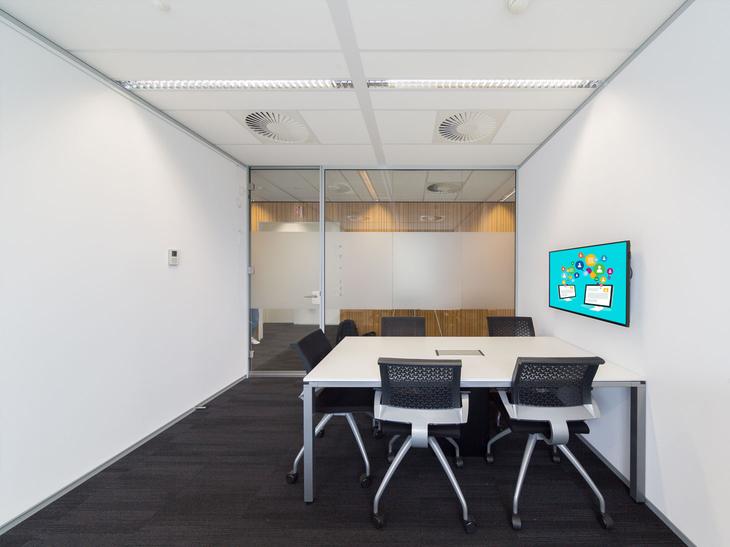 Diamond projection
As with the design of the other rooms, the request for a creative eye-catcher did not fall on deaf ears. With the help of a technical specialist and an interior designer, the BIS advisor developed a diamond-shaped projection wall measuring 300 x 190 cm upon which video animations with special 3D Effects are projected using a bright, full-HD beamer (8,500 ANSI Lumen, 1,920 x 1,080 pixels) and advanced Watchout software. And the result is magnificent; a fantastic eye-catcher that underlines Siemens innovative image.
We would like to take this opportunity to thank Siemens for giving us the opportunity to implement this project, and we wish all their users a lot of fun and success with the great solutions delivered by BIS. If you want to achieve innovative, audiovisual solutions like Siemens, please contact us without any obligation. We will be pleased to help you.