Fujifilm Open Innovation Hub
Appealing audiovisual innovation in Fujifilm Open Innovation Hub
Fujifilm Manufacturing Europe B.V. is one of Fujifilm's largest production sites outside Japan. The company produces photographic paper, offset plates and membranes. In addition, the employees at the Tilburg Research Laboratory develop new technologies and products. With a workforce of approximately 850 employees, Fujifilm Manufacturing Europe B.V. is one of the largest industrial employers in the Midden Brabant area of the Netherlands.
Leader in technological innovation
In order to maintain its leading position in technological innovations in the field of health care, energy & environment and industry & solutions, Fujifilm recently opened its "Open Innovation Hub" at the production and R&D facility in Tilburg. This hub allows customers and new partners to engage in a constructive dialogue with Fujifilm's leading technical experts. After Japan and the United States, this is the third Open Innovation Hub to be opened by Fujifilm.
During an intensive preparatory phase and selection process, BIS brought all its expertise and skills to bear on the task of designing a solution which would exceed Fujifilm's expectations and ideas. Fujifilm gave us a number of requirements for the Open Innovation Hub: it had to have a high-quality appearance, accurately reflect Fujifilm's strengths and show all the possibilities that Fujifilm has to offer. These were at the forefront of our mind when working out our ideas for the project. In addition, we were told that visitors had to be amazed and delighted when they entered the facility and when using the Open Innovation Hub.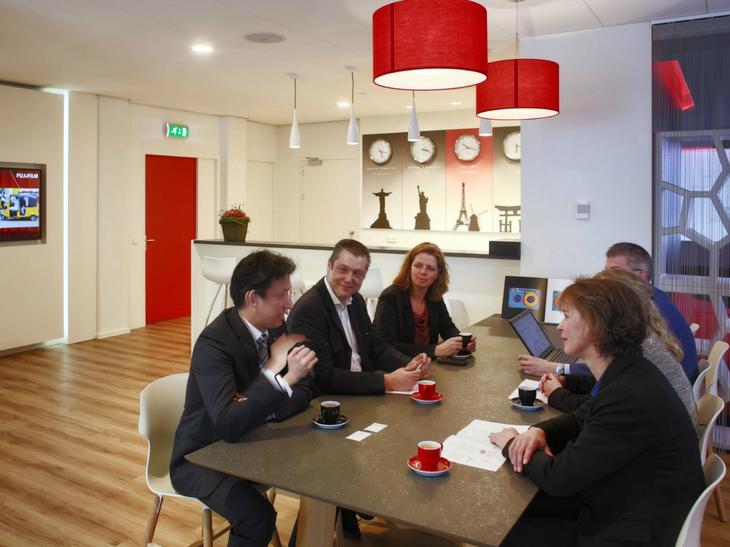 Main contractor for the complete project
A BIS project team, consisting of an account manager, an AV & IT consultant, an interior designer, a project manager and a content designer, conceived and presented a complete plan for creating and equipping the Open Innovation Hub, including 3-D visualisations of the end result. This plan assumed that BIS would act as the main contractor and manage the complete project. The innovative ideas, beautifully produced visualisations and well-structured project approach appealed so much to Fujifilm that BIS was subsequently awarded the contract.
For the full scope … Walls, ceilings, floors, toilets, kitchen, furniture, soft furnishings, lighting, audiovisual equipment, video communication equipment, narrowcasting including content set-up, interactive applications, etc. Everything was designed and implemented under the management and watchful eye of BIS. The result is awesome! A fantastic, inspiring environment, which is filled to the brim with innovation. An environment which figuratively folds itself around the user, stimulates creativity and invites people to interactively share their ideas and knowledge, with an even better outcome as a result. All the elements are so perfectly matched to each other that visitors cannot help experiencing that feeling of amazement and delight which Fujifilm wanted to achieve.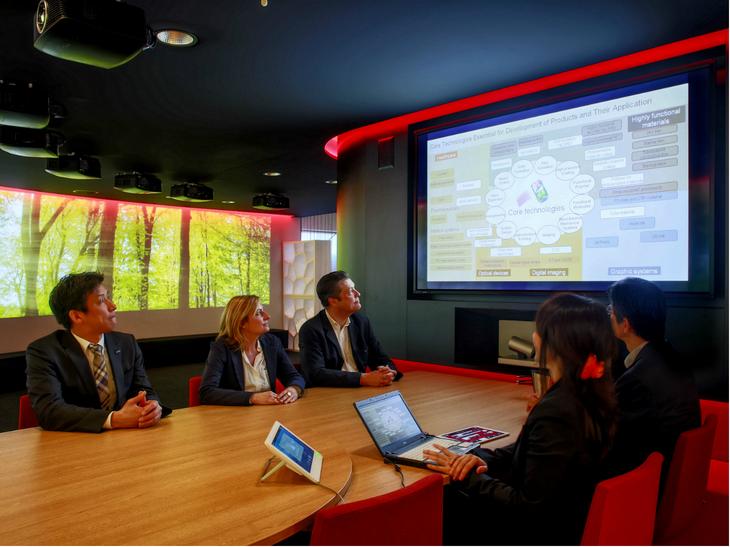 15-metre presentation wall as an eye-catcher
The curved, 15-metre long presentation wall in the Open Innovation Hub is a true eye-catcher. The wall informs visitors of everything Fujifilm has to offer via an impressive film and other information displays. These visuals are projected by no less than eight Optoma projectors with special wide-angle lenses. Their powerful specifications and excellent image quality guarantee a stunning result. A result that is made even more stunning by "edge blending" technology from Watchout, which merges the different displays to produce a single seamless image.
But of course there is much more to see and experience in the Open Innovation Hub. After entering the building through the inviting entrance - including an information screen linked to the BIS ID narrowcasting system, which displays a personal welcome message - the visitor moves into a tastefully designed space where he or she can choose to mingle and interact with others in an active setting in the encounter & meet room or opt for a more relaxed setting in the lounge with its comfortable chairs and low tables. Whatever the choice, the furnishings are comfortable and the atmosphere welcoming; not least thanks to the wall visualisations designed by the graphics specialists at BIS.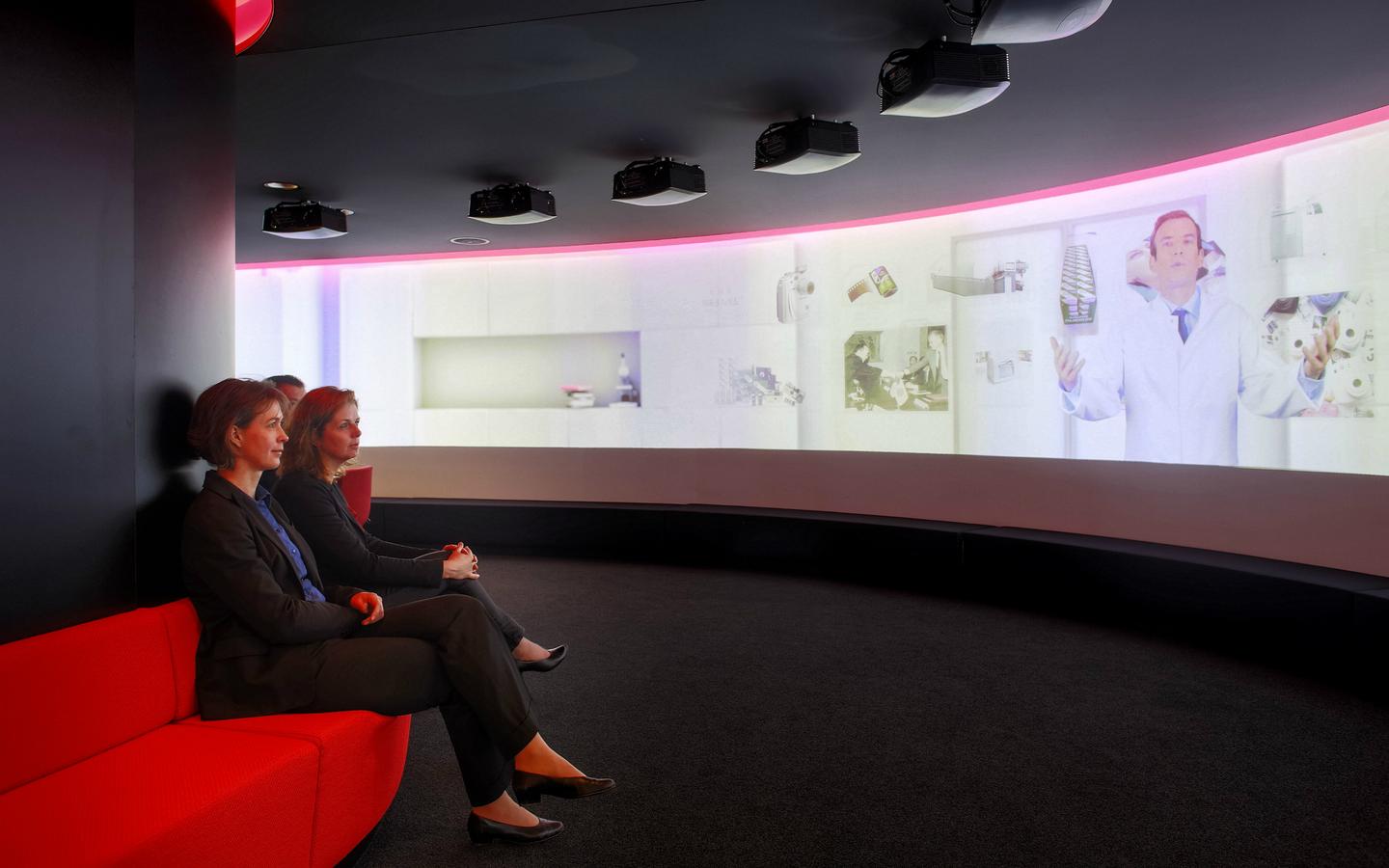 Innovation experience with audiovisual solutions
Both rooms open onto a central corridor leading to the innovation experience where – in addition to the 15-metre long projection wall referred to previously - multiple different audiovisual solutions are used to visualise information, facilitate an exchange of ideas, extend and expand knowledge and develop innovations. The interactive multi-touch table with custom-developed applications and the border-shrinking videoconference facilities, including a speaker track, an 80 inch monitor (203 cm) and an optimally styled videoconference table, are just a few examples.
The three transparent LCD screens are a magnificent "detail". Behind these screens, a Fujifilm product is tastefully lit by a spotlight while a video - distributed via the central narrowcasting CMS - explains the product in detail. In addition, the integrated AMX control system allows central operation and management, and a range of pre-sets elevate user convenience to the highest possible level. Obviously, a professional sound system for voice presentation and background music has been included.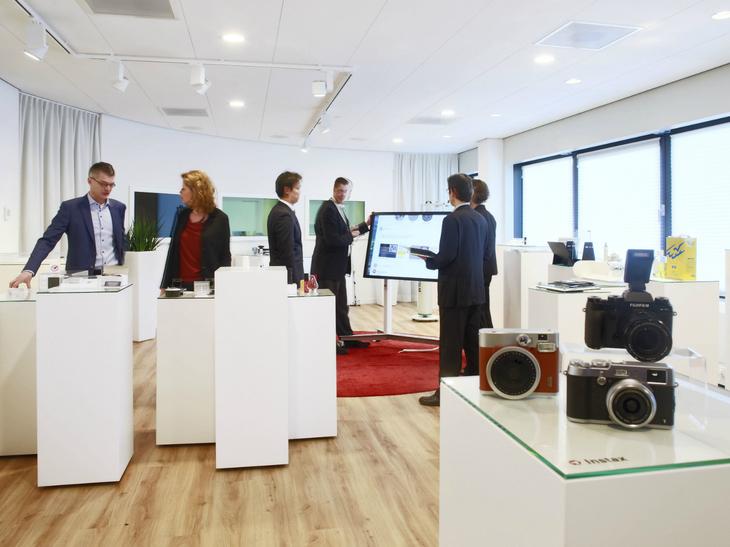 Dynamic narrowcasting with multiple content streams
Finally, all kinds of information is presented in a visually attractive manner via multiple information screens. The use of the BIS ID narrowcasting platform makes it possible to distribute the content streams in a highly dynamic way: both planned and ad hoc. For example, information about Fujifilm (corporate and other video productions) and information about products, but also the weather forecast, traffic news and public transport information. Even the flight information (departure times, delays, etc.) for the guests present in the building is displayed completely automatically. Also worthy of note is the fact that content set-up for the narrowcasting system was carried out by BIS employees - our specialists in the digital productions department.
Fujifilm writes the following on its website: "The Open Innovation Hub has been specifically designed to inform partners of the main technologies and products offered by Fujifilm. The objective is to jointly look for opportunities and create a solid platform for future collaboration. The very latest technical tools are used in the hub to stimulate a creative process, resulting in faster generation of new ideas for resolving technological challenges."
At BIS, we are very proud and privileged to have been asked to create, design and implement this Open Innovation Hub for Fujifilm!
* Fotographs by Dolph Cantrijn