Danone Innovation Centre
Danone recently moved to its new and hyper modern Innovation Centre in the Science Park in Utrecht. Every day, approximately 400 scientists travel to the new research centre in Utrecht to jointly work on developing medical nutrients and healthy food for babies, toddlers and pre-school children. Bringing together multiple locations in a single building with an open, transparent and friendly character has resulted in a unique workplace dynamic. This dynamic encourages knowledge-sharing between employees and the surrounding universities and hospitals.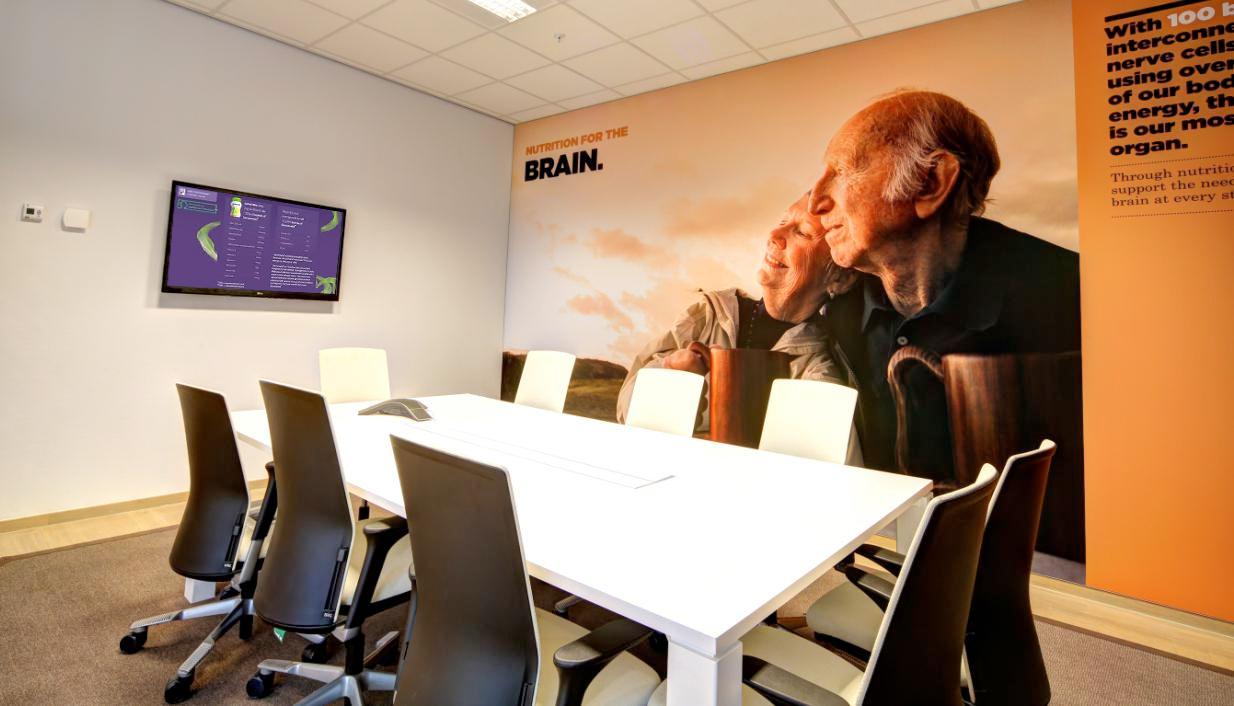 BIS is proud to have been asked to contribute to this new and inspiring workplace dynamic by providing and installing audiovisual solutions in no less than 81 rooms. In addition to approximately 30 small meeting rooms, several medium-sized conference rooms and a number of large conference rooms, all of which have been equipped with displays varying in size from 32 inches (81 cm) to 60 inches (152 cm), cable connection points integrated in the furniture and audio systems, BIS has also installed HD projection in a number of creative brainstorming rooms. In addition, we were asked to equip the café and restaurant with a powerful audio and speech amplification system. Because a WePresent system has been integrated in the medium-sized and large conference rooms and in the training rooms, images from any kind of device (such as telephones, tablets or laptop computers) can be displayed wirelessly on the large central display with the greatest of ease.
The boardroom in the truly magnificent building is equipped with a videowall consisting of four 55 inch displays (140 cm), which have been integrated in a BIS VisionWall (= a facing wall that has been specially designed by BIS to allow professional integration of equipment in a room), including the correct audio and video conferencing facilities. The latter make fast and efficient consultation possible with other Danone sites, which are located on five different continents, and with partners such as nutritional specialists in hospitals.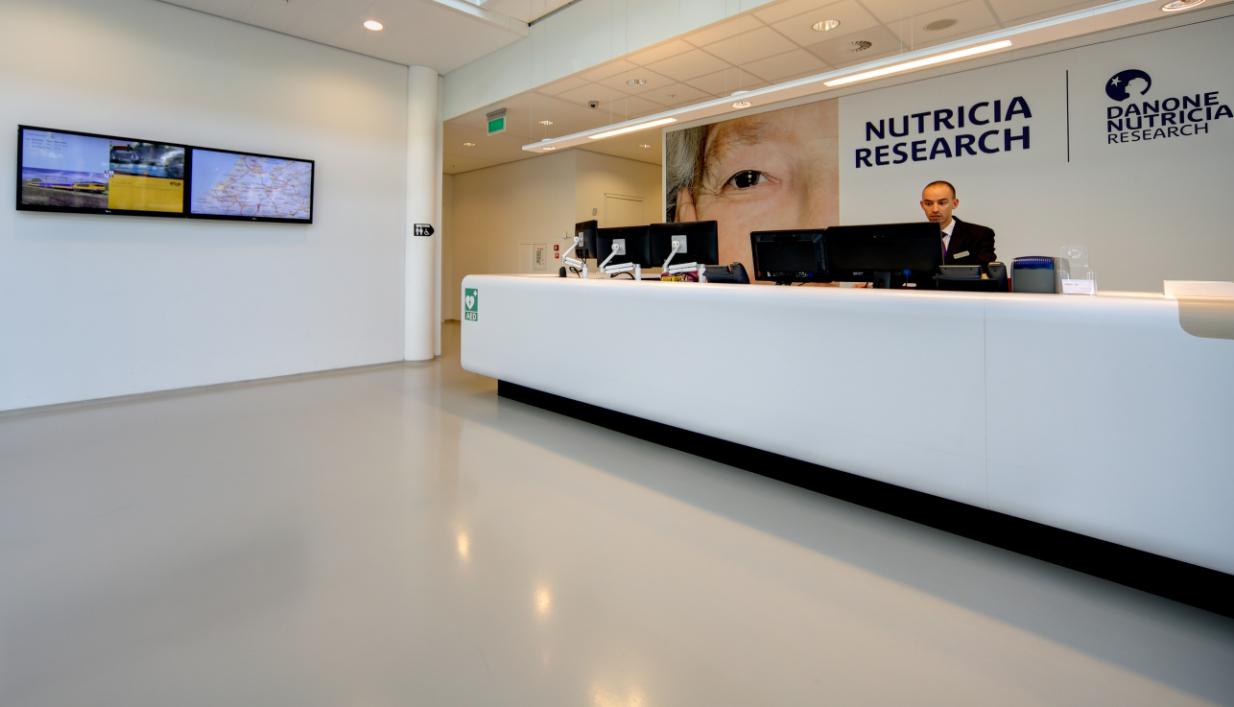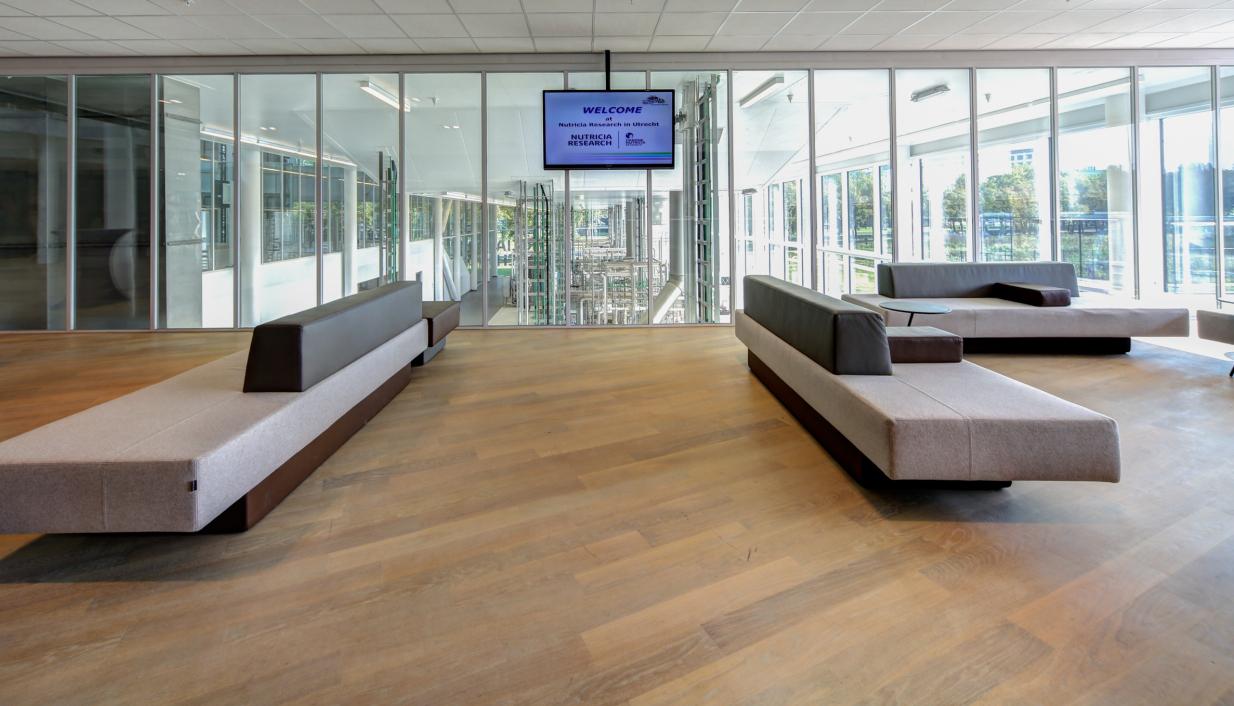 In addition, 16 information screens have been installed in various busily frequented parts of the building such as the reception area, the waiting area, the different coffee corners and in the restaurant. BIS ID Digital Signage software is used to display content that is of interest and relevant at the time when people are in each specific area. For example, the current weather forecast and traffic situation is displayed automatically close to the entrance to the building. A feature of particular interest is that an iPad can be used to retrieve content on demand on each screen: during tours for example.
Danone's sensational Innovation Centre underlines its status as an internationally respected nutrition specialist. BIS felt privileged to be asked to equip this fantastic site with such a large volume of audiovisual solutions that further enhance the openness, accessibility and transparent character of the building and encourage collaboration and information sharing.