Fondel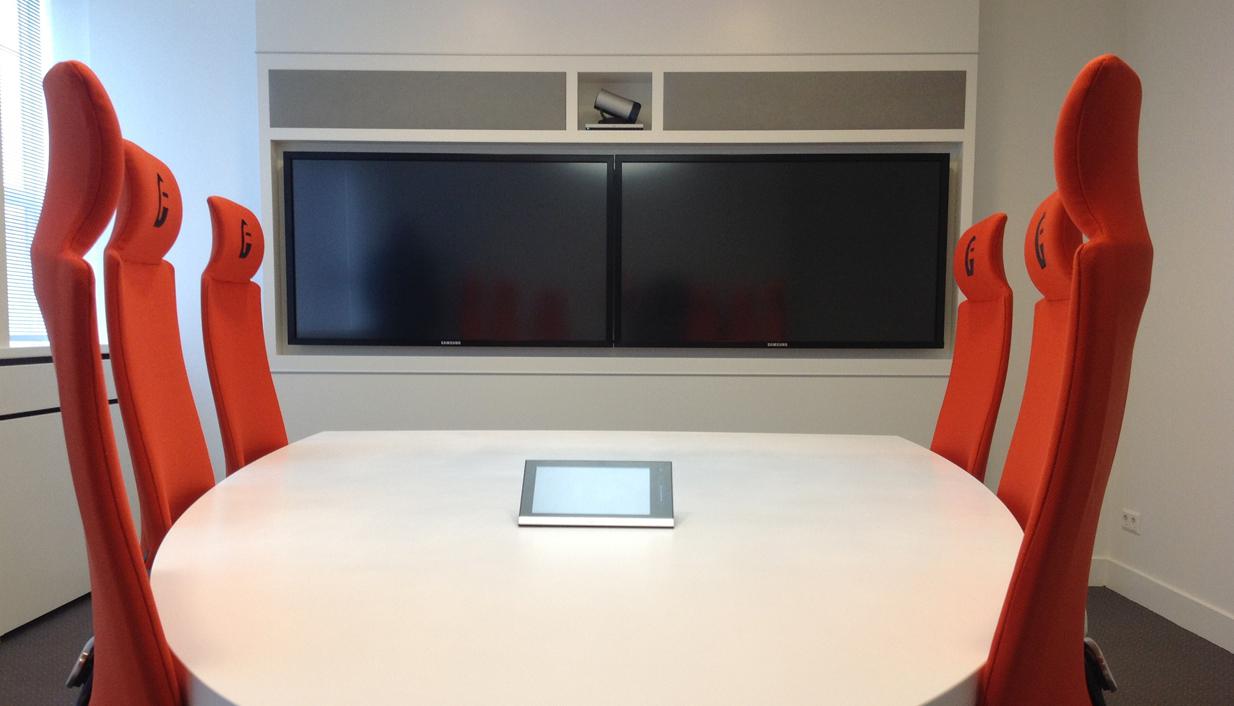 Fondel, with its headquarters in Rotterdam, is a leading worldwide distributer of metals, aluminum, chemical products and high quality alloys, which are used in various sectors and industries. Fondel's mission is to serve stakeholders, customers, suppliers, employees and local and international governments in a socially and ethically responsible way.
Because of its mission to be a sustainable and socially responsible enterprise, Fondel wanted to reduce its travel to and from meeting locations. To help achieve this goal, Fondel searched for a partner and found BIS, to help find a solution.
To meet the high standards and requirements of Fondel, BIS designed and created a high-quality videoconference room. A lot of thought has gone into selecting the right hardware (camera, screens, et cetera) and other aspects of this room. These capabilities have a huge impact on the meeting experience , efficiency and the decision-making process. The BIS interior designers have designed the entire space and put a lot of thought into the perfect combination of space, equipment, light and furniture.
In the center of the space is the special videoconference table. This table has the ideal shape for videoconferences and contains cleverly integrated connection points to easily connect laptops or other image- or video-carriers of those participating in the meeting. Thanks to the large connection points, displaying presentations, documents, videos et cetera on the big screen – and via videoconference – is especially easy for anyone; even without any technical knowledge. The beautiful lighting fixture with the shape similar to the table right above the conference table takes care of the right light for the perfect videoconference experience.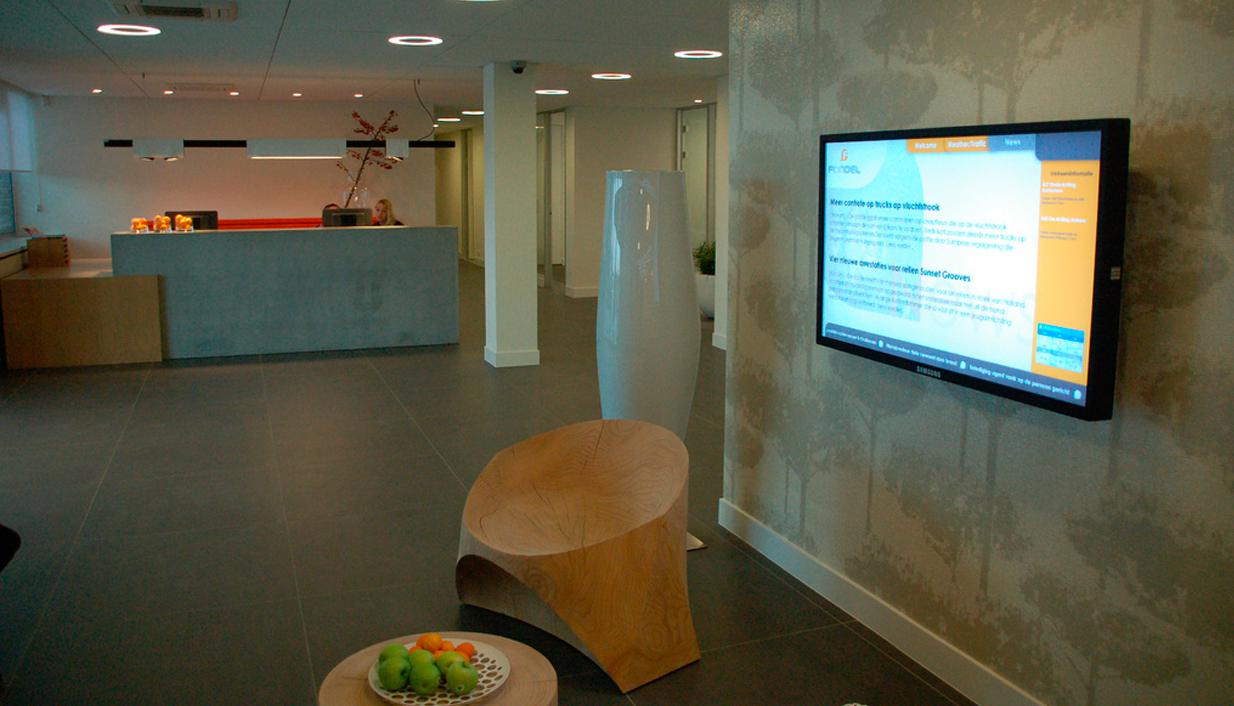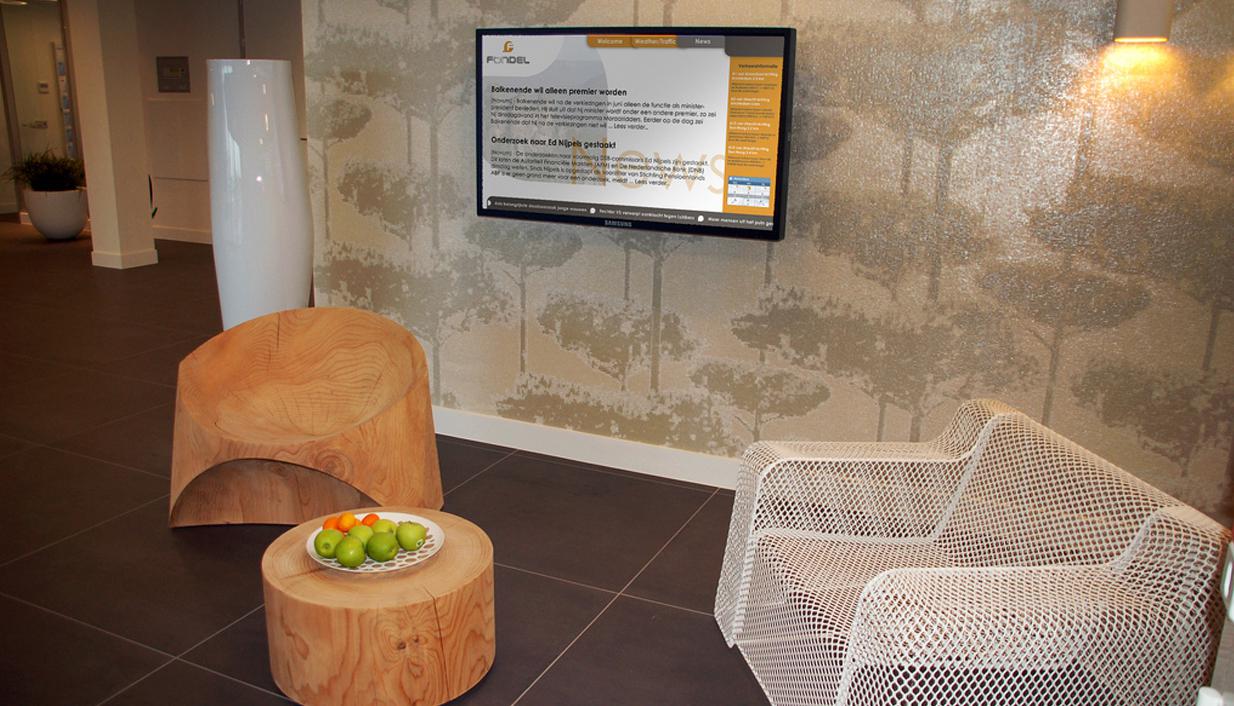 There is a LED logo displaying the name of the location on the chairs and on the back wall Since this is clearly visible for the other party on the conference, they immediately realize which company, or what location has started this videoconference.
The two 55" LCD displays (140 cm each) – together with a couple of powerful speakers for crisp and clearly audible sound reproduction – have been stylishly integrated in a BIS VisionWall. Inside the Visionwall, all cables and peripherals have been professionally installed out of sight. The HD camera takes crystal-clear images, which, thanks to the quality of the screens and the powerful infrastructure, are visible to all participants lifelike and lip-synchronized. Using a touch control panel on the table, all equipment in the room can be controlled in a heartbeat.
In order to be able to conduct carefree videoconferences, the entire infrastructure has been provided and implemented by BIS at Fondel. This includes the Cisco multipoint control unit, Video Communication Server, link to Microsoft OCS, CISCO management suite, etc.
Last but not least, the conference room has been equipped with an Evoko Room Manager. This allows the user to reserve or cancel reservations on a room or see whether a room is reserved via a browser on a desktop PC, mobile equipment or on the touch panel itself. There is also a report function, which can provide insights on use, utilization rates and any malfunction that may have occurred.
To summarize: Fondel offers with fantastic possibilities for efficient (video) conferences. BIS feels privileged to have been allowed to create a high-quality videoconference room for Fondel.