Rabobank Schiphol Region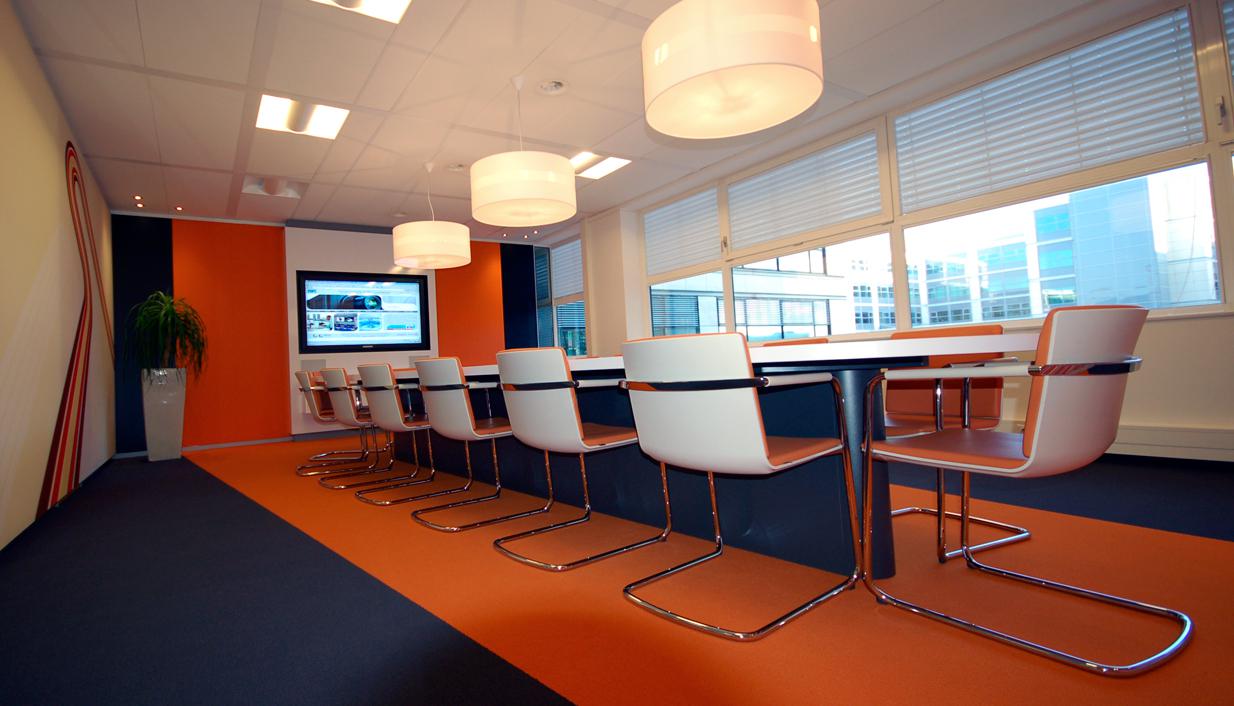 We wanted to completely restyle our conference room; everything needed upgrading – from the furniture, wall graphics, carpeting and lighting to the sun blind system, suspended ceiling and meeting equipment. In collaboration with BIS, we have succeeded in creating an inspiring room where we can take real pleasure in holding meetings and making presentations – Rabobank Schiphol Region.
Rabobank Schiphol Region is part of the Rabobank Groep; an international cooperative provider of financial services that has its roots in the Netherlands. Rabobank is active in the fields of banking, asset management, lease, insurance and real estate. Rabobank Groep concentrates on providing a broad spectrum of financial services in the Netherlands and focuses its international activities primarily on the food and agri business.
As - in the words of the bank itself - the existing conference room at Rabobank Schiphol Region was very outdated, there was a strong desire to rigorously restyle this room. The assignment was to place greater emphasis on the ambience and room interior rather than the equipment that would be integrated in the room. An assignment that the interior designers at BIS tackled with great success.
After identifying and noting all the requirements, such as the colour scheme and materials to use, one of the interior designers at BIS proceeded to design and lay the complete room out in a 3D visualisation. These visualisations gave the decision-makers at Rabobank Schiphol Region a clear, at-a-glance picture of how the room would ultimately look, so gaining their final approval for execution was a simple matter.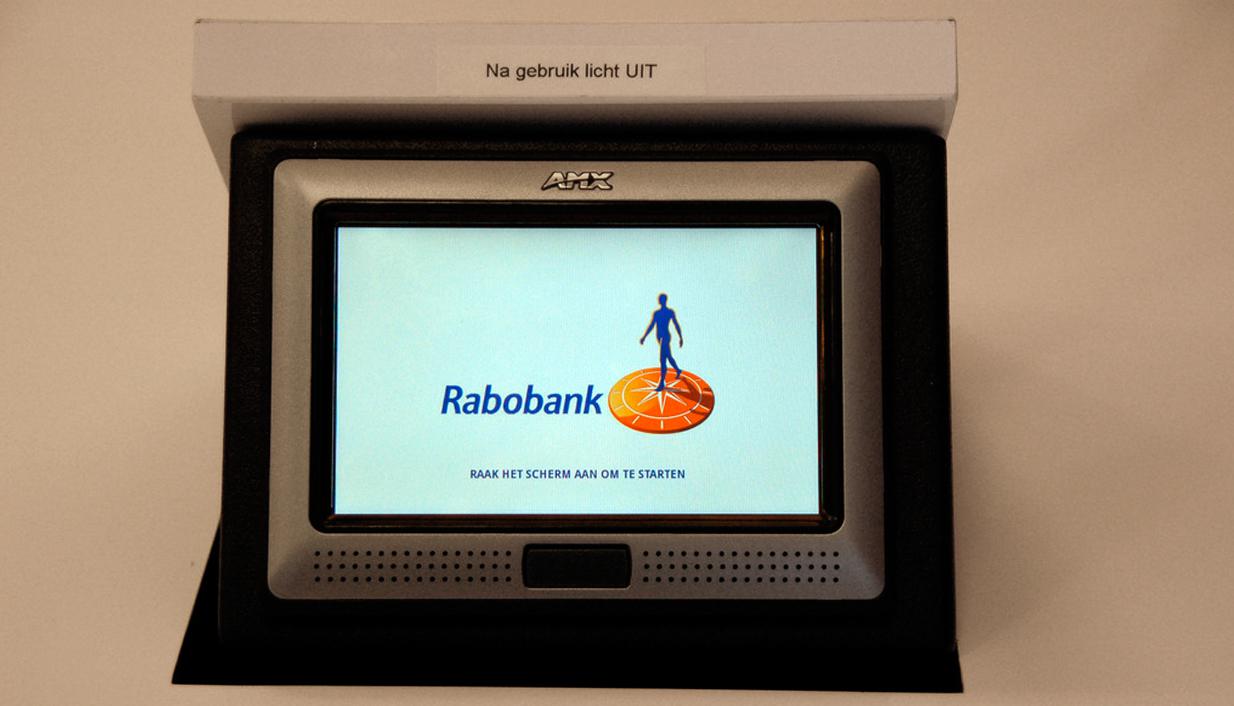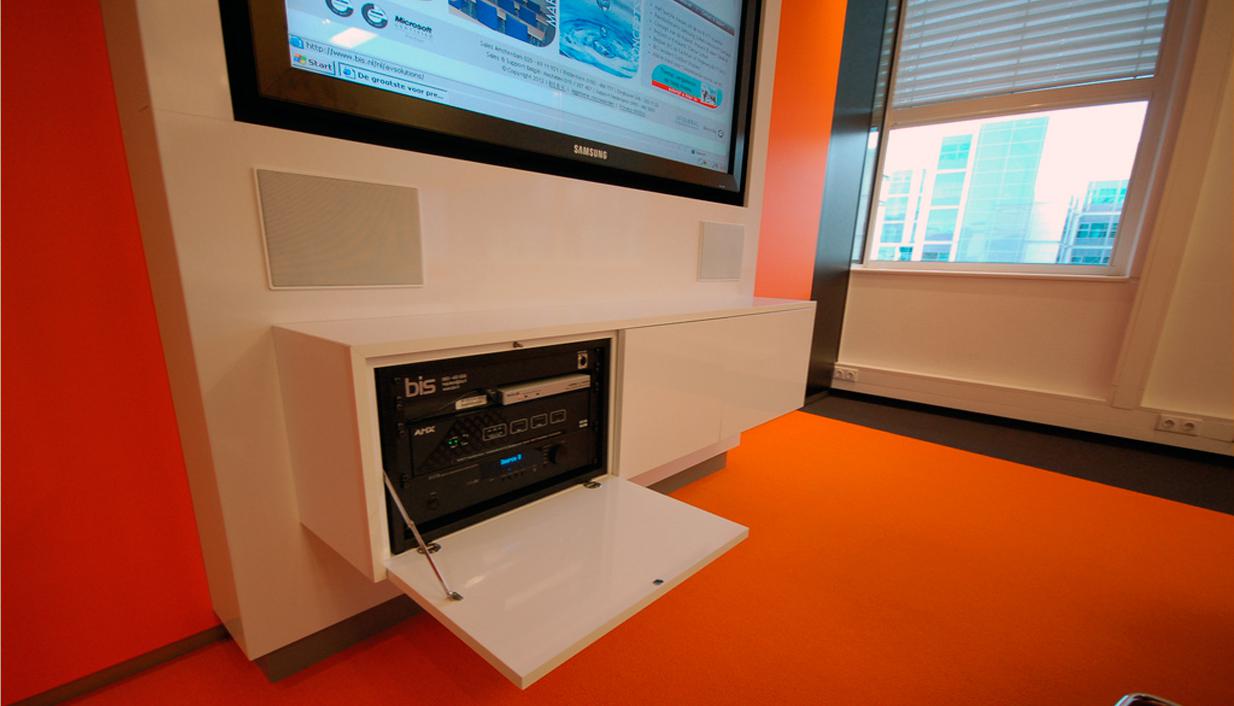 The room has been given a modern appearance overall but cleverly integrates stylish retro elements, like the orange and brown carpeting and wall decorations, in combination with the high gloss finish conference table for 16 persons and the white and orange chairs. Because the orange and brown carpet lies in the same plane as the table, the final effect is one of spaciousness and playfulness.
The magnificent 65" Samsung touch display (165 cm) with its interactive functionality adds an element of progressive dynamism during meetings and presentations. An AMX control panel and table connection points are integrated in concealed compartments in the table. The control panel allows simple operation of the equipment, lighting and sound systems. The Samsung screen, together with the loud speakers, peripheral devices and wiring, has been stylishly integrated in a BIS VisionWall; a breathtaking wall unit that is the product of the creativity of the interior designers at BIS. Three modern table lamps, which hang above the table, and the compact sun blind system complete the finishing touches to the room.
In short: with valuable input from Rabobank Schiphol Region, BIS has succeeded in creating an inspiring room, which combines refreshing playfulness with all the equipment and facilities required to hold meetings and make presentations both professionally and efficiently.