Schiphol and BIS|Econocom to introduce display-as-a-service
15-05-2019 11:15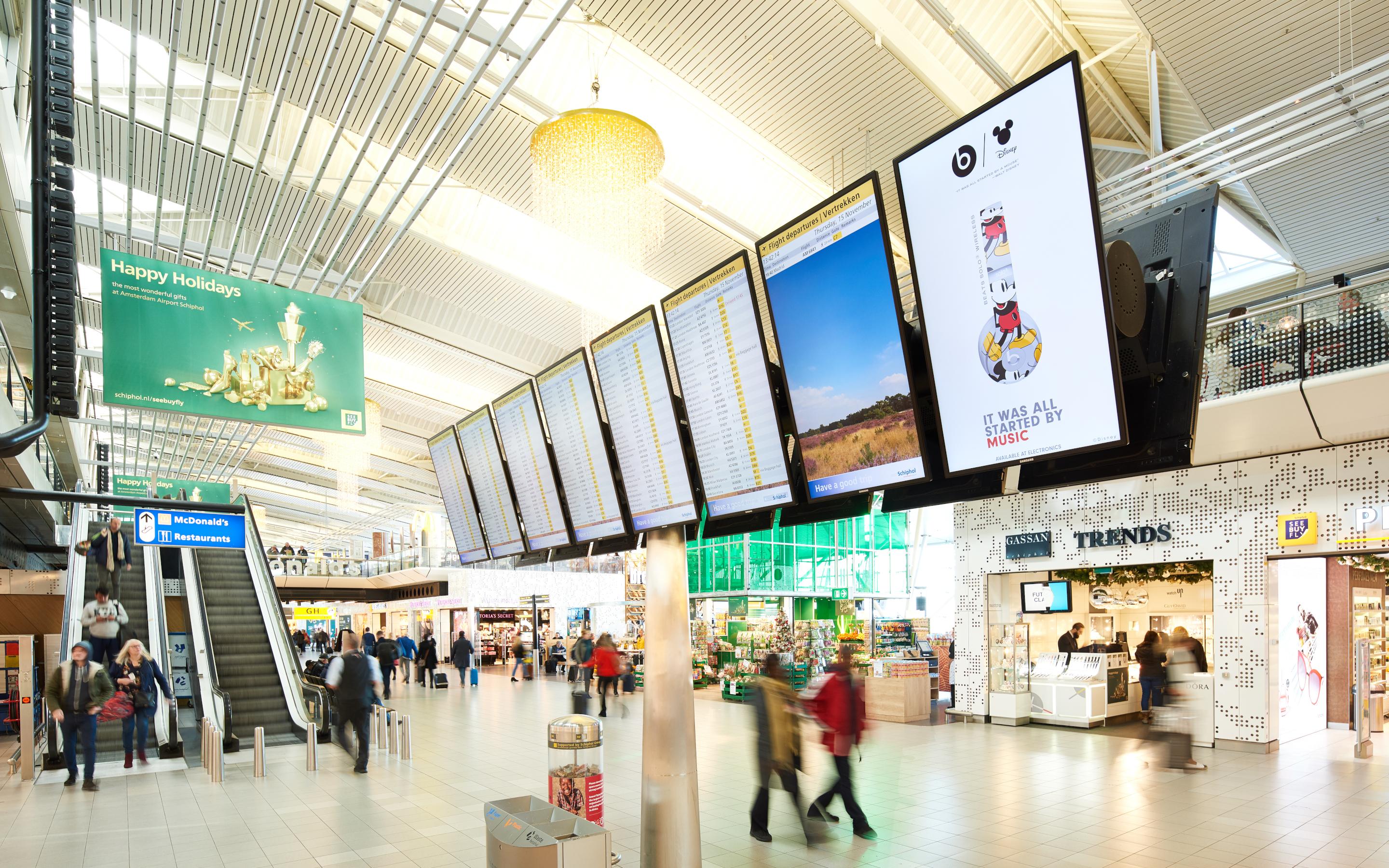 Following the success of light-as-a-service, Royal Schiphol Group and BIS|Econocom will be partnering to arrange the use of over 3,000 digital information screens according to a similar construction. In the 'as-a-service' model, Schiphol will pay for use, while the supplier retains ownership of the product in question. In this way, Schiphol is encouraging suppliers to lengthen the life cycle of their product and to use materials in a circular fashion.
Zero-waste airport
Schiphol deploys over 3,000 displays for the purpose of conveying departure and arrival times, announcements and commercial communications. BIS|Econocom will assume ownership of these digital information screens. When the life cycle of such a screen ends, as many components as possible will be reused and given a second or third life. Parts that are not suitable for reuse will be recycled in an environmentally friendly way. This concept is new to the digital display market.
'This innovative concept is in keeping with our ambitions to become zero-waste by 2030 and to be the world's most sustainable airport. This partnership will contribute to the realisation of that aim. By delegating ownership of the digital displays to the supplier, we are promoting the circular economy,' according to Denise Pronk, Head of Sustainability at Royal Schiphol Group.
Jean Pierre Overbeek, CEO of BIS|Econocom, had the following to say: 'We will be taking on the full range of services in connection with these displays. In addition to hardware, we will also provide all other services that our as-a-service approach entails, such as installation, maintenance, monitoring, repairs and replacement – all with great attention to sustainability and circularity. To date, some 20% of our projects are contracted on an as-a-service basis. Now that Schiphol has taken this step as well, that percentage will further increase. Which is good news for the environment, too.'
More information
More information? An interview appointment? Please contact our marketing department. Send an email to pr@bis.nl of call: +31 (0)180 – 486777.