Samsung introduces the FLiP: collaboration for everyone
09-01-2018 16:00
Collaboration, brainstorming, meetings… are essential in today's business world. However, it is not always easy to facilitate this in practice. Equipment that supports interactive forms of collaboration often has a great many possibilities (too many?), which sometimes complicates its use in relation to the application. In addition, such equipment often places high demands on the IT environment. But the Samsung FLiP doesn't. The Samsung FLiP offers real collaboration opportunities for everyone.
Not run-of-the-mill
You may think: sure, this is just another interactive display. At first we thought so, too. Yet, that is not the case. The strength of the Samsung FLiP lies in the combination of simplicity, accessibility and the writing experience of a traditional flipchart with a number of smart digital features. The built-in sensors activate the screen when you get closer or take the pen out of the holder. You can write directly onto an empty sheet with the special pen or other writing tool. By digitally scrolling fully written "sheets", there is more than enough writing space and through the thumbnail view on the side, every detail can be found quickly.
Flexibility and optimal security
The FLiP's solid and stable mobile chassis makes it easy to grab the FLiP for a brainstorming session. It can be used in both horizontal and vertical positions, so you always have the optimal writing surface. The FLiP automatically stores your notes in the internal memory and can also safely store files, protected with a personal password. Finding saved files is easy and fast with the handy search function.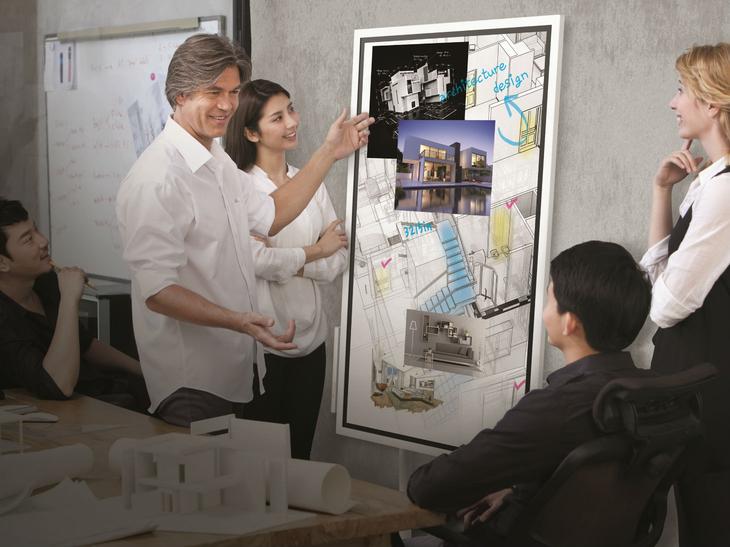 Maximum participation and interaction
Thanks to its user-friendly and hip connectivity, such as NFC, the content of personal devices can also be shared with the FLiP in no time at all. Content from four participants can be displayed at the same time on the FLiP. Edit the content and share it with all participants by email. Files can also be saved (securely) to a network location or USB stick.
Try the Samsung FLiP yourself!
The FLiP Samsung brings a high quality and extremely user-friendly collaboration tool to the market.
Here you can download the beautiful FLiP brochure
, complete with great visuals, ideas and specs. Would you like to experience how intuitively the FLiP works in real life? Request a noncommittal demonstration in our showroom. Call BIS: +31(0)180 - 486 777 or use the contact options on the right..