Avocor makes working with touch screen a tablet-like experience
12-09-2016 15:00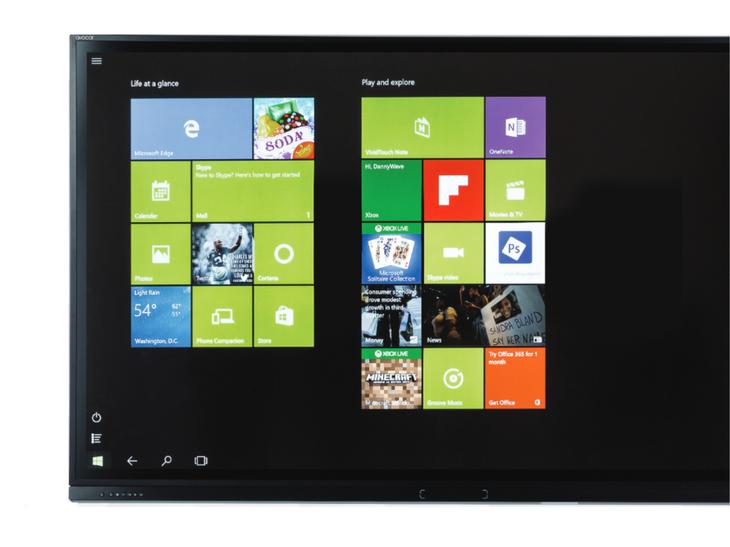 Touch screens of 180 cm. Or larger, but with the interactive experience of a tablet. This is what the interactive screens of Avocor are like. The revolutionary INGLASS™ technology makes these wonderfully designed screens superfast, fluent, intelligent and accurate. Writing, drawing, browsing, starting and operating applications... it will never be the same again. Thanks to Avocor.
Popular with companies and educational institutions alike
Not only the INGLASS™ technology of Avocor is exceptional. Smart features – such as 10-point touch, terminals at the front and beautifully integrated controls for the commonly used functions – make the working (together) with these touch screens fast, efficient and pleasant. It is no coincidence that these screens are highly popular in their home market in the UK both in the business sector and in education.
Full Windows 10 integration
But that's not all yet. The Avocor VTF comes standard with Microsoft Windows 10. This means that each user has direct access to a wide range of Microsoft software applications, such as Word, Excel, PowerPoint and OneNote. The world of Microsoft Office will be entirely available to you without an additional PC being required.
Now available at BIS
You notice… we are enthusiastic about the innovative Avocor touch screens. And not without reason. That is precisely why we are proud of the fact that we can the supply the Avocor screens as one of the first audiovisual system integrators in the Benelux. Naturally, complete with excellent service and a maintenance programme.
Get to know Avocor. View the product range online or make an appointment.
Call +31 180 - 486 777 or use the contact options on the right.