The Evoko Liso: successor of the Award Winning Evoko Room Manager
30-06-2016 11:30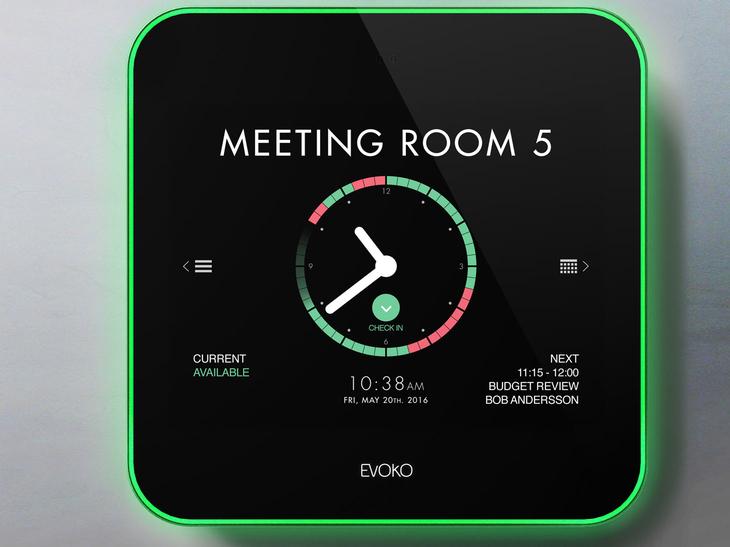 In 2010 Evoko created a wonderful solution for room reservation with the Room Manager. Double bookings and frustrations became a thing of the past. Now Evoko has developed the next generation Room Manager. With more facilities and a more user-friendly interface. Meet the Evoko Liso.
New generation Room Manager is even smarter
Evoko Liso is based on the successful Evoko Room Manager, but with even better functionality. It is now possible to book any room from your preferred agenda or on one of the Liso displays. All information is available on the display, such as size, equipment available and status. The perfect room can be found for each meeting. Thanks to the built-in sensor the Liso can show specific information when someone approaches the Liso.
Optimised use through analysis
The Liso gives you full insight into the use of the rooms in your organisation. By analysing the statistics in the web based Evoko Home you can identify meeting patterns and optimise your facilities accordingly. As a result it is possible to save certain costs and realise OR achieve a highly efficient meeting culture.
Very easy to install and use
Evoko Liso 'simply' works with Wi-Fi and on PoE/PoE+, and has RFID/NFC or PIN facilities. Through an open API it is easy to communicate with other systems and software. In addition, no plug-ins are required and no software has to be mastered. The interface and system are so intuitive and user-friendly that all functions are available for everyone with a few taps.
The next level
In short: the Evoko Liso has taken room reservation to the next level with an improved interface and enhanced facilities, to make it even easier for users to find the perfect room for their meeting.
Would you like to know more or would you like free personal advice ? Our advisors gladly help you.
Please call BIS: +31 180 - 486 777 or use the contact block on the right.