BIS ID Exact Online Connector – Welcome to the world of Exact Online
Exact was founded in the eighties and grew to become an icon in the field of ERP software. With a user base of more than 250,000 organisations in 110 countries Exact is the undisputed No. 1 ERP supplier for companies up to 250 employees. And not without reason… the options with Exact are vast. Thanks to all kinds of customisable dashboards integrated ERP, financial, CRM, HRM and BPM software also provides overview, insight, control and management.
Visually sharing information from Exact
Do you know Exact from practice? Do you use the comprehensive software of this – originally – Delft software house? Then in addition to all options and benefits you will probably recognise the need to quickly display significant KPIs or other (process) information in an appealing and visual manner to colleagues on all kinds of levels within your organisation. This is possible! Thanks to the Exact Online API and the BIS|Econocom Development team.
Link Exact Online with BIS ID narrowcasting
Exact Online, the modern and complete cloud version of the acclaimed software, comes with an Application Programming Interface (API). This API makes it possible to fully automatically link other systems with Exact Online and to retrieve data from Exact Online. By linking Exact Online to the BIS ID narrowcasting software with this API you create a world of new options. BIS ID Exact Online Connector is a fact.
High quality large format display
With the BIS ID Exact Online Connector you can now display any information from Exact Online in a clear way on one or more large format LCD/LED displays. Of course, the BIS ID expert designers also ensure that the information is presented in a high quality graphic design and is displayed in a visually appealing manner. To ensure an aesthetically pleasing result BIS|Econocom employs graphic illustrators as well as User eXperience (UX) specialists. They design your user interfaces following a logical pattern, size and design. We offer even more in the field of content creation.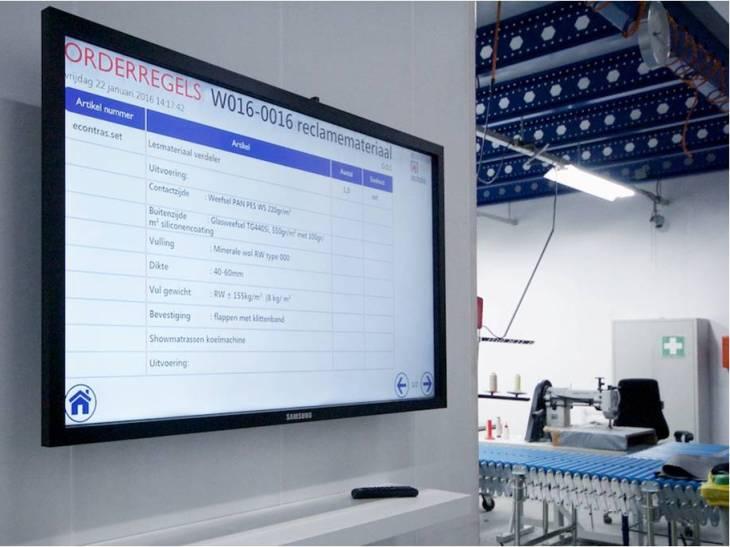 Fully automatic display of all sorts of information
Meanwhile, BIS|Econocom has created a link between Exact Online and the BIS ID narrowcasting platform for various organisations from multiple industries. Often displaying so-called Key Performance Indicators (KPIs) is a logical first step, but we are also regularly asked to display orders and order lines on large format screens. This way, users can browse through the orders via a touch screen and zoom in on orders and/or order lines.
Beginning of a stormy development
However, with these options we are only at the beginning. Exact Online contains all data in terms of CRM, accounts, project management, production with calculations and planning, sales with inventory management etc. We expect that narrowcasting and ERP will become even more intertwined and that we will be asked to unlock strategic and/or operational significant information through narrowcasting for an increasing number of clients. Organisations will now really start discovering how data locked in computers can be unlocked democratically and logically and be displayed on screens in high quality. The possibilities are endless.
No Exact Online? No problem!
If you think while reading: "We have no Exact Online but another ERP system and we have the same wishes", please do not hesitate and contact us. In recent years we have developed hundreds of links. We gladly add yours to the list.
Would you like to know more about your options and the benefits of the BIS ID Exact Online Connector or other links?
Call BIS|Econocom: 0180 – 486777 or contact us via the options on the right.