Evacuation systems
Your office building is, among other things, intended to receive employees, suppliers and other visitors and to offer an inspiring place to meet each other, to cooperate and to exchange information and ideas. Of course, during the construction phase and/or the design of the building you paid close attention to safety.
Evacuation systems
Even though you have done all you could to create a safe environment, things can still go wrong. A fire, a flood, lightning strike, threat… there are plenty of reasons why a building suddenly must be evacuated. In these situations it is very nice to have a well-functioning and reliable evacuation system. Our specialists advise you on the optimal lay out of your evacuation system, so you create an even safer environment for everyone that in your premises.
The right mix of elements
A good evacuation system consists of several elements, that are perfectly aligned and are optimised to work together. BIS|Econocom is your partner for CE certified type A systems (with speech) and type B systems (without speech). Which system is best for your situation, depends on several factors. In any case with BIS|Econocom you choose an evacuation system that consists of reliable audio, a powerful slow whoop and a certified installation. The type A version offers the additional advantage that people also get spoken instructions (possibly in multiple languages) on how to evacuate the premises.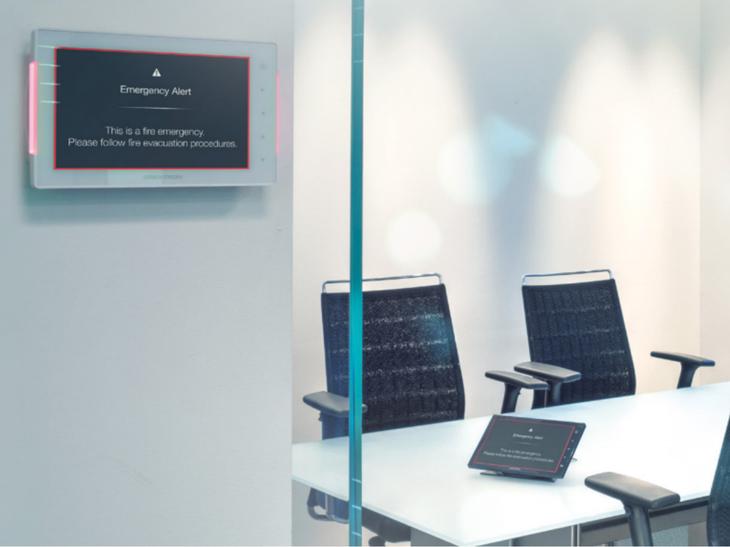 Link to your narrowcasting system
An additional possibility that BIS|Econocom offers you, is to link your evacuation system to your narrowcasting platform. With this link you can use the information screens that are integrated in several locations in your building to provide additional information about the emergency and escape routes. You link a strong visual element to your evacuation system.
Maintenance and service
The proper functioning of equipment is always important. That's why BIS|Econocom offers plenty of intelligent services to optimise the operation of your equipment. In the case of an evacuation system this is perhaps even more important. This equipment must always function. TO this end, BIS|Econocom provides corrective and periodical maintenance on evacuation systems in accordance with the applicable NEN standard.
Also additional safety with an evacuation system
Would you like to know more? Check with an expert how you can make your building even safer with an evacuation system! Please contact one of our specialists.
Please call BIS|Econocom: +31(0)180 – 486777 or use the contact block on the right.