StarLeaf: Videoconferencing in the cloud
Two important trends in the field of audiovisual & IT are videoconferencing and cloud computing. StarLeaf combines these two technologies in a unique way and has created a video communication solution that can be used easily on all platforms and on any device. As a result, users no longer have to worry whether their video equipment is compatible with that of other video users. A comforting thought.
StarLeaf is the first truly cloud based videoconferencing platform from the founders of Codian and already has numerous renowned clients.
Meet with everyone via video: point-to-point, multi-point, data sharing, etc. without expensive investments in network infrastructure.
Software and hardware video endpoints – for your meeting rooms, your laptop and smartphones and tablets.
Global network of data centres, proven quality of service, secured communication end-to-end, call logging and administration of your environment.
Unique price/performance ratio and perfectly scalable to your needs.
Management requires no special skills or education.
StarLeaf works seamlessly together with Microsoft Skype for Business (formerly Lync) and existing Cisco, Lifesize and Polycom VC infrastructure.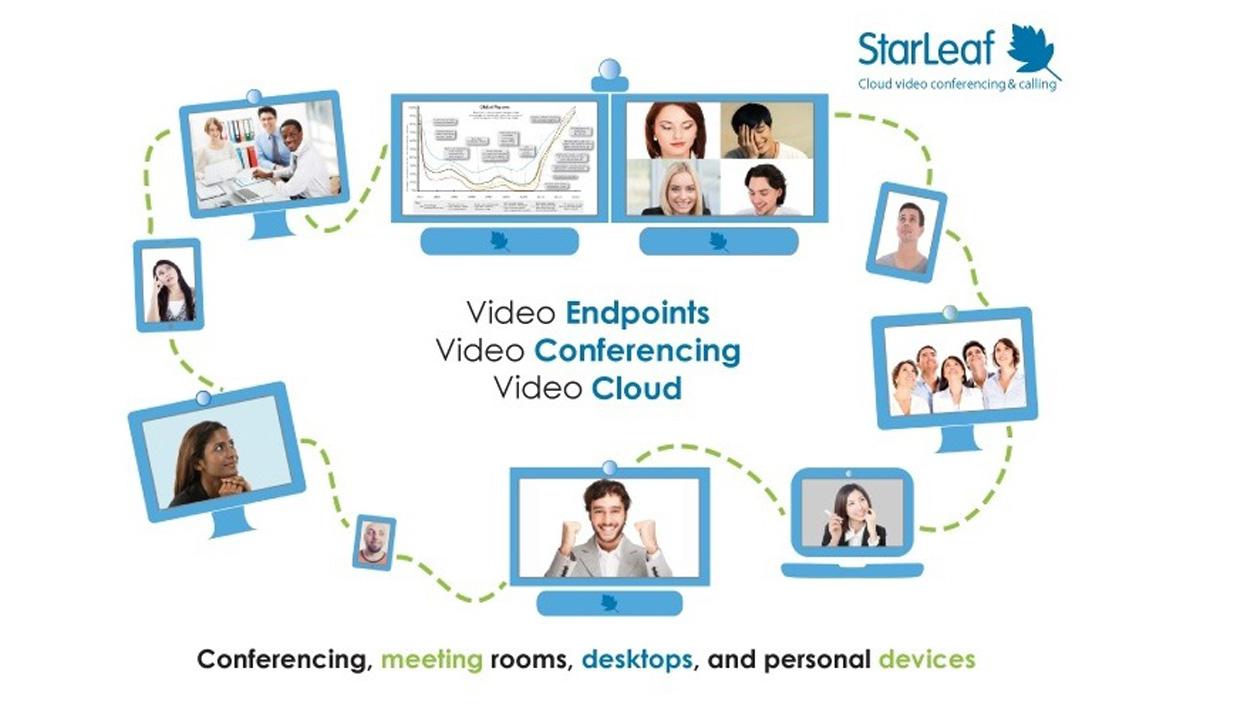 But there are even more advantages to mention… you can invite everyone to attend for free. You can distribute an unlimited number of softclients for free who can set up point-to-point video calls for free. All using a single interface irrespective of the platform you use.
Videoconferencing without purchase, management and maintenance
Thanks to StarLeaf Cloud, the user benefits from all (cost effective) advantages that video communication offers, without the disadvantages associated with purchase, management, and maintenance. StarLeaf arranges everything, so organisations can collaborate hassle-free and flawlessly without having to worry about the internal or external systems that their partners (colleagues, clients, suppliers, financers etc.) use.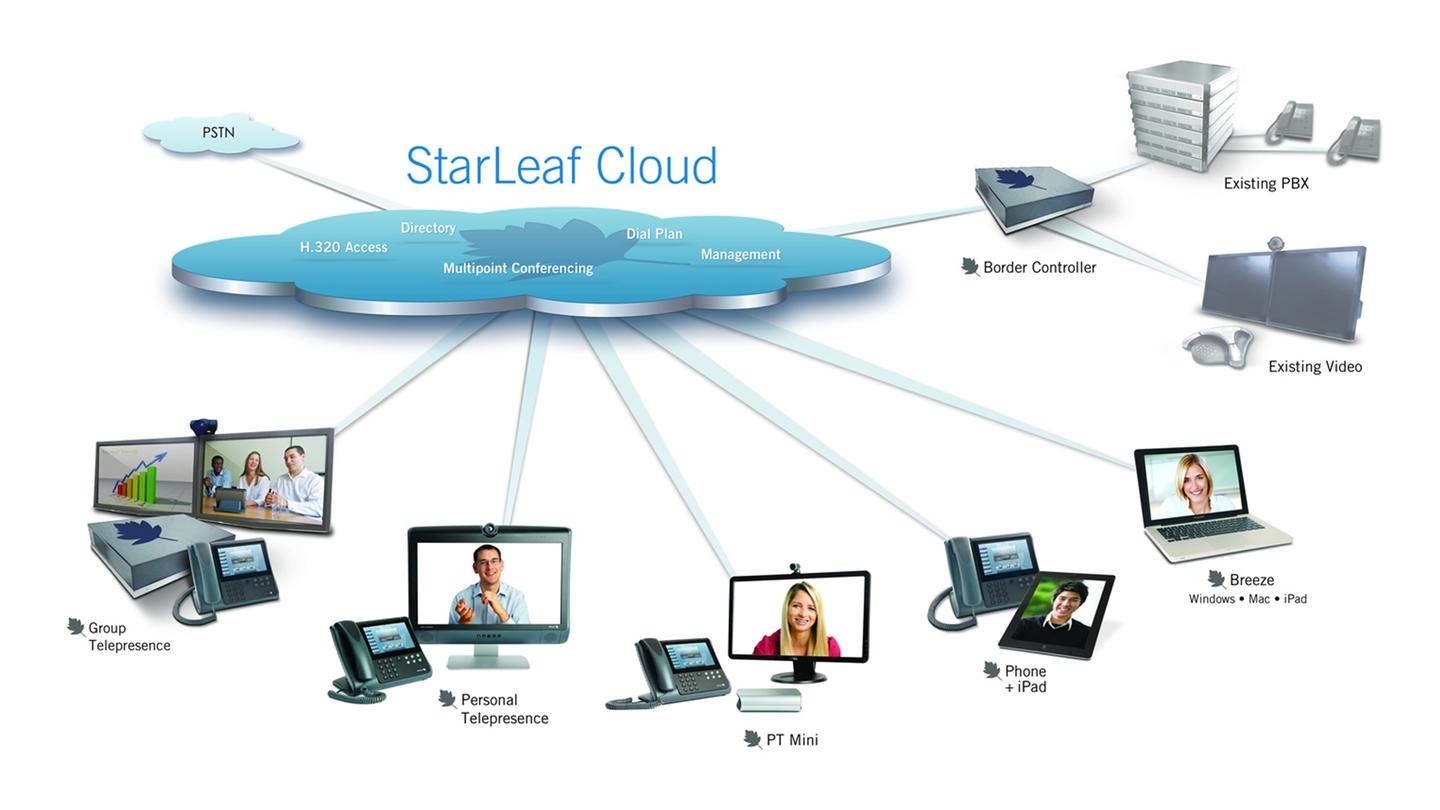 Types of meetings
Quick meet
This involves an instant meeting. At a point-to-point connection StarLeaf users can press the "create conference" button to manually add participants one by one. A maximum of 5 people can attend at a QuickMeet meeting.
Scheduled conference
If you plan a meeting on a certain date and time and invite participants, a virtual meeting room is created with a random access code that can only be used on the planned date and time.
Permanent conference
The procedure is identical to the scheduled conference, but without date and time restrictions. A permanent meeting is a virtual meeting room where everyone can dial in at any time (sometimes also called "meet-me"). Permanent meetings have the same characteristics as planned meetings (invited participants, interoperability, PSTN dial in, etc.). The dial in details never change and you can always attend the meeting.
Conferencing features
Everyone within your organisation can plan his or her own meetings
All planned meetings have general audio dial in numbers
Interoperability with standard videoconferencing equipment. Invitations for planned meetings include details about how to attend via third party devices.
StarLeaf Breeze - for flexibility
StarLeaf Breeze enables HD videoconferencing from your PC, Mac or iPad. StarLeaf Breeze is a software client who makes videoconferencing flexible and increases your accessibility. The user interface is insightful and intuitive and works like your phone. This software also enables multipoint videoconferencing and content sharing. The StarLeaf Cloud also makes it possible to connect directly from your iPad and Windows or Apple computer to any H.323 system. StarLeaf Breeze is automatically available with a paid hardware connection license, conference license or Breeze support contract from BIS|Econocom.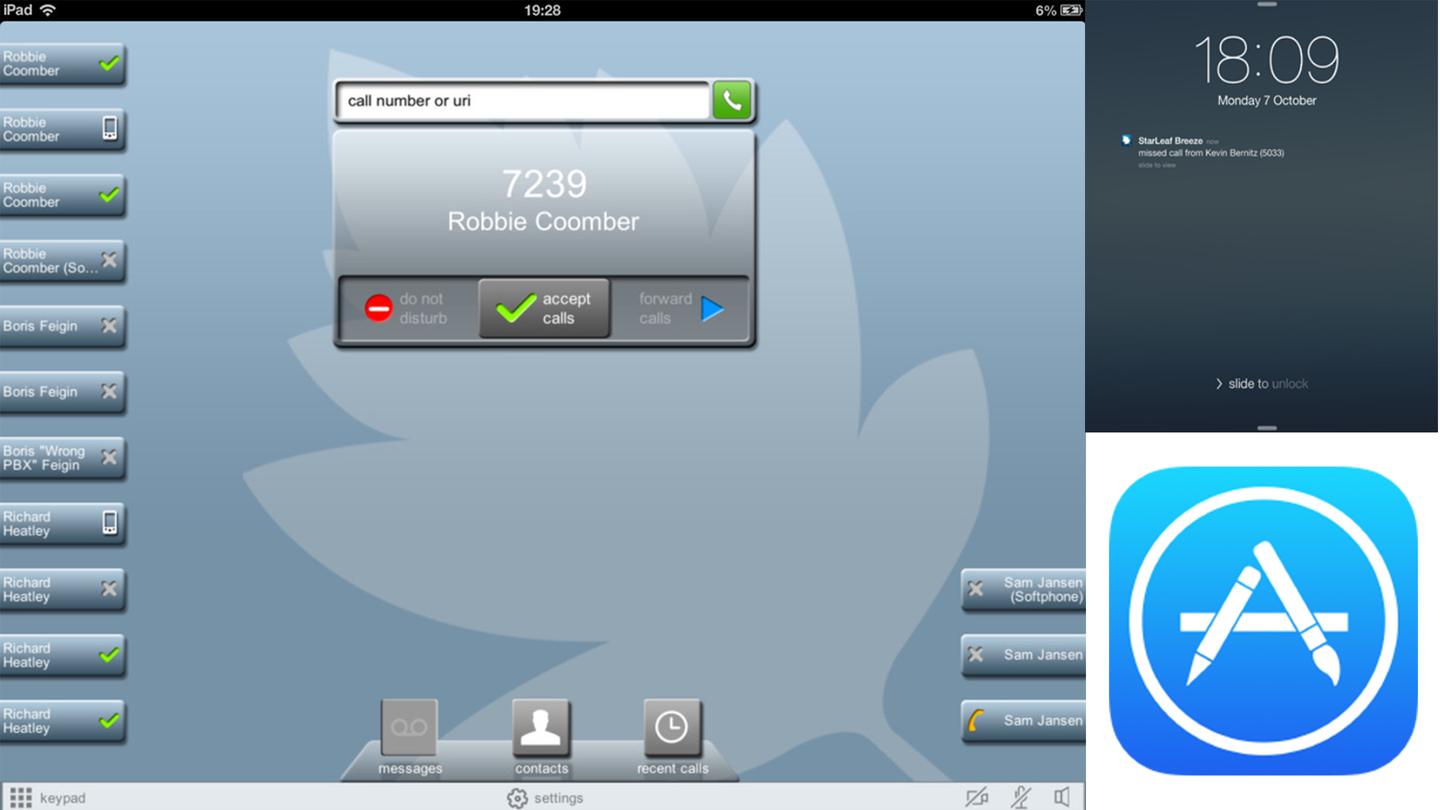 Conference rooms equipped with Microsoft Skype for Business
With Skype for Business, Microsoft offers an all-in-one communication platform that can be used to call, email, chat and even conduct videoconferences … and let's be honest… these benefits would be even greater if you could connect your Skype for Business solution to the videoconference system in your meeting room(s), so each Skype for Business user can attend a meeting, regardless of where he or she is located. Until recently this was technically very complicated and very expensive. But not anymore! Ask BIS|Econocom for more information on the GTm 5220.
This device directly registers at a Microsoft Skype for Business Server and Microsoft Skype for Business for Office 365.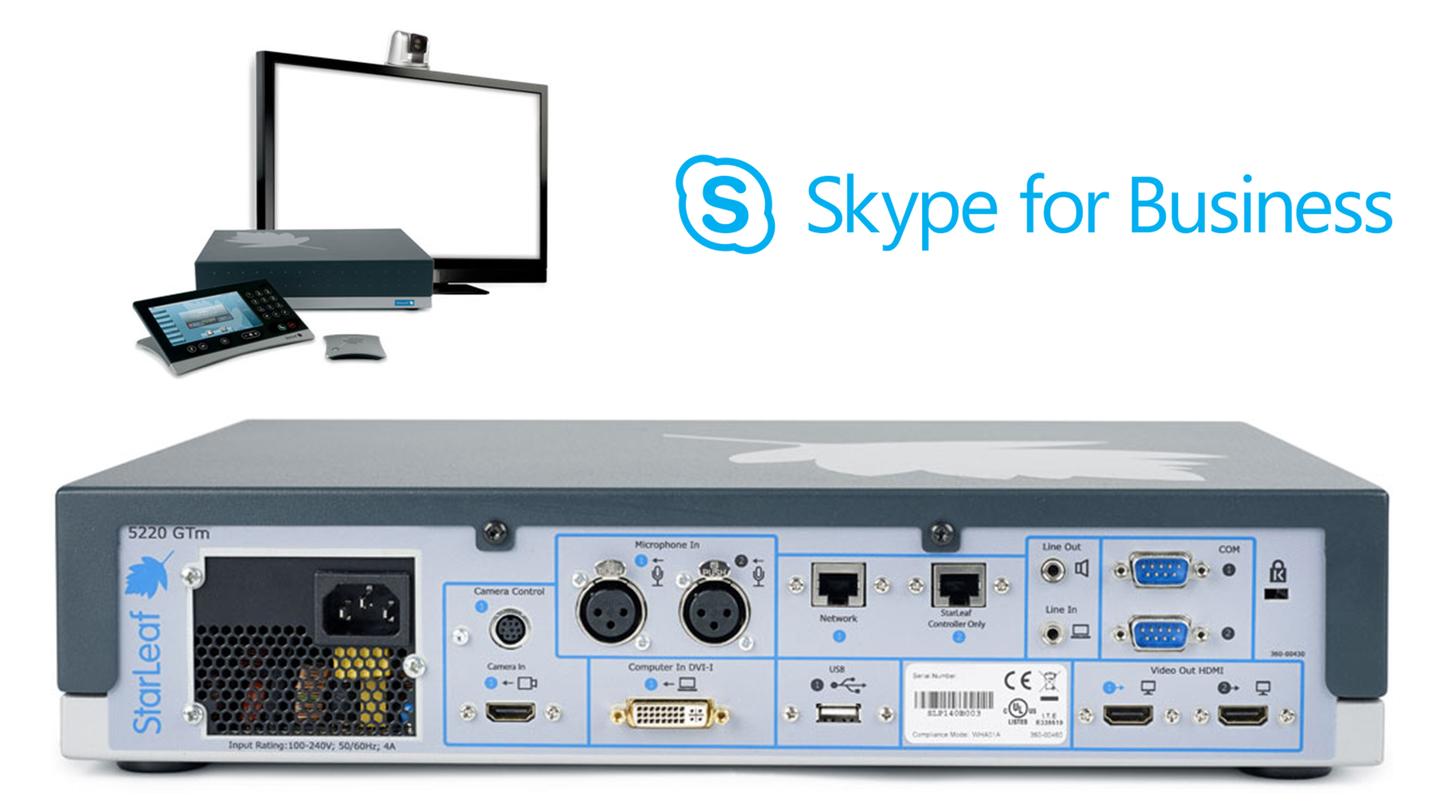 Fully equipped with advanced codec and:
StarLeaf Touch 2035 controller
Panoramic, movable camera with zoom (PTZ) or USB camera
Microphone
Support for 1 or 2 screens
HD video and audio
Sharing content
Ask for a Starleaf demonstration license and experience the benefits of this platform for yourself. Call +31 180 - 486 777 or contact us through the website.